New Grant to Aid Search for the Secrets of Superconductivity
August 12, 2014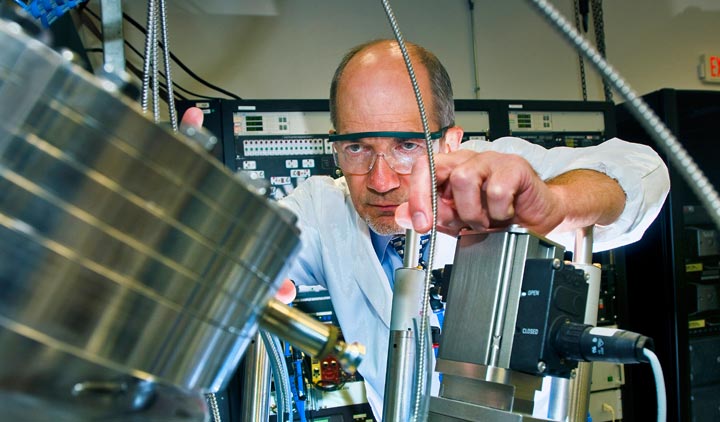 enlarge
Ivan Bozovic
Research aimed at unlocking the secrets of high-temperature superconductivity at the U.S. Department of Energy's Brookhaven National Laboratory will get a boost from a new grant awarded to Ivan Bozovic, a Brookhaven physicist and an Adjunct Professor at Yale University, by the Gordon and Betty Moore Foundation. Bozovic will receive $1.9 million over five years as part of the Moore Materials Synthesis Investigators program to continue the meticulous assembly and manipulation of superconducting thin films and the exploration of factors underlying these remarkable materials' ability to carry electric current with no energy loss.
"I am very grateful for this grant, which recognizes the importance of methodical work that slowly but steadily improves materials synthesis techniques and sample quality," Bozovic said. Such quality is essential to uncover subtle effects in high-temperature superconductors, which, Bozovic notes, can be masked by impurities. "The better the samples, the more precise and revealing our experiments can be — and the greater their potential for new insights and discoveries," he said.
To achieve such precision, Bozovic uses a one-of-a-kind molecular-beam epitaxy (MBE) machine that he built and continues to improve to fabricate superconducting thin films one atomic layer at a time. He and collaborators have used the machine to assemble more than 2,000 thin film samples and conduct hundreds of scientific experiments. He also contributes to research at Brookhaven's Center for Emergent Superconductivity, one of DOE's Energy Frontier Research Centers, which recently received renewed funding.
"I am very grateful for this grant, which recognizes the importance of methodical work that slowly but steadily improves materials synthesis techniques and sample quality."
— Brookhaven physicist Ivan Bozovic
Leveraging his atomic-layer-by-layer synthesis technique, Bozovic made a series of discoveries related to interface superconductivity, bringing it to the forefront of research in Condensed Matter Physics. He showed that superfluid can be confined to a single atomic layer at the interface of two materials, neither of which is superconducting. In another important experiment, he proved that electron pairs exist on both sides of the superconductor-to-insulator transition an important insight into the mysterious nature of the high-temperature superconductivity phenomenon.
Bozovic is one of only 12 scientists to be awarded funding through the Moore Materials Synthesis Investigators program, part of the foundation's Emerging Phenomena in Quantum Systems (EPiQS) initiative. Quantum materials, the Foundation notes, are substances in which the collective behavior of electrons leads to many complex and unexpected emergent phenomena, superconductivity being a prominent example.
In announcing the grantees, the Foundation stated:
"Our approach is to focus on some of the field's leading scientists; to allow these scientists the freedom to explore and the flexibility to change research directions; and to incentivize sample sharing within the EPiQS program and beyond…We believe that our programs will lead to discoveries of new quantum materials with emergent electronic properties as well as an increase in the availability of top-quality samples to the experimental community."
Bozovic earned a Ph.D. in physics from the University of Belgrade in Yugoslavia in 1975. He remained there until 1985 and served as a professor and the Head of the Physics Department. From 1986 until 1988, he worked at the Applied Physics Department at Stanford University. He was a senior research scientist at Varian Research Center in Palo Alto, California, 1989 to 1998, and the chief technical officer and principal scientist for Oxxel GmbH in Germany 1998 to 2002. He joined Brookhaven as a senior scientist and the leader of the Molecular Beam Epitaxy group in 2003. In 2012 he was a co-recipient of the Bernd T. Matthias Prize for Superconducting Materials, and in 2013 was chosen to give the Max Planck Lecture at MPI-Stuttgart, Germany. His research results have been published in more than 200 research papers and cited more than 6,500 times. Many of these were published in the highest-impact journals such as Nature, Science, and Nature Materials. Bozovic is a Fellow of APS and of SPIE, and a Foreign Member of Serbian Academy of Science and Arts.
Bozovic's research at Brookhaven is supported by the DOE Office of Science. The Moore Foundation grant will be awarded to him by way of his adjunct appointment at Yale University.
Brookhaven National Laboratory is supported by the Office of Science of the U.S. Department of Energy. The Office of Science is the single largest supporter of basic research in the physical sciences in the United States, and is working to address some of the most pressing challenges of our time. For more information, please visit science.energy.gov.
2014-5024 | INT/EXT | Newsroom