Science on Screen: The Day After Tomorrow and Climate Research
Alistair Rogers of Brookhaven National Lab gave a lecture on climate research before a screening of the sci-fi thriller
April 10, 2015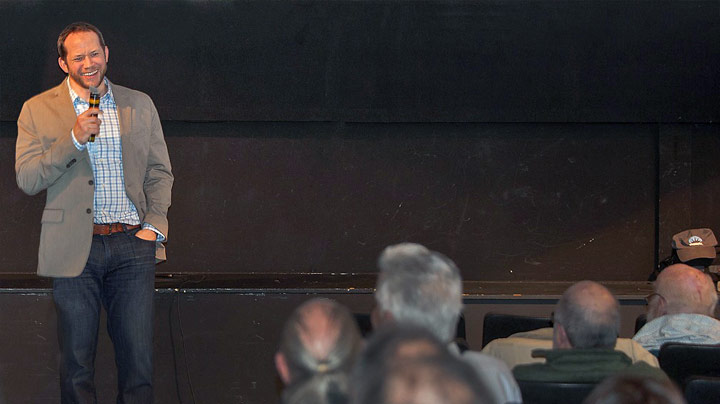 enlarge
Brookhaven environmental scientist Alistair Rogers presents his research to a movie theater audience at Huntington Cinema Arts Centre as part of the national Science on Screen program.
On Monday, March 16, filmgoers at the Huntington Cinema Arts Centre were treated to a pre-show talk by Brookhaven National Laboratory's Alistair Rogers, a scientist studying plants and ecosystems in order to better increase our ability to understand and project global change in climate. The explanation of his research, grounded in the reality of addressing questions of global food security and bioenergy, preceded a showing of the outlandish yet entertaining The Day Before Tomorrow.
Roland Emmerich's high-concept sci-fi thriller chronicles a climatological disruption of inconceivable proportions that ravages the world, sending millions of terrified survivors surging south toward warmer climates at the urging of a brilliant paleoclimatologist played by Dennis Quaid. Much of the 2004 film is focused on highlighting horrific scenes of nature's backlash on civilization in the form of huge sea level rises causing a wall of water to crash down the streets of Manhattan, a series of devastating tornadoes that decimate Los Angeles, volleyball-sized hail in Japan, and enormous hurricanes that supercool the air and turn terrain from Scotland to Washington, DC into an unrecognizable frozen wasteland.
Before the film began, Rogers warned the audience that it's not based on what our models predict, though he did admit that one aspect of the film rang true. "The British really do like tea and biscuits," he said, smirking at the several scenes that feature the English taking refuge in a spot of tea.
Rogers gave the audience a taste of what real climate research looks like, with a presentation on his own work, which aims to help scientists understand what role plants play in the carbon cycle. As he puts it, "plants are subsidizing our carbon use" by acting as "sinks" for holding onto carbon. But just how much carbon plants are able to take in, and how long it takes them to process it through photosynthesis, is something researchers need to understand better to create more accurate future climate models.
"We were excited to see so many community members come out to talk about science with our researchers and enjoy a night at the movies, with a little something extra," said Nora Sundin, manager of the Stakeholder Relations Office at Brookhaven National Laboratory. "And we're looking forward to the next one!"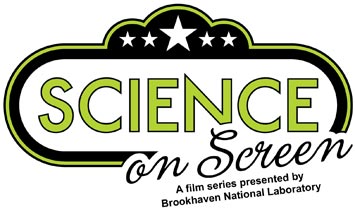 Science on Screen is nationwide program supported by the Alfred P. Sloan foundation in which 22 independent cinemas across the country simultaneously screen films paired with introductions by scientists, engineers, or mathematicians. Brookhaven's next Science on Screen event will be a screening of Zoolander at the Huntington Cinema Arts Centre with a discussion of the intersections of fashion and science by theoretical physicist Agnes Mocsy, who does research at Brookhaven's Relativistic Heavy Ion Collider (RHIC) and teaches science at the Pratt Institute, a renowned art, design, and architecture university.
2015-5609 | INT/EXT | Newsroom