From Security Guard to Personnel Monitoring Records Expert: Joyce Moore Safeguards Her Fellow Employees
March 10, 2016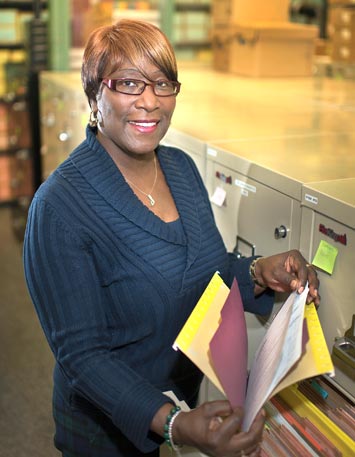 enlarge
Joyce Moore in the file room with a few of the thousands of Personnel Monitoring records stored there.
In the 43 years since she joined the secretarial pool at the U.S. Department of Energy's (DOE) Brookhaven National Laboratory, Tech Specialist Joyce Moore (then Robinson) has worn quite a few different hats. But she has always been focused on the safety of the Laboratory's workforce.
She first applied for the on-call secretarial pool in 1973, and was called in the following year. She worked as a temporary keypunch operator until presented with the opportunity to become one of the Lab's first female security officers.
"In April 1974, Virginia Wilson from Human Resources approached me because they were looking to bring women into the security group," Moore said. "She asked if I would be interested. It was a fulltime position, so I went through the training and I worked in security for about five years.
"Back then, we used to direct traffic at West Princeton Avenue and Upton Road, where there is now a stoplight. At 8:30 in the morning, that intersection was the coldest spot on Long Island," she said.
As they do now, security officers would also take turns manning the front gate. "A lot of times, I would be at the gate from midnight to 2 a.m. on the midnight to 8 a.m. shift," she said.
Moore's daughter Regina was a baby then, and overnight babysitters were hard to find. So she took Regina to Pittsburgh to live with her grandparents while she looked for a day job. In 1978, she transferred to the Personnel Monitoring (PM) Group in the Lab's Radiological Control Division, where she has worked ever since. The Laboratory's Radiological Control Management System aims to protect staff and visitors from exposure to ionizing radiation. In her 38 years in the division, Moore has been responsible for tracking the information contained in the approximately 2,000 to 3,000 dosimeters worn by Brookhaven Lab employees and visitors each month. In this capacity, she has seen enormous changes in the technology used to monitor radiation exposure.
Currently at Brookhaven, individuals who may be exposed to radiation must wear thermoluminescent dosimeters (TLD). Before 1996, film badges containing a film sensitive to different kinds of radiation were worn.
"When I started in Personnel Monitoring, we had a darkroom where I would process the film from the dosimeters," she said. "After processing, I would use various methods to analyze the film and assign the radiation dose."

Moore did all the paperwork associated with the dosimetry program, handling cancellations, new requests, and transfers of the dosimeters, and putting the information into a tracking system. In 1984, the Laboratory hired R.S. Landauer Inc., an off-site radiation monitoring company, to provide and process the badges.
"Landauer processed the film and sent us paper reports," Moore said.
In 1995, the Laboratory moved the radiation monitoring function from film to TLD badges and brought most of the program back in house.
Over the years, Moore has become a valued senior member of the PM team.
"Joyce is a conscientious employee," said her supervisor, Andrea Epple. "She strives for perfection and always approaches her job with integrity and professionalism."
Born in North Carolina, Moore was in her teens when her mother moved the family to Long Island. She attended high school first in Southold and then in Greenport, where she graduated, but she never visited the Lab as a student.
"When I was looking for a job, I remembered seeing Brookhaven Lab a couple of times," she said. "I asked somebody about the Lab and they explained to me what it was so I just came, stopped at the gate, and told the guard I was looking for a job."
"Back then, a high school diploma was sufficient for this job, not that management didn't encourage you to go back to school," she said. "Now you probably need at least an associate's degree. When I came over to PM, they gave me 12 weeks of training and then put me to work. I liked it. The ladies I worked with were so sweet. They used to call me 'the kid,'" she laughed.
Currently, Moore lives in Mastic. Her daughter Regina also works at the Lab at the National Synchrotron Light Source II.
Brookhaven National Laboratory is supported by the Office of Science of the U.S. Department of Energy. The Office of Science is the single largest supporter of basic research in the physical sciences in the United States, and is working to address some of the most pressing challenges of our time. For more information, please visit science.energy.gov.
2016-6231 | INT/EXT | Newsroom