Congratulations, 2016 Spotlight Awardees!
December 2, 2016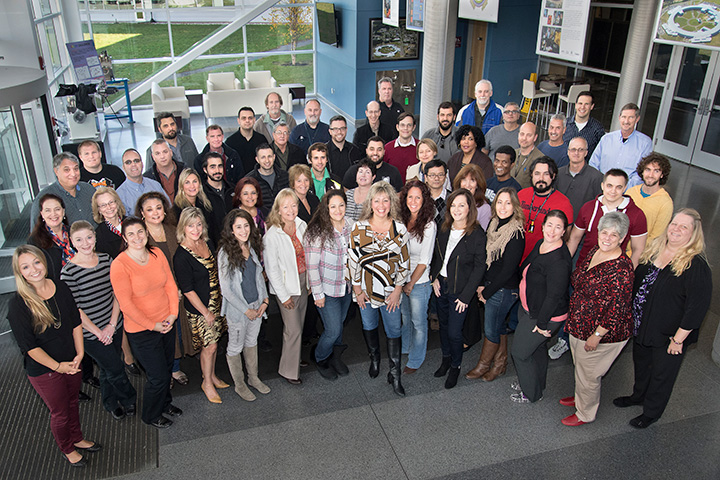 enlarge
Some of the employees who were recognized with Spotlight Awards in fiscal year 2016
More than 225 Brookhaven Science Associates (BSA) employees at Brookhaven Lab were recognized with Spotlight Awards in fiscal year (FY) 2016. These annual awards are given to employees who demonstrated exceptional efforts in response to the needs of their departments or divisions.
FY 2016 awardees include:
Biology Department: Kerry Bonti and Kristie Bonti
Business Services Directorate: Nancy Boyle, Kerry Chapin, Donna Jean Chiossone, Kelly Anne Convery, Kathleen Dargan, Cheryl Henderson, Ann Lamberti, Caryn Lopez, Colleen Michael, Mary Rogers, Asma Saeed, and April Spencer
Chemistry Division: Matthew Bird, Jeffrey Hoogsteden, Richard Rosero, and David Shaffer
Center for Functional Nanomaterials: James Buddenhagen, Pamela Ciufo, Lizette Domenech, Dmytro Nykypanchuk, Vitor Riseti Manfrinato, Christopher Ruggiero, Donna Storan, and Joann Tesoriero
Collider-Accelerator Department: John Addessi, Glenn Anderson, Richard Anderson, Sandra Asselta, Naomi Baer, John Benante, Yurii Bezpalko, John Bohnenblusch, Jean Clifford Brutus, Marc Cadet, Bryan Callaghan, Martin Candito Jr., Louis Cannizzo, Doreen Cantelmo, Daniel Carroll, Joseph Citro Jr., Timothy Costanzo, Edward Dabrowski, Joseph De Cicco, Kenneth Decker, James Ditta, Philip Dyer, James Figueroa, James Genco, Stefano Giorgio, Alan Gustavsson, Harry Hacker, Michael Hamilton, Kenneth Hartmann, Terence Higgins, Caitlin Hoffman, Jermaine Jackson, Stephen Jao, Robert Karl, James Kelly, Nicholas Kling, Kevin Kobasiuk, Kyle Kulmatycski, Walter Lamar, Matthew Lorio, David Loughlin, George Meade, Christine Meyer, Frank Naase, Mark Peragine, Alyssa Petrone, Annabelle Petway, Gary Polonski, John Pomaro, Richard Przybylinski, Joseph Sanfilippo, Frank Scheifele, Peter Schnitzenbaumer, Thomas Seda, Kirk Sinclair, Paul Sparrow, Frank Teich, Louis Tenreiro, Russell Trentacoste, Patricia Urena, Brian Van Kuik, Donald Von Lintig Jr., Alonzo Werner Jr., Alan Weston, Daniel Wilson, and Stanley Yakaboski Jr.
Computational Science Initiative: Meifeng Lin and Lauri Peragine
Condensed Matter Physics & Material Science Department: Eileen Levine, Arlene Rementer, Neil Robinson, and Wenhu Xu
Environment, Biology, Nuclear Science & Nonproliferation Directorate: Mary Campbell, and Jeanne Madaia
Environmental & Climate Science Department: Nancy Barci, Min Liang, Cynthia Salwen, Tami Toto, Gabriel Vignato, Judith Williams, and Sharon Zuhoski
Environmental Protection Division: Jennifer Higbie and Eric Kramer
Facility Operations Office: Phyllis D'Avanzo, Daniel Farge, Kevin Heinrich, and Patrick Zoccoli
Fiscal Services Division: Charlotte Buck, Colleen Guy, Christine Mayo, Carlene Santiago, and Helen Savage
Human Resources Directorate: Susan Clements, Patricia Edwards, Erin Gettler, Diana Hubert, Daniel King, Joseph Lee, Starr Munson, Melissa Schuchman, and Menzel Smith-Jones
Information Technology Division: Joan Barrow, Betty Elder, George Gottschalk, Jesse Montalto, Nicholas Muse, August Piazza Jr., Jonathan Sadowski, George Stone, Diana Teich, Joseph Walsh, and Susan Wells
Instrumentation Division: Kim Ackley and William Smith
Modernization Project Office: Robert Scarduzio and Craig Sirot
Nonproliferation & National Security Department: Jose Gomera, Jane Lysik, Teresa Montuori, Kelly Smith, and Michelle Voelker
National Synchrotron Light Source II: Stephen Antonelli, James Biancarosa, Michael Bilello, Michael Caruso, Lindamulage De Silva, Anton Derbenev, Steven Devery, Larry Fareria, Richard Greene, Mary Hanson, Travis Herbst, Oksana Ivashkevych, Ruslan Kadyrov, Thomas Langdon, David Levy, Frank Lincoln, Michael Lucas, Richard Lyon, Michael Maklary, John McCaffrey Jr., Andrew Mingino, Stuart Myers, Timothy Oldham, Gary Pappas, Stephen Sauter, Bruno Seiva Martins, Hugo Slepicka, Christopher Sorrentino, James Stolfi, William Struble, Joseph Sullivan, Brian Walsh, Huijuan Xu, and Yugang Zhang
Nuclear Science & Technology Department: Jean Frejka and Letty Krejci
Physics Department: Dmitry Arkhipkin, John Biggs, Jason Farrell, Levente Hajdu, Georgios Iakovidis, James La Bounty, Erica Lamar, Michael Mooney, Rachel Nieves, Salvatore Polizzo, Shaochun Tang, Tracy Trent, Weihao Wu, and Chao Zhang
Planning, Performance & Quality Management Office: Joyce Fortunato and Megan Quarant
Procurement & Property Management Division: Cheryl Ann Eleazer, Christine Herbstman, Laura MacArthur, and Jo Ann Reed
Radiological Controls Division: Douglas Aichroth, Kenneth Boland, Kenneth Fort, Joseph Vignola, Kimberly Wehunt, Russell Wilkins Jr., and James Williams
Safety & Health Services Division: Eric Johannsen, Angela Levine, Gary Olsen, and Christopher O'Shea
Site Planning & Infrastructure Management Division: Stuart Carroll and James McNaughton
Staff Services Division: Joanne Delles, Danielle Pontieri, and Vera Zoccoli
Stakeholder & Community Relations Office: Joe Gettler and Tara Shiels
Superconducting Magnet Division: William McKeon and Thomas Van Winckel
Waste Management Division: Edward Gavin and Holly Olsen
2016-6735 | INT/EXT | Newsroom