Listening to You
The Community Advisory Council advises the Laboratory Director on issues that are important to the community. All meetings are open to the public. Learn more about the Council. Do you have an issue you'd like to raise, a question that you'd like to ask? Let us know!
About Us
Brookhaven scientists conduct research in the physical, biomedical, and environmental sciences, and in energy technology and national security. The Laboratory is among the five largest high-technology employers on Long Island. More...
Economic Impact
At a time when New York's state economy depends on its capacity for innovation, Brookhaven Lab represents a uniquely valuable resource — both as a major science-based enterprise in its own right, and as a source of the scientific discovery and technological innovation on which growth depends.
More...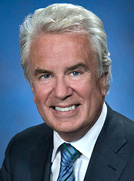 David Manning
Director, Stakeholder and Community Relations
Building 400C
Upton, NY 11973-5000
(631) 344-4747
---
Neighbors Helping Neighbors
Brookhaven Science Associates (BSA), the company which manages Brookhaven Lab, is committed to providing funding for outreach initiatives in the local community and Long Island region. BSA allocates funds in support science and math education, for fundraising events for recognized organizations, and supports community, civic, cultural and public awareness activities. More...