A Message from Chuck Black
insights

from the CFN Director
April 3, 2017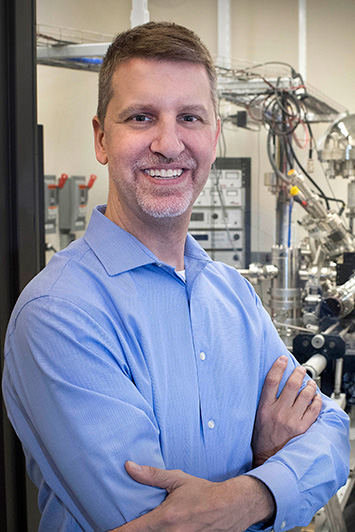 Chuck Black
The week of March 20, I enjoyed meeting with the Users' Executive Committee (UEC) to listen to your ideas and concerns, and to share with you exciting news from the CFN. In my enthusiasm, I ended up turning my scheduled 30-minute remarks into a conversation lasting an hour. I suppose this shows how excited I am about our future. Let me recount some of the conversation I had with the UEC.
2016 was the most productive and impactful year that the CFN user facility has ever had. We supported the nanoscience of more than 500 users from around the world—a record-high number—and these users and CFN scientists published 300 papers describing research done using the facility. This publication output is the most ever for the CFN in a single year, and represents a nearly 15 percent increase over the 2015 output. Together, we are fully executing our mission of advancing nanoscience to impact society.
The CFN is continuing its yearly commitment to invest in new science capabilities to remain a preeminent facility for nanoscience research. Our new Talos operando transmission electron microscope that was installed last year just finished its first cycle supporting user operations. Late last year, the CFN completed migration of its High-Performance Computing Facility to a share of the new Brookhaven Lab institutional cluster. We are excited to begin science commissioning on two more CFN/National Synchrotron Light Source II (NSLS-II) partner nanoscience instruments: the Complex Materials Scattering (CMS) beamline for x-ray scattering, and the aberration-corrected low-energy electron microscope (LEEM)/x-ray photoemission electron microscope (XPEEM), which we have relocated from the CFN to the Electron Spectro-Microscopy (ESM) beamline at NSLS-II. We have also taken delivery of other new instruments—including a 3D printer with nanoscale resolution, an ultrafast laser system for unprecedented types of spectroscopy, and a variable-temperature electrical probe station—and we will soon transition them to operations. CFN users and staff can look forward to using all of these state-of-the-art nanoscience instruments to advance their research, and to our continuing upgrades and additions to the facility.
The CFN cannot fully achieve its mission of being the leading nanoscience facility in the world without the help of our users. Outside of continuing to do world-class nanoscience research, our user community can contribute to the CFN's future in three ways:
Most importantly, share your ideas with us. Find any CFN staff member and discuss them. If your user experience has been anything less than satisfactory, please tell us why so that we can improve. Your success means our success. We are listening.
Help us spread the word about the CFN. Considering CFN is now nine years into operations, it is surprising how often researchers are still learning about our facility for the first time. To increase visibility, our scientific staff members have been more proactively describing CFN facilities when they attend conferences and visit other organizations. You can help us build an even stronger community of users by sharing your CFN experiences, especially when presenting research you carried out using CFN facilities.
Assist us in promoting your work. There is so much exciting nanoscience going on at the CFN that sometimes it is difficult to keep up. We are continuing to look for new ways to highlight the accomplishments of our users so that everyone can appreciate the value of collaborative research.
It is hard for me to believe that I have been CFN Director for a year already. So much has happened during the past year, but at the same time we have so many plans for the future and so much work to do. I am more enthusiastic than ever about our nanoscience mission and the potential we have to impact society through our research. Let us all work together to do our part. I look forward to seeing you at the NSLS-II & CFN Joint Users' Meeting in May.
— Chuck Black
CFN Director
2017-12166 | INT/EXT | Newsroom
Subscribe to iCFN
Sign up to receive iCFN in your email inbox.