A Message from Stanislaus Wong
information

from the Users' Executive Committee
April 3, 2017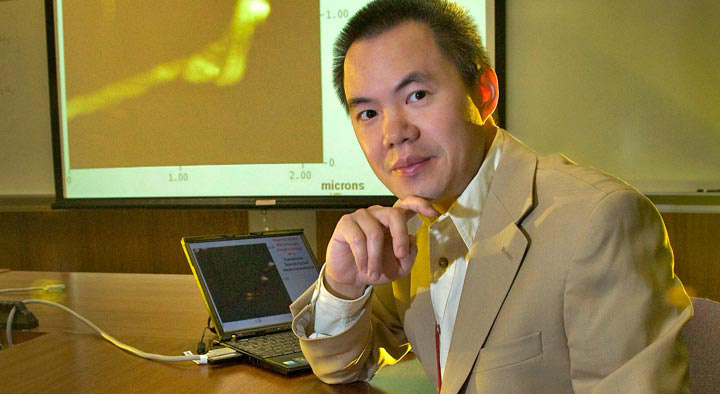 Stanislaus Wong
Dear fellow CFN users:
On behalf of the CFN Users' Executive Committee (UEC), I am very pleased to report to you on recent happenings since the last newsletter.
Significantly, we held an informational town hall meeting on March 23 at 2 p.m. with CFN Director Chuck Black to discuss a number of important issues. He was very pleased with the outcome of the DOE Triennial Review and was very appreciative of the user feedback and participation; I personally wish to thank all of you who made it a great success. We as a community indicated a very high level of satisfaction with the quality of research we could perform, the overall direction of the facility, and the positive interactions with staff, leadership, and safety personnel.
In terms of matters of note for users, Chuck announced that CFN will continue to invest 10 percent of its operating budget every year in new equipment for nanoscience. Since 2016, these investments have resulted in the ambient-pressure x-ray photoelectron spectroscopy (XPS) end station at the National Synchrotron Light Source II (NSLS-II), the FEI Talos operando transmission electron microscope (TEM)/scanning TEM (STEM) instrument at CFN, and a share of the Brookhaven-wide institutional cluster for high-performance computing. New and impactful capabilities are planned for 2017 and 2018. The other key point to mention is that CFN is continuing to expand its staff. Judy Badal was hired in the CFN User Office, and CFN is currently seeking applicants for assistant scientist positions in areas such as x-ray nanoscience, operando surface science, and data science. Finally, during the town hall meeting, Wai-Lin Ng, CFN's ES&H coordinator, spoke about important issues related to snow closures and the safety culture, and provided important reminders about experimental safety reviews (ESRs), housekeeping, as well as the proper storage and disposal of chemicals and samples.
From my perspective, Chuck raised several interesting issues and action items for the user community. He has made it clear that user satisfaction is a key priority for him. As such, Chuck has expressed a strong willingness to (i) engage users in determining future facility directions and partnering on the enhancement and development of new instrumentation capabilities; (ii) highlight user research more visibly; and (iii) update and revise the user proposal questions and corresponding review form to render them more straightforward and meaningful. Building on these themes, Chuck has also explicitly sought our assistance in (a) improving the response rates (currently >40 percent) to the CFN user experience survey, (b) providing input and ideas on new facility directions, (c) spreading the word about CFN to attract new users, and (d) providing high-level "nugget-type" highlights to the CFN about important research performed at the facility. We hope these are doable and relatively easy action items for you, as they will certainly assist in improving upon facility operations.
Announcements
During the NSLS-II & CFN Joint Users' Meeting in May, we will be holding elections for new members to join the UEC. We have openings available for interested graduate students and postdocs. You do not have to be physically present in order to participate, as we run many of our meetings by teleconference. We strongly encourage the participation of anyone who is interested in making a positive difference in the lives of CFN users; this is fundamentally why we have volunteered to do this. We are vested in CFN's future and in its success. Please feel free to self-nominate to become part of the UEC and let Grace Webster and me know, as we will be preparing the candidate ballots. We are always looking for new potential members and the fresh perspectives they bring.
The theme of this year's meeting (May 15–17) is "Making and Measuring in 4-Dimensions," and the event will showcase the excellent science being performed at both CFN and NSLS-II. The meeting program will include invited talks, workshops, a poster session, and exhibits, all showcasing the latest developments in new technology and instrumentation in both synchrotron and nanoscience experimentation. The plenary session on Tuesday will feature a keynote address from Teri Odom (Charles E. and Emma H. Morrison Professor; Department of Chemistry, Northwestern University), as well as invited scientific talks from Christophe Detavernier (Professor, Department of Solid-State Sciences, Ghent University) and Mark Sutton (Professor, Physics Department, McGill University). This session will also include updates from Bruce Garrett (Division Director for Chemical Sciences, Geosciences, & Biosciences, U.S. Department of Energy) and from the following Brookhaven Lab leadership team: Doon Gibbs (Laboratory Director), John Hill (Deputy Associate Laboratory Director for Energy Sciences & Photon Sciences and NSLS-II Director), and Chuck Black (CFN Director). Of special interest to CFN users are the full-day workshops "Spectro-microscopy at the Nanoscale: Exploring Chemical, Electronic and Magnetic Properties of Novel Materials" (Monday, May 15) and "Nano-mechanics: From Material Fabrication to In-Operando Characterization" (Wednesday, May 17), organized in part by CFN staff members. We encourage everyone to attend.
"Quality of Life" Updates
Work on the planning of Discovery Park (scheduled to open in 2021 at the earliest) is proceeding along with the proposed creation of an "Upton Square" complex. The expectation is that part of Discovery Park will include an $80M Science and User Support Center building with three complementary components: (i) a new visitor center; (ii) office space for interested organizations, including external, community-oriented ones; and (iii) a new conference center. It is anticipated that a new housing facility for users will be ready by 2020, while planning for a new "education and amenities" building is also in the works. In addition, there are plans for a new roundabout as well as a new guard portal in the near future. All of these various projects will necessarily require input from the user community at some point. Please feel free to give us your feedback.
A shuttle loop, involving a regular loop around the site with designated stops at select buildings, will likely be in operation in the near future. The ultimate goal is to run a 24/7 service, but the initial schedule will involve something like an 8 a.m. to 8 p.m. service.
Governor Cuomo has allotted $20M to move the Yaphank Long Island Railroad (LIRR) station to a location closer to Brookhaven Lab. Moreover, the Ronkonkoma LIRR hub will eventually become a mixed-use facility, with the likely construction of another hub further east.
The Micro Market has opened in Building 740 (NSLS-II). As for food service in general at Berkner Hall, the contract with Metz is considered to constitute a long-term relationship. Metz has adopted a monthly marketing strategy, including a monthly calendar of choices, and is striving to deliver a high-quality product to its consumers. Hence, please send your feedback and comments regarding the food service to the cafeteria manager.
The Child Development Center has undergone a number of changes in response to financial challenges and will likely be managed differently in the future. Nevertheless, it is expected to continue operations for the Lab community.
Summary
The UEC looks forward to hearing from you on any of these issues, and sincerely hopes you can join us in our efforts to improve the user experience at CFN. We are constantly looking for additional members, especially from industry, to be active participants in the UEC. I cannot underestimate the role of our UEC in not only helping to shape the user environment at CFN specifically and at Brookhaven Lab in general but also, more importantly, in influencing the nature of the evolving interactions with an ever-growing NSLS-II facility, as the beamlines continue to come online.
We wish you a productive cycle at the facility.
— Stanislaus S. Wong
2016–17 CFN UEC Chair (chair@cfnuec.org)
2017-12167 | INT/EXT | Newsroom
Subscribe to iCFN
Sign up to receive iCFN in your email inbox.