News and Notes
interactions

within the CFN community
April 3, 2017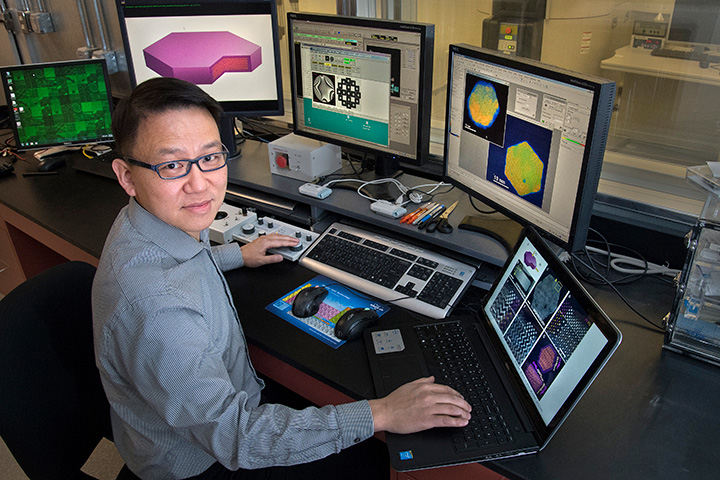 CFN scientist Dong Su in the control room of the aberration-corrected scanning transmission electron microscope (Hitachi HD2700C). On the computer screens are images of the platinum-based nanoplates that Su and his collaborators developed. The nanoplates have a thick, ordered shell of platinum that surrounds a platinum and lead alloyed core. This special structure is thought to be behind the high catalytic activity and stability of the nanoplates.
News Stories
Awards and Honors
Service Awards
5-Year Service Award: Mingzhao Liu, Staff Scientist, Interface Science and Catalysis
Comings and Goings
New Hires
Judy Badal, Senior Administrative Services Assistant, CFN User Office
Chunli Ma, Research Associate, Soft and Bio Nanomaterials
Ramya Raghunathan, Research Associate, Electronic Nanomaterials
Samuel Tenney, Assistant Chemist, Interface Science and Catalysis
New Alumni
Marco Cordeiro, Research Associate, Electron Microscopy
James Dickerson, Assistant Director, Center for Functional Nanomaterials
Andreas Liapis, Postdoctoral Research Associate, Electronic Nanomaterials
Viet Hung Pham, Postdoctoral Research Associate of James Dickerson
Christopher Ruggiero, Technical Specialist, Operations
2017-12169 | INT/EXT | Newsroom
Subscribe to iCFN
Sign up to receive iCFN in your email inbox.