A Message from Chuck Black
insights

from the CFN Director
May 21, 2020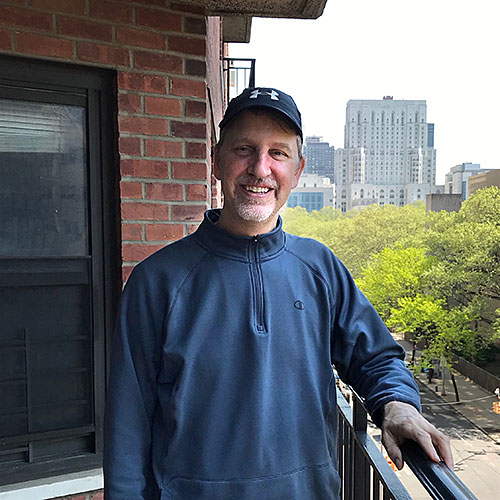 enlarge
Chuck Black
Dear CFN users and staff:
Since late March, when SARS-CoV-2 began sickening and killing many people in New York State, most CFN staff members and users have been staying isolated at home and working remotely. To protect us all, first responders, medical staff, and other essential workers have held the front lines. Their courage has created the progress we are seeing in repelling the first wave of SARS-CoV-2.
Like me, you have probably been feeling different emotions during the last several weeks. At times, I have felt anxious about the serious disruption to the way I live my life and the speed with which everything has changed. Some days, I have felt worried as soon as I woke up, wondering whether I would get sick that day. I have felt reassured to have my family with me, and my relatives and friends safe. And I have felt grateful for the workers running the grocery stores, driving the city buses passing me on the street, delivering mail and packages in my neighborhood, and walking home exhausted after a day caring for patients in the hospital.
And with time, I have also started to feel strongly resolute. This fight with SARS-CoV-2 has only just begun. Ultimately, it will be science that wins the fight for all of us. I have never been prouder to be a scientist than right now—as a member of the worldwide community marshaling all of its knowledge, skill, experience, and creativity to beat this virus once and for all.
Without realizing the name for it at first, I have been experiencing amor fati, which translates from Latin as "love of fate." I recently learned that the concept of amor fati originated long ago with the Stoic philosophers. Love of fate is the attitude that all events in one's life, including the bad things like suffering and loss, are ultimately good. The philosopher Friedrich Nietzsche described this feeling as "…want(ing) nothing to be different. Not forward, not backward, not in all eternity." And that practitioners of amor fati "…not merely bear what is necessary, still less conceal it, but love it."
Love of fate says that we should embrace the opportunity to fight and conquer SARS-CoV-2. The coronavirus is a defining challenge of our lives, catching us all by surprise and costing the world dearly. However, only the first chapter has been written so far, and scientists will write the last one. None of us are on the sidelines of this fight. We all have important roles to play in deciding how this all turns out.
In the early days of the COVID-19 outbreak in the United States, the columnist David Brooks wrote a piece in The New York Times in which he observed that the SARS-CoV-2 virus is a test —and we all have the freedom to respond. Recalling the writings of Viktor Frankl, Brooks reminds us that we can choose to assert our own dignity even in the darkest situations—by the work we do, by the courage we show, by the love we give, and ultimately by the story we tell about this moment in time.
During the last month, I have been heartened by many conversations with CFN staff and users who are deciding how they will use their skills to help fight SARS-CoV-2. Some staff are adapting their research to target diagnostics and devising new ideas for nanoscience-based therapeutics. Others are contributing to new computational models of disease spread that government officials in Illinois have been using. And I recently spoke with a user about how the CFN will support her new project to understand the effects of cleaning processes on the integrity of personal protective equipment.
Let's make sure we act with urgency, so that we can be proud of the story we tell about how we responded during this crisis. Let's embrace this challenge and love our fate.
In preparation for returning the CFN facility to operations, all CFN staff members have been working to develop new safety and hygiene protocols. In the weeks to come, we will practice these protocols together, gaining confidence in them and learning how to teach them to all users when onsite user operations resume.
All of these activities are a good start, but I am convinced that staff and users still have many other promising ideas. I encourage everyone to share them with each other, so that we can develop creative new solutions together in the same way that we always do. CFN staff are eager and prepared to propel user research. There is no time to lose.
Brooks concludes his New York Times piece by asking the reader a series of difficult questions, including this one: "If your lungs filled with fluid a week from Tuesday, would you be content with the life you've lived?"
My answer to this question is no, not today. I will not be content until science wins this fight. Let's continue to work together and make a difference.
— Chuck Black
CFN Director
2020-17229 | INT/EXT | Newsroom
Subscribe to iCFN
Sign up to receive iCFN in your email inbox.