Updates for the User Community
inputs

from the CFN User Office
May 21, 2020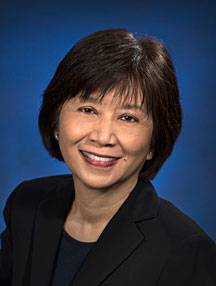 Grace Webster
Greetings from the CFN User Office! We hope that you and your family are all safe and healthy.
With on-site operations of the user program suspended, the CFN has been maintaining the user program remotely full time. Staff are supporting user projects by assisting with data analysis and other activities that can be done away from the Lab. Users are encouraged to continue working with CFN staff to advance their projects. The CFN computer cluster remains operational, so remote users can continue their work unaffected.
We are thrilled to introduce a new system for submitting and processing CFN user proposals. The CFN Proposal Portal (CPP) will provide users with an updated software interface and improved performance. As of May 26, users will submit all proposals and requests for additional time using CPP. We have migrated all existing data from the previous proposal system into CPP so that users can still access current and previous proposal data.
We think CFN users will like using CPP and appreciate the improved experience. However, if you have any questions or encounter any difficulties, please contact the User Office (cfnuser@bnl.gov) and we can assist you. We will also provide a "How to Use CPP" tutorial within the next few weeks.
Upcoming Deadlines
The next submission deadline for new proposals and requests for additional time for the September–December 2020 cycle has been extended from May 31 to June 15 to accommodate any disruptions caused by the new proposal system. Please send your submission through the CPP.
After-hours access at the CFN is authorized on a cycle-by-cycle basis. If you would like to apply for after-hours access or extend your current access, please log in to your Facility Online Management account or complete the request form. Please remember that working with hydrofluoric acid and exchanging pyrophoric, flammable, or toxic gas cylinders are not authorized during after hours.
Upcoming Events
Brookhaven has postponed the Workshop for Industrial Researchers, originally scheduled for May 27–28. This unique "user facility open house" workshop with attendees and scientists interacting in different laboratories would be ineffective in a remote platform. On the basis of evolving information about the safety of travel and social gatherings, the organizing committee will evaluate future dates to host this workshop.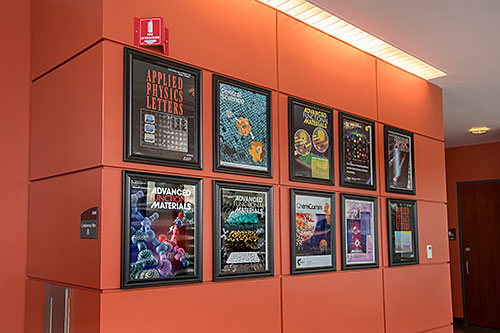 enlarge
Some of the journal covers featuring CFN staff and user publications, displayed on the second floor of the CFN.
User Science Publications and Highlights
We need publication covers! Please send us high-resolution copies of publication covers that feature your papers or articles. Keep us informed of your awards, honors, and publications. Publicizing your discoveries and professional achievements helps us raise the profile of the CFN, attract top scientists from around the world, and secure ongoing funding, especially during this time of budget uncertainty.
General Reminders
Send us an email if you have completed or refreshed a training so that we can update your badge access.
Do not forget to complete a user satisfaction survey after your visit to the CFN. We provide your feedback to the DOE Office of Basic Energy Sciences, our funding agency. Your survey responses also allow the CFN to identify areas for improvement.
The following acknowledgement must be used when referencing work performed in whole or in part at the CFN: "This research used resources of the Center for Functional Nanomaterials, which is a U.S. DOE Office of Science Facility, at Brookhaven National Laboratory under Contract No. DE-SC0012704."
Safety Reminders
Access to CFN laboratories is through authorized badge access only. Piggybacking onto someone else's access is a violation of CFN rules. If you lose access, contact the CFN User Office.
If you have any questions, please do not hesitate to contact the CFN User Office or any of the CFN staff. We are here to help and to ensure you are safe when conducting your work.
On behalf of the entire CFN family, we thank you for your continued support of and engagement with the CFN. We hope to see you all soon!
— Grace Webster
User Program Administrator and Outreach Coordinator
2020-17230 | INT/EXT | Newsroom
Subscribe to iCFN
Sign up to receive iCFN in your email inbox.