Updates for the User Community
inputs

from the CFN User Office
September 15, 2021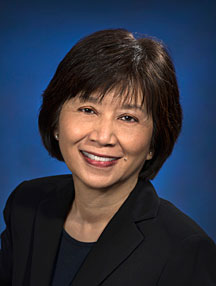 Grace Webster
Greetings from the CFN User Office! We hope that you and your families remain safe and healthy!
The CFN is still operating under Phase 2, "Expansion of Limited Operations." We currently allow a maximum of 16 users on-site per day and continue to support user projects remotely (see the Remote@CFN section below). For more information, contact the User Office at cfnuser@bnl.gov or 631-344-6266.
General Information
The User Office is open from 8:30 a.m. to 5 p.m. on Mondays, Wednesdays, Thursdays, and Fridays.
The Facility Online Manager (FOM) is unavailable outside the Brookhaven Lab firewall. To access FOM, you need Brookhaven's Virtual Private Network (VPN) and DUO Two-Factor Authentication. First, request a Brookhaven domain account using the account request form. Once you have your account, follow the instructions on how to use VPN. If you need to create a new FOM account or experience any other FOM-related issues, contact the User Office.
Users Returning to the CFN
For physical on-site access to work at the CFN, users must be on the CFN roster for the days they are scheduled to be on-site. Please email or call your CFN host or point of contact to schedule and confirm your day on the schedule. If you are not sure who your host or point of contact is, contact the User Office.
New users or users renewing their badge must pick up their badge on the first day of their scheduled work. The Brookhaven Guest, User, and Visitor (GUV) Center will not permit "anytime" badge pickup. If you are not on the roster, the GUV Center will send you home.
After-hours and weekend access for users is suspended while CFN is in limited operations.
Starting Your Experiment at the CFN
Before starting your experiment at the CFN, users must complete the following steps:
Registration: Every experimenter listed on the proposal, participating on-site or remotely, must have a valid Brookhaven appointment. To obtain or renew a guest appointment, fill out the form online. Users who mail in or receive samples from the CFN must also have a valid guest appointment.
Safety Approval Form (SAF): All projects must have an approved SAF. On-site or remote work cannot start until an SAF has been submitted and approved. Note that failure to submit an SAF on time can result in the delay or cancellation of your experiment. If you are allocated beamtime at one of CFN's partner user beamlines (11-BM, 12-ID, or 21-ID), select NSLS-II as the user facility when creating the SAF. If you are allocated time for both beamlines and CFN tools, you will have to create two SAFs (one for NSLS-II and the other for the CFN).
Training: All experimenters must complete online training prior to a scheduled experiment. A list of training requirements is available online.
COVID-19-Related Reminders
As of July 28, 2021, everyone on-site—even those fully vaccinated—must wear a face covering/mask and maintain six feet of distance from co-workers, except
When sitting or working in an area separated by floor-to-ceiling walls with the door closed
When outside and able to follow social distancing guidelines
During intermittent eating and drinking
This change is due to updated guidance issued by the Centers for Disease Control and Prevention (CDC) and Department of Energy (DOE).
Upcoming Deadlines
The next submission deadline for new proposals and requests for additional time for the January–April 2022 cycle is September 30. Please send your submissions through the online CFN Proposal Portal.
CFN partner beamlines at NSLS-II are now identified in the CFN Proposal Portal (CPP) as follows:

Complex Materials Scattering SAXS/WAXS beamline at NSLS-II: Beamline 11-BM, under Technique X-ray Scattering
Soft Matter Interfaces SAXS/WAXS beamline at NSLS-II: Beamline 12-ID, under Technique X-ray Scattering
XPEEM/LEEM Spectro-Microscopy Endstation: Beamline 21-ID, under Technique Advanced Spectro Microscopy

If you are requesting these beamlines for the first time, please submit a new proposal; you cannot add these resources on an additional time request if they were not requested when you initially submitted the proposal.
Remote@CFN
The CFN has been developing approaches for remotely engaging users. Through this effort, called Remote@CFN, several CFN tools now have remote capabilities. If you are interested in using these or other tools remotely, please contact Kevin Yager or the User Office.
X-ray scattering beamlines
Lab-scale small-angle and wide-angle x-ray scattering
Select atomic force microscopes and scanning tunneling microscopes
Operando transmission electron microscope
Other instruments (upon request)
User Science Publications and Highlights
Please continue to send us high-resolution copies of publication covers that feature your papers or articles so that we can display them at the CFN.
Keep us informed of your awards, honors, and publications. Publicizing your discoveries and professional achievements helps us raise the profile of the CFN, attract top scientists from around the world, and secure ongoing funding, especially during this time of budget uncertainty.
The following acknowledgement must be used in publications when referencing work performed in whole or in part at the CFN: "This research used resources of the Center for Functional Nanomaterials, which is a U.S. DOE Office of Science Facility, at Brookhaven National Laboratory under Contract No. DE-SC0012704."
Annual User Satisfaction Survey
Every year, we ask all CFN users to take a few minutes to complete the annual user satisfaction survey. The CFN uses the survey inputs to tell us how we are doing and how we can improve the CFN to make your experience even better. In addition, we collect survey results as part of our annual reporting requirements to the U.S. Department of Energy.
General Reminders
Send us an email if you have completed or refreshed a training so that we can update your badge access.
Access to CFN laboratories is through authorized badge access only. Piggybacking onto someone else's access is a violation of CFN rules. If you lose access, contact the CFN User Office.
If you have any questions, please do not hesitate to contact the CFN User Office or any of the CFN staff. We are here to help and ensure you are safe when conducting your work.
On behalf of the entire CFN family, we thank you for your continued support of and engagement with the CFN. We hope to see you all soon!
— Grace Webster
User Program Administrator and Outreach Coordinator
2021-19130 | INT/EXT | Newsroom
Subscribe to iCFN
Sign up to receive iCFN in your email inbox.