A Message from Chuck Black
insights

from the CFN Director
November 30, 2016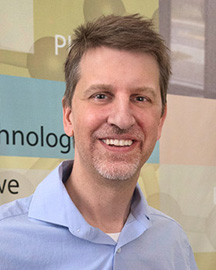 Chuck Black
Welcome to the 2016 fall edition of the iCFN newsletter, which is the first issue since I became CFN Director earlier this year. After nine years leading the CFN's Electronic Nanomaterials Group, I moved my office upstairs this past spring to oversee our science and user facility operations. I am enjoying learning the many new things that come with the position, and am gaining an even larger perspective on the important role that the CFN has within the nanoscience community.
This fall marked my 10th year at Brookhaven—I joined the Lab in 2006, as part of the team that started up initial CFN operations soon thereafter. Before coming to CFN, I worked for 10 years as a scientist at the IBM Thomas J. Watson Research Center in Westchester County, NY. I first moved to the East Coast more than 25 years ago to attend graduate school in Boston. Before that, I went to college in the South (in Tennessee), and I spent my childhood in the Midwest (in Indiana).
The CFN has had a remarkable year full of big events, including the arrivals of new faces and scientific capabilities, and record achievements. This year, we supported 505 total users—the most ever for a single year. Users came to the CFN from 26 different states and 17 countries outside the United States (including Puerto Rico and the U.S. Virgin Islands). Our users are carrying out excellent nanoscience, with the CFN contributing to a record high of 263 publications in 2015. On the basis of feedback from our yearly satisfaction survey, CFN users continue to be highly satisfied—more than 90 percent of you told us that you are happy with your experience. Of course, we are interested in helping all of our users. Please continue to provide your feedback and talk with us about your problems so that we can understand how to improve and how we can help you.
This year, the CFN welcomed two new group leaders to the management team. Since February, Dario Stacchiola has been leading the Interface Science and Catalysis Group, bringing his expert knowledge of catalysis and skills in scanning probe microscopy and spectroscopy. During the summer, scientist Kevin Yager assumed acting group leader responsibilities for the Electronic Nanomaterials Group.
We continue to work hard to bring new, forefront nanoscience capabilities to the user community, and this year we have completed the installation of a new transmission electron microscope that is optimized for analytical studies of materials in liquid and high atmospheric pressures. Our partnership with scientists at the National Synchrotron Light Source II (NSLS-II) to bring new nanoscience capabilities online has begun to bear fruit, with the commissioning of the ambient-pressure photoelectron spectroscopy instrument and its transition to supporting user science.
At the end of the summer, we had the opportunity to tell the CFN story to a panel of reviewers and DOE observers, who spent three days reviewing all aspects of CFN operations. So many in the CFN community were involved in the review—not only our staff but also our users, our Users' Executive Committee, and our Science Advisory Committee. Although we spent many weeks preparing for the review, the process is always enormously gratifying, providing a lens through which we can see our accomplishments and make plans for an exciting future.
As exciting as 2016 has been, we are even more enthusiastic about 2017 and beyond. With a talented staff dedicated to collaborative science, a community of nanoscience users carrying out excellent research, and well-thought-out plans for enhancements to our facilities, the CFN's future has never been brighter.
—Chuck Black
CFN Director
2016-6739 | INT/EXT | Newsroom
Subscribe to iCFN
Sign up to receive iCFN in your email inbox.