Updates for the User Community
inputs

from the CFN User Office
November 30, 2016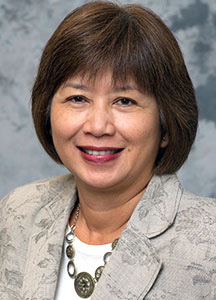 Grace Webster
Happy fall everyone! This fiscal year was another exceptional one for us—the CFN supported 505 unique users, which is the highest number of users in any fiscal year to date. Of these users, 24 were from industry, setting another record for the CFN.
The DOE Triennial Review was held from August 23–25, 2016. The CFN hosted the review team and observers from the DOE, members of the Users' Executive Committee and Scientific Advisory Committee, and users who presented their work during a poster session. I want to thank the CFN user community for contributing to this review by responding to our requests for publications, awards and honors, and posters.
Upcoming CFN Deadlines
The next submission deadline for new proposals is January 31, 2017. Proposals submitted during this call will be considered for the May–August 2017 cycle.
After-hours access expires at midnight on the last day of each cycle. If you need to extend your after-hours access for the next cycle, please call or email your CFN Point of Contact for authorization. Please remember that working with hydrofluoric acid and exchanging pyrophoric, flammable, or toxic gas cylinders are not authorized during after hours.
Upcoming Events
Plans are underway for the 2017 Annual NSLS-II & CFN Joint Users' Meeting, which will be held May 15–17, 2017. The theme for next year's meeting is "Making and Measuring in 4 Dimensions" (M24D). The Planning Committee is soliciting proposals for workshops that will showcase the current work of NSLS-II and CFN users, as well as new techniques and scientific areas. You can use this link to submit your workshop proposal no later than Friday, December 9, 2016. Please note this deadline is final and will not be extended.
Reminders
Access to CFN laboratories is through authorized badge access only. Piggybacking onto someone else's access is a violation of CFN rules. If you lose access, contact the CFN User Office.
Publications resulting from work done at the CFN must be submitted in the CFN Publication Database at http://pubs.cfn.bnl.gov/ or sent to the CFN User Administration Office at cfnuser@bnl.gov. The following acknowledgment must be used when referencing work performed at the CFN: "This research used resources of the Center for Functional Nanomaterials, which is a U.S. DOE Office of Science Facility, at Brookhaven National Laboratory under Contract No. DE-SC0012704."
I want to thank our user community for their continued support of and engagement with the CFN. Please continue to keep us informed of your awards and honors. Publicizing your discoveries and professional achievements helps us raise the profile of CFN, attract top scientists from around the world, and secure ongoing funding.
If you have any questions, comments, or suggestions, please do not hesitate to contact the CFN User Office or any of the CFN staff.
— Grace Webster
User Program Administrator and Outreach Coordinator
2016-6741 | INT/EXT | Newsroom
Subscribe to iCFN
Sign up to receive iCFN in your email inbox.