NSLS-II Facility Tour Information
Tour Date: Thursday, June 27, 2019
Tour sign-up is available during conference registration while space is available.
Guests must wear long pants and flat, closed-toe shoes. Access may be restricted if proper attire is not worn.
All visitors must be 16 years old to be permitted on the NSLS-II experimental floor.
NSLS-II is posted a Controlled Area. As such, a TLD (thermoluminescent dosimeter) may be required at the time of this tour. The conference organizers will provide further guidance as needed.
The tour will not cost any funding.
Map and directions to Brookhaven Laboratory

(www.bnl.gov/maps/)

.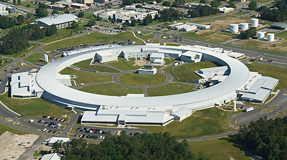 The National Synchrotron Light Source II (NSLS-II) is a state-of-the-art, 3 GeV electron storage ring designed to deliver world-leading intensity and brightness, and will produce x-rays more than 10,000 times brighter than the original NSLS. The facility offers scientific and industrial researchers an array of beamlines with x-ray, ultraviolet, and infrared light to enable discoveries in clean and affordable energy, high-temperature superconductivity, molecular electronics, and more.