April Verch Band to Perform at Brookhaven National Laboratory October 13
September 15, 2010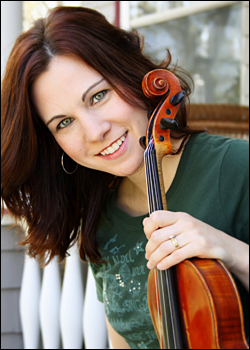 enlarge
April Verch
April Verch and her band will perform at the U.S. Department of Energy's Brookhaven National Laboratory on Wednesday, October 13, at noon in Berkner Hall. Sponsored by Brookhaven Science Associates, the concert is free and open to the public. All visitors to the Laboratory 16 and older must bring a photo I.D.
April Verch is a world-class fiddler, champion step dancer, acclaimed composer, and a singer whose voice has been hailed as "absolutely captivating" by the Toronto Star. She gave a main stage performance at the opening ceremonies of the 2010 Winter Olympic Games in Vancouver.
The April Verch Band features musicians Clay Ross on guitar and Cody Walters on upright-electric bass and banjo. The band has toured Canada, the United States, the U.K. and Europe, establishing a reputation as consummate performers, and winning over audiences not only with virtuosity on their respective instruments, but also with charm, humor, and boundless energy on stage.
Verch still lives in the Ottawa Valley, where she was born and raised. Ottawa Valley is an area with a rich, distinctive musical and step dancing tradition shaped by the diverse roots of the immigrants who were drawn to the region's lumber camps. With her band, Verch plays traditional and original songs drawn from all over the world, but clearly filtered through her immersion in the Ottawa Valley style she grew up with.
Verch has released seven recordings to date. In 2001, her Rounder Records release earned a JUNO nomination (the Canadian equivalent of a Grammy) for "Best Roots/Traditional Album." Her most recent release, Steal The Blue (2008), is both a compelling collection of vocal and instrumental selections and the best portrait yet of Verch as a performing artist.
2010-11176 | INT/EXT | Newsroom