Contact:
Peter Genzer
, (631) 344-3174 | Written by Diane Greenberg
Brookhaven National Laboratory and Lab Scientist Gene-Jack Wang Honored at Asian Pacific American Association Celebration
May 6, 2011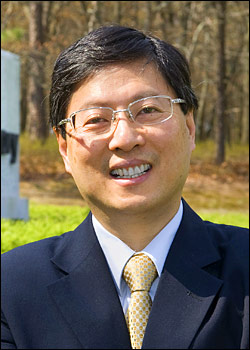 enlarge
Gene-Jack Wang
UPTON, NY — The U.S. Department of Energy's (DOE) Brookhaven National Laboratory and Gene-Jack Wang, chair of Brookhaven Lab's Medical Department, will be honored at the annual Asian Pacific American Heritage Month Celebration on May 14. Along with three other honorees, Brookhaven Lab Director Sam Aronson and Wang will each receive a proclamation from Suffolk County Executive Steve Levy at 4:30 p.m. at Stony Brook University's Wang Center.
Brookhaven Lab will be cited for "outstanding contributions to the Asian American community," and Wang will be honored as a "distinguished Asian American professional."
The Asian American Advisory Board of the Suffolk County Office of Minority Affairs and the Charles B. Wang Center organized the Asian Pacific American Heritage Month Celebration in cooperation with Brookhaven Lab's Asian Pacific American Association (APAA), the Taiwanese American Association on Long Island, and the Filipino American Community Organizations of Long Island.
Managed for DOE by Brookhaven Science Associates (BSA), a partnership between Battelle, a nonprofit applied science and technology organization, and The Research Foundation of State University of New York on behalf of Stony Brook University (SBU), Brookhaven Lab has approximately 3,000 employees and hosts about 4,000 visiting researchers each year. Home to seven Nobel Prizes, the Laboratory conducts research in physical, biomedical, and environmental sciences, as well as in energy technologies and national security.
Brookhaven Lab prizes diversity and supports the annual Asian Pacific American Heritage Month celebration. Recently, through the efforts of the Asian Pacific American Association, the Laboratory donated over $80,000 to the Japan Earthquake Relief Fund, including $40,000 from individual contributions from employees, $25,000 in matching funds from BSA, and $15,400 from SBU, the largest user of the Laboratory's facilities.
As chair of Brookhaven Lab's Medical Department, Gene-Jack Wang oversees approximately 70 employees. His research, and that of his colleagues in the Medical Department, focuses on the study of various brain disorders. Wang uses imaging technologies, such as positron emission tomography (PET) and magnetic resonance imaging, to track and understand the brain mechanisms associated with addiction, alcoholism, obesity and eating disorders. Using PET, he recently determined that there is a similarity in brain circuits' disruption in drug addiction and obesity.
"I am honored to receive this recognition from the Asian American community," Wang said. "Also, I am glad to have the opportunity to pursue research in the field of brain disorders, which are so prevalent. We still have much to learn about how to control harmful health problems such as addiction and obesity."
Wang received an M.D. from Kaohsiung Medical University in Taiwan, in 1980, and a master's degree in radiation health sciences from The Johns Hopkins University in 1984. He was a nuclear medicine resident at the University of Missouri from 1984 to 1986; a hematology fellow at Albany Medical College, 1986 to 1988; and a nuclear radiology fellow at SBU from 1988-1990. Wang joined Brookhaven's Medical Department in 1990 as an assistant scientist and rose through the ranks to become a senior medical scientist in 2005 and chair of the Medical Department in 2006. He is also professor of psychiatry in the Mount Sinai School of Medicine and research professor of psychiatry and radiology, SBU.
2011-11274 | INT/EXT | Newsroom