David Schlyer Named Senior Scientist Emeritus
September 7, 2017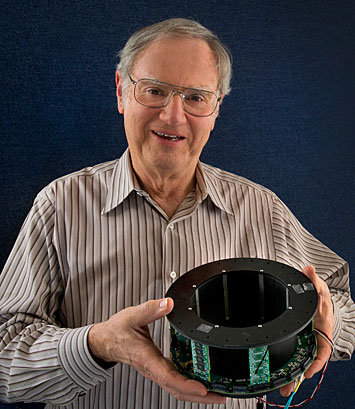 enlarge
David Schlyer
David Schlyer was granted emeritus status, effective at the time of his January 2015 retirement as a senior tenured chemist in Brookhaven Lab's former Biological, Environmental & Climate Sciences Department—now the Biology and the Environmental & Climate Sciences departments.
Schlyer began his Brookhaven career in 1976 as a research associate in the Chemistry Department. Over the years, he was promoted within the department, becoming an assistant chemist in 1979 and receiving tenure in 2003. In 2006, he transferred to the Lab's Medical Department, where he became a senior tenured chemist in 2007 and served as acting department chair, starting in 2012. When the Medical Department was reorganized into the Biosciences Department in 2012, he became department chair—a role he served until 2014. Schlyer spent the remainder of his time before retirement conducting research in the Biological, Environmental and Climate Sciences Department.
In a congratulatory letter, Lab Director Doon Gibbs highlighted Schlyer's contributions to "developing radiochemistry and molecular imaging techniques" and to "bringing the technology for isotope production for medicine and medical imaging to developing countries."
Gibbs also noted Schlyer's "exceptional service in leading the redirection of the radiochemistry effort at Brookhaven from medical imaging to a research program focused on fundamental processes."
Said Schlyer, "Brookhaven has been my home for most of my career, and I have greatly enjoyed having the opportunity to do basic medical and radionuclide production research here. The facilities and resources available at Brookhaven allowed our research team to start with basic radioisotope production, progress through incorporating the radioisotope into an effective radiotracer, and culminate in medical imaging studies with human volunteers to understand the causes and consequences of drug addiction—studies that led to Brookhaven chemist Joanna Fowler being awarded the National Medal of Science in 2009. I have worked with great people throughout my time here, and it is a privilege for me as an emeritus scientist to continue contributing to the research in some small way. As I tell people who ask me how I like being retired, I still enjoy the challenges and mental activity of scientific research and am not quite ready to give that up."
Meet 12 other scientists who have received emeritus status
2017-12486 | INT/EXT | Newsroom