FEW Participants Enjoy Many Options
September 21, 2009
Every year, Shirley Kendall, manager of the Lab's Diversity Office, solicits a volunteer to coordinate the BNL participants who attend the Federally Employed Women's (FEW) training program. FEW is a membership organization that works toward advancing women in government by encouraging diversity, communication, leadership, career development, teamwork, and personal goals and achievement.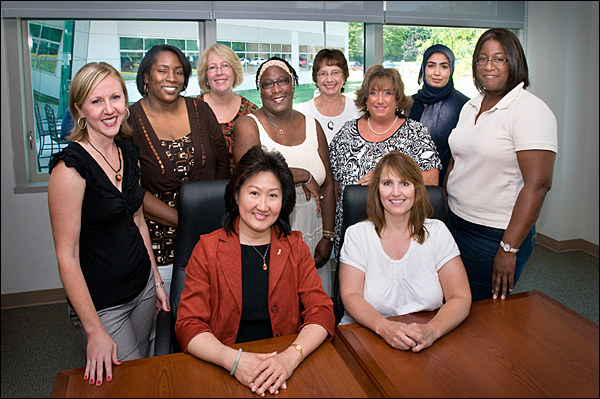 enlarge
In July, 17 BNL women traveled to Orlando, Florida to attend the annual Federally Employed Women National Training Program. Seated, left, is BNL-FEW coordinator Susan Wong of the Information Technology Division; seated, right, Tracy Blydenburgh, Collider-Accelerator Department (C-AD); standing from left, Michell Chinea, Staff Services; Carol Bell, Radiological Control Division (RP); Linda Sinatra, Fiscal Services Division; Joyce Moore-Harding, RP; Maryann McGrath, Human Resources & Occupational Medicine Division; Vicki Feldman, Laboratory Protection Division; Asma Saeed, NSLS-II, and Kim Hayes, RP. Missing from the photo are: Donna Rubino, Physics Department; Michelle Scaduto, NSLS-II; Letesha Smith, Nonproliferation and National Security Department; Kimberly Wehunt, RP; Nicole Kelly, Energy Sciences & Technology Department; Rosa Palmore, Diversity Office, and Hue-Anh Pham, C-AD.
"Every year someone eagerly volunteers to be the BNL-FEW Coordinator," said Kendall. "This year, Susan Wong of the Information Technology Division accepted the responsibility and she did a great job. Without volunteers like Susan and the support of Lab management, BNLers would miss out on the opportunity to attend this worthwhile conference."
In mid-July, Susan Wong and 16 women from various departments headed for Orlando, Florida, to attend the FEW conference.
"The theme of this year's program was 'Keys to Success,' which I think fit the program perfectly," said Wong. "Training sessions were offered on a multitude of topics, including courses titled, 'Delegation Bootcamp' to 'PowerPoint Multimedia,' all of which are key factors for professional and personal success. As a bonus, I met women from other departments that I otherwise may not have had the chance to meet. I found the entire experience motivational."
Michell Chinea of the Staff Services division said she was pleasantly surprised to read the list of offered training sessions. "I was happy to learn that in addition to the many courses offered on business, there were also courses that were empowering on a personal level -- courses that could help you improve your life as a woman both inside and outside of the workplace."
Asma Saeed of NSLS-II agreed. "The list of training sessions offered is extensive, and the program was very personally satisfying for me. It was a good learning experience traveling and meeting women from all across the United States. I attended several classes, but my favorite was the class on communication. I found it very helpful." said Saeed.
The annual FEW training program registers over 2,000 participants every year. Next year the meeting will be held in New Orleans, Louisiana. Wong notes that early registration is important so you can select the classes most important to you. "Above all, I am grateful to the Laboratory for supporting our participation at the conference. It feels good knowing that your personal success is important to your employer," she said.
For more information, go to the FEW website.
2009-1411 | INT/EXT | Newsroom