PubSci at the Parrish: Sculpture, Sound, & Simulation
Spin-off of Brookhaven Lab's science conversation series returns for a second program at the Parrish Art Museum to discuss how interactive art can help scientists understand nanoscience data
August 22, 2019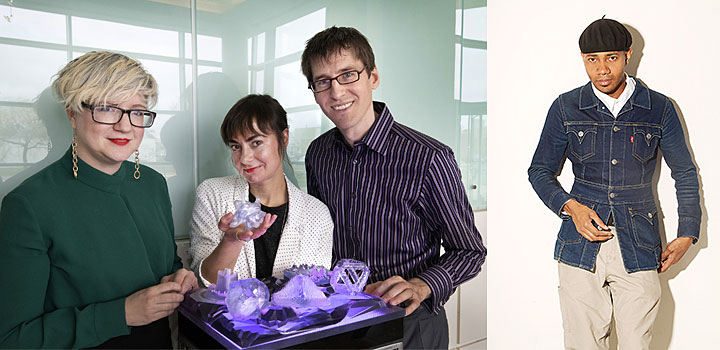 (Left) Margaret Schedel, Melissa Clarke, and Kevin Yager. (Right) Paul D. Miller a.k.a. DJ Spooky.
EVENT: PubSci—Brookhaven National Laboratory's science café and conversation series that began in 2014—is making its way back to the Parrish Art Museum in Water Mill on Sept. 6 for the second program of a special spin-off event called PubSci at the Parrish. The topic of the evening is "Sculpture, Sound, & Simulation: Transforming Scientific Data into Interactive Art."
A scientist, artists, and composers will discuss how nanoscience data generated at Brookhaven Lab's Center for Functional Nanomaterials and National Synchrotron Light Source II can be represented in novel ways using different forms of art. In particular, they will explain how these novel representations can help scientists understand how 3-D nanostructures are organized.
enlarge
The first PubSci at the Parrish event was held on Sept. 21, 2018 and focused on how ultrabright x-ray light at Brookhaven Lab's National Synchrotron Light Source II was used to illuminate chemical changes in a microscopic sample of a 15th-century oil painting. More than 100 community members attended.
Audience members will be engaged in a lively conversation about how 3-D-printed sculptures, sound, and virtual reality can help unpack complex structures at the nanoscale.
All are welcome to come, join the conversation, and talk about science and art in plain language with our speakers:
Melissa Clarke, interdisciplinary artist; co-founder and creative director of arts.codes
Paul D. Miller a.k.a. DJ Spooky, independent composer, artist, and essayist
Margaret Schedel, professor of computer music, Stony Brook University; co-founder of arts.codes
Kevin Yager, physicist, Center for Functional Nanomaterials, Brookhaven National Laboratory
The event is free with museum admission ($12 for adults, $9 for seniors) and free for students and museum members. Advance registration is required. Tickets are available for purchase on the Parrish website. A lite fare menu and bar items will be available for purchase.
WHEN: 7 p.m. on Friday, Sept. 6, 2019
A DJ set by Paul D. Miller a.k.a. DJ Spooky will immediately follow the PubSci program, starting at 9 p.m. and ending at 11 p.m. A separate ticket is required. PubSci attendees can purchase tickets at a discounted rate on the Parrish website.
WHERE: Parrish Art Museum, 279 Montauk Highway, Water Mill, NY 11976
DETAILS: Organized by Brookhaven Lab's Stakeholder and Community Relations Office, PubSci brings scientists to public venues to discuss their cutting-edge research in an informal setting. PubSci at the Parrish is organized in collaboration with the Parrish Art Museum. For more information, please visit the PubSci website.
Media interested in attending should RSVP to PubSci coordinator Tara Shiels at tshiels@bnl.gov or (631) 344-2400.
Brookhaven National Laboratory is supported by the U.S. Department of Energy's Office of Science. The Office of Science is the single largest supporter of basic research in the physical sciences in the United States and is working to address some of the most pressing challenges of our time. For more information, visit https://energy.gov/science.
Inspired by the natural setting an artistic life of Long Island's East End, the Parrish Art Museum illuminates the creative process and how art and artists transform our experiences and understanding of the world and how we live in it. The Museum fosters connections among individuals, art, and artists through care and interpretation of the collection, presentation of exhibitions, publications, educational initiatives, programs, and artists-in-residence. The Parrish is a center for cultural engagement, an inspiration and destination for the region, the nation, and the world.
Follow @BrookhavenLab on Twitter or find us on Facebook.
2019-16672 | INT/EXT | Newsroom