Sue Runkowski: From Web to Oil, a True Multimedia Artist
June 29, 2010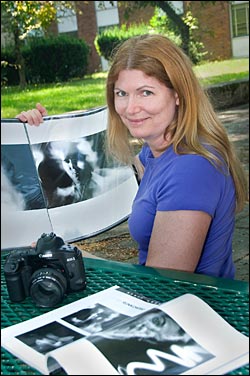 Sue Runkowski
Sue Runkowski, a web designer in the Community, Education, Government & Public Affairs Directorate, can't even remember the first time she picked up a camera. But it's no surprise that she turned to photography at a very young age: both parents are involved in the visual arts.
"I grew up in an environment that was very artistic," Runkowski said. "I've been taking pictures since I was a child."
Today, that early start has paid off. Runkowski's photographs have been published in magazines and exhibited at galleries, including the Islip Art Museum. Although she prefers taking portraits, Runkowski's work includes still lifes, landscapes, and cityscapes.
Not content with experimenting on a broad variety of photographic subjects, Runkowski also uses multiple mediums. In addition to photography, she practices painting and printmaking, which involves etching an image onto a plate, inking it, and sending it through a printing press.
"My choice of mediums does not define me," reads the statement on her website. "I consider myself an artist, not a photographer, painter, or printmaker."
Runkowski is heavily influenced by pop art, which comes to the fore in her painting. For example, Runkowski's website displays work like "Heart," which features an anatomically precise image of the organ, stamped with a bar code and labeled "Heart: All Varieties & Sizes. $9.99/lb." Other pieces, "A Wrinkle in Time" and "1:30-1:13 PM," portray stretched and elongated clocks.
Runkowski's prints, on the other hand, range from studies of the aforementioned heart to portraits and architectural studies. The latter — including sepia-toned images of a railing, a garden, and a statue — are far less colorful than her paintings.
These architectural studies were created with a technique known as "photo polymer gravure," and combine photography with printmaking. The photo's digital negative is etched into a plate, creating the basis for the print.
"What's great about photo polymer gravure is it's green," said Runkowski. Unlike developing a photo, which requires chemicals, etching the negative onto a plate uses all-natural ingredients. As Runkowski said, "You expose it with sunlight and develop it with water." For this reason, the resulting images are sometimes called "solar prints."
The variety of media and images that Runkowski explores in her spare time also comes in handy at work. Her artistic background helps Runkowski design websites at Brookhaven.
But more important than gaining her a spot in galleries or helping with her work, Runkowski's art gives her a fulfilling hobby.
"I used to spend almost all of my spare time in some kind of art," Runkowski said.
Although she is currently undergoing what she calls a "creative lull," Runkowski hopes that finally settling in at Brookhaven — she arrived only five weeks ago — will give her the opportunity to spend more time on her artistic endeavors.
Think you or one of your colleagues has a good story to tell? Email us! Although we can't write about everyone, we would love to hear your ideas and suggestions.
2010-1861 | INT/EXT | Newsroom