C2QA Jumpstarts the Quantum Workforce with New Summer Program
A quantum computing summer school organized by the Co-design Center for Quantum Advantage teaches students fundamental skills and fosters diverse, collaborative research
August 18, 2021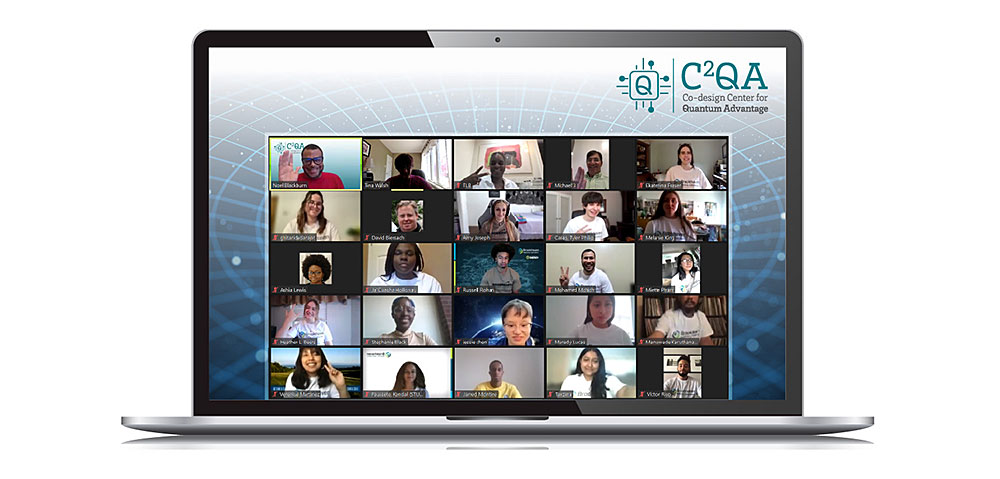 Some of this summer's C2QA quantum computing summer school students are shown on a videoconference with the school's organizers. The program was held virtually this year but future sessions are planned to be held at Brookhaven Lab.
Quantum information science (QIS) is an emerging research field that promises to revolutionize computation, engineering, communications, and many other aspects of both everyday life and fundamental science. Today, the hype of "quantum" is intriguing many young scientists and engineers as they look to enter the workforce, but many are left wondering how they can broach a field that is so complex and rarely taught before graduate school.
Now, a new academic program launched by the Co-design Center for Quantum Advantage (C2QA)—a national QIS research center led by the U.S. Department of Energy's (DOE) Brookhaven National Laboratory and comprised of several national labs, research centers, universities, and industry partners—is providing students with a better path towards the quantum workforce. The program is a four-week-long quantum computing summer school for undergraduate students that focuses on building fundamental and practical skills.
"We want students to be excited about QIS, but there's a lot of hype about quantum computing and we also want students to see past that hype," said David Biersach, a senior technology architect at Brookhaven Lab who helped start the quantum computing summer school. "QIS has very exciting applications and it's opening doors to some things we never thought we could do. But beyond that initial excitement, many students don't really know what QIS is. We're teaching students to understand the field's strengths and weaknesses, because it is still evolving, and imparting actual problem-solving skills, not just awareness."
The summer school's mission sticks true to C2QA's mission, and it's right in the center's name—co-design. At C2QA, researchers are simultaneously designing hardware and software to achieve "quantum advantage," which is the point when a quantum computer outperforms a classical one on a useful task. This multidisciplinary approach is integral to the QIS field as a whole, so Biersach and colleagues have replicated a multidisciplinary approach for students.
"QIS is a triple helix of physics, mathematics, and computer science," Biersach said. "In most universities, these departments are all separate and a lot of science majors complete their degree without any computer programming experience. The quantum summer school integrates all of these fields in an introductory way."
The program takes a blended approach, alternating between short lecture sessions and hands-on programming labs. But about half of this summer's students, which was the program's first cohort, had no programming experience. They also all pursued different degrees, ranging from environmental science to engineering.
"It's a pretty tall order to teach computing, math, and quantum physics in four weeks," Biersach said. "But on the plus side, we were able to see these students realize that, in order to perform some computations that seem like magic, they actually don't have to write a lot of code. We're turning around a perception that these young scientists have to be the next Bill Gates or Steve Jobs, writing thousands of lines of code, to make a difference."
Biersach added, "We didn't want to make the course requirements too high because students from all educational backgrounds will form the quantum workforce of the future. I'm also very happy that close to half of the participants in our first summer session were women and nearly 90 percent were underrepresented minorities."
The quantum summer school encouraged this diverse group of students to work together, learn from each other, and solve problems by combining their different areas of expertise, much like QIS challenges are solved in the real world. The program divided the group into small teams to study quantum computing applications to various physical systems. The students also worked with Qiskit software, an open-source framework for writing quantum programs that was developed by IBM, one of C2QA's primary partners.
"Working together in groups enabled the students to see how larger problems can be broken apart into pieces and tackled more effectively," said Michael McGuigan, a computational scientist at Brookhaven's Computational Science Initiative who leads the group- and project-focused segments of the summer school. "We hope the students will take the quantum computing knowledge they've learned in this course and find applications to whatever discipline they choose to study in the future, expanding the use of this exciting and rapidly developing form of computation."
After a successful first run for the quantum summer school, the C2QA team hopes to add additional weeks to the program and work with undergraduate institutions to offer college credit.
Workforce development is a major initiative at C2QA. Students of all ages and backgrounds who are interested in learning about quantum information science can browse ongoing opportunities on the C2QA website.
Brookhaven National Laboratory is supported by the U.S. Department of Energy's Office of Science. The Office of Science is the single largest supporter of basic research in the physical sciences in the United States and is working to address some of the most pressing challenges of our time. For more information, visit https://energy.gov/science.
Follow @BrookhavenLab on Twitter or find us on Facebook.
2021-18985 | INT/EXT | Newsroom