Guest Researcher Renan Leonel da Silva Conducts First Field Study at Brookhaven Lab
September 20, 2022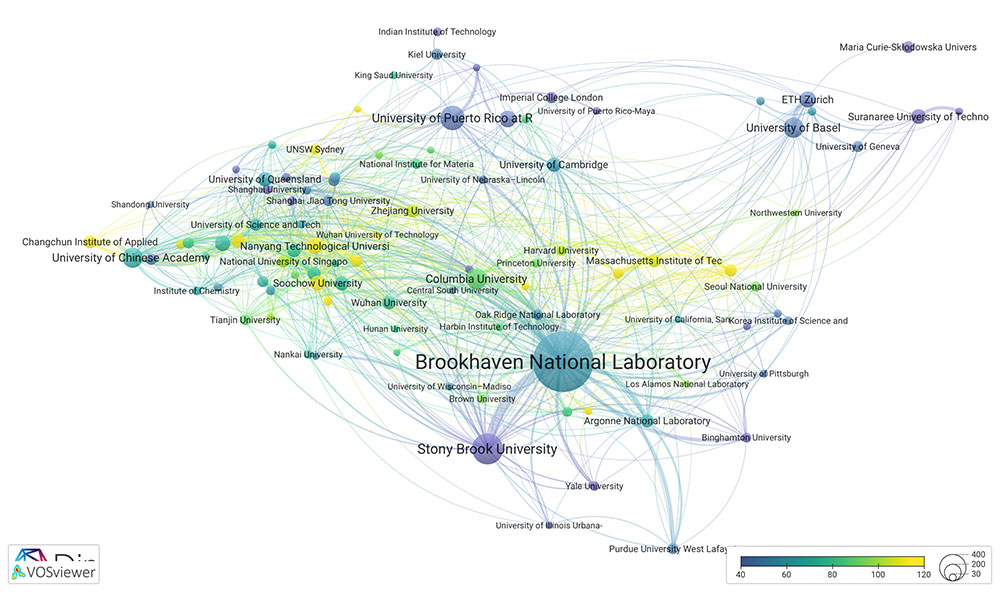 enlarge
A graphical representation of Brookhaven's worldwide role in MSE research. The circles represent the number of MSE-related publications put forth by the institution (larger circles indicate more publications). The line between two institutions represents the intensity of the collaboration (i.e., papers published in co-authorship with members from both places), with thicker lines representing a larger number of papers resulting from the collaboration. Finally, the closer one institution is to another indicates a greater frequency of collaboration over time (image courtesy Renan Leonel da Silva).
During the month of August, the Center for Functional Nanomaterials (CFN), a U.S. Department of Energy (DOE) Office of Science User Facility at Brookhaven National Laboratory, hosted a guest that CFN staff and researchers may not have even noticed: science sociologist Renan Leonel da Silva, a postdoctoral researcher from the Health Ethics and Policy Lab, Institute for Translational Medicine, Department of Health Sciences and Technology at the Swiss Federal Institute of Technology in Zurich (ETH Zürich), Switzerland. He has also been affiliated with one of the Swiss National Centres of Competence in Research, the NCCR "MSE - Molecular Systems Engineering," a national science consortium funded by the Swiss National Science Foundation, since 2014.
Leonel da Silva studies the sociology of science and technology—a field that investigates how culture, interests, norms, practices, and shared beliefs govern these arenas—focusing on the field of molecular systems engineering (MSE). Recently, new consortia and centers devoted to MSE research have sprung up around the world; Leonel da Silva wants to understand the culture and dynamics of these collaborations.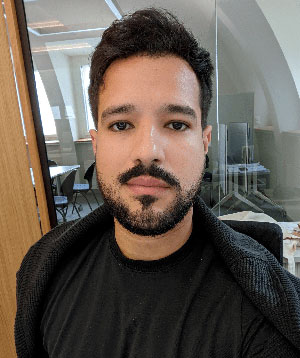 enlarge
Renan Leonel da Silva
Brookhaven plays a key role in his current project: a hybrid (online and in-person) and multi-platform qualitative study about knowledge systems and research practices of MSE in the U.S., Switzerland, Germany, Netherlands, and the United Kingdom. Leonel da Silva's field study at CFN was designed as part of this work.
"My goal is to show how the mapping of knowledge systems can help the management of science and innovation in large systems, and this is why I situate Brookhaven as a 'meeting point' for past, recent, and future international research collaborations in this field," he said.
During the pandemic when on-site visits weren't possible, Leonel da Silva had to rely on other methods for gathering data, taking a multi-pronged approach. His main method was virtual participant observation of MSE researchers via webinars and online meetings. He also did audiovisual analysis of content on achievements in MSE over the last decade on streaming platforms, such as YouTube and Vimeo. A third method was more time-consuming, but also yielded the most robust results: poring over published documents, such as official reports and grant paperwork—69 documents in total—and analyzing the content. With all of this data, Leonel da Silva created a map that graphically represents how central Brookhaven is to global MSE research.
"The next step was the most important: selecting candidates for interviews based on this online mapping," he said. "I chose 16 senior scientists and directors from research centers and consortia in Switzerland, Germany, the Netherlands, the UK, and the US, and spoke to all of them remotely. Zoom turned out to be extremely helpful in my work because it allowed me to overcome geographical barriers and speak to multiple people in a single day. The pandemic opened my mind to the potential of online methods.";
Based on these interviews, Leonel da Silva provided himself with a good foundation for understanding the goals of MSE and what disciplines come together to make it possible. His background research also led him to physicist Oleg Gang, who leads the CFN Soft and Bio Nanomaterials group, which explores how bio-encoding nanoparticles, such as with DNA, can guide the formation of organized structures that can then be regulated and tuned.
Leonel da Silva approached Gang and they began a conversation, which led to arranging the field study at CFN. Gang's group was the only one at CFN that was fully aware of Leonel da Silva's visit and the purpose of it.
"I chose Oleg's group to observe because they are one of the few groups at CFN that works with biological molecules and manipulates biological systems to achieve desirable mechanisms and functions," he said. "I wanted to examine how they used biomolecules and what they used them for.
He continued, "This matters a lot because my main finding so far is that researchers working in this field have been using biological subjects as 'constructors' or 'restorers' of more efficient functional systems at the nano and molecular level. By doing that, they share what I am calling a nanomachinery rationale in biotechnology and biomedical engineering that is, without a doubt, producing a revolution in those fields."
While at CFN, Leonel da Silva was able to interview researchers, walk through the building, peer into labs, and photograph some of the CFN infrastructure. He also spent much of his time stationed in a cubicle near many of the Ph.D. students, postdocs, and young staff researchers who work at CFN.
"This location was very useful," he said. "One of the main principles of this kind of field work is trying to be invisible, and I was able to listen in on conversations around me without feeling conspicuous or intrusive. The researchers were able to speak the way they always do and I could even observe disagreements when things weren't going well. I especially found it interesting listening to the senior scientists talk to the students."
Even though he was on site, Leonel da Silva often reached out to researchers online, such as via email and Zoom, rather than interrupt their conversations. These interviews were complemented by tours of their workspaces and labs.
Going forward, Leonel da Silva doesn't have any firm plans for a second field study, although he does have a possible location selected in Europe.;
"It would be somewhere in the triangle of Switzerland-Netherlands-Germany, where amazing things in this field are being done," he said.
For now, he is focused on writing a paper that will discuss his remote and online-based data and the resulting findings. A second paper to document his field work at CFN may follow late next year.
Brookhaven National Laboratory is supported by the Office of Science of the U.S. Department of Energy. The Office of Science is the single largest supporter of basic research in the physical sciences in the United States and is working to address some of the most pressing challenges of our time. For more information, visit science.energy.gov.
Follow @BrookhavenLab on Twitter or find us on Facebook.
2022-20841 | INT/EXT | Newsroom