National Labs RENEWing Interest in STEM with Pathway Summer School
Brookhaven and Fermilab co-host exchange program that gives undergraduate students a closer look at laboratory life
October 2, 2023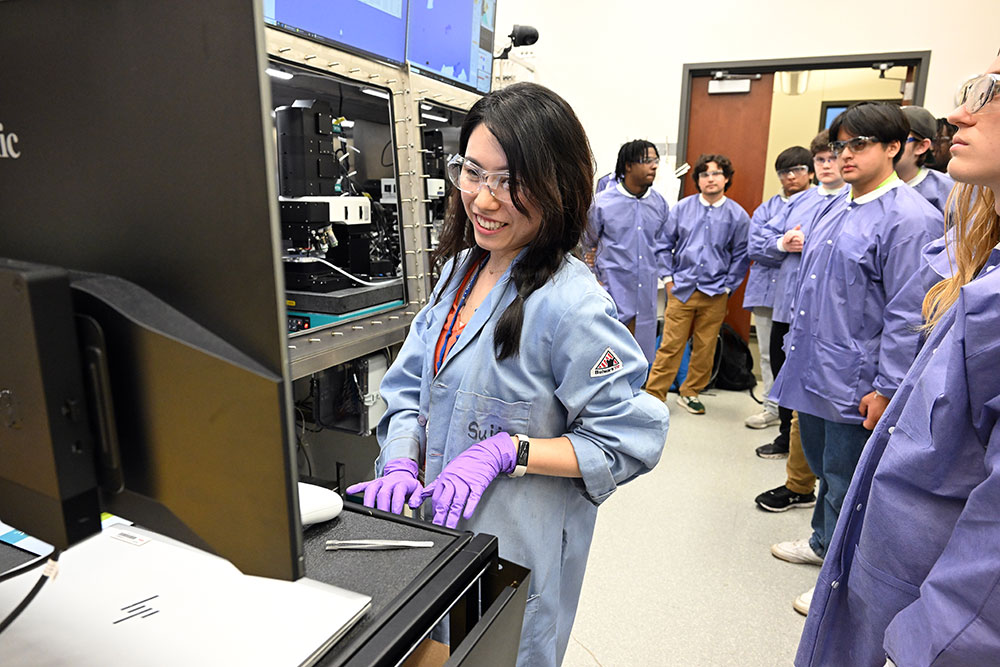 enlarge
Brookhaven materials scientist Suji Park shows students the Quantum Material Press (QPress) tool at CFN.
When science, technology, engineering, and math (STEM)-focused students tour a national laboratory, they aren't just exploring a facility—they're exploring their future. Getting an in-depth overview of real research, making connections with scientists, and asking the right questions takes time, which is why the six-week Fermilab and Brookhaven summer school exchange program (FBSEP) is such a beneficial opportunity. The inaugural 2023 session started July 3 and concluded Aug. 11, providing college freshman who are traditionally underrepresented in STEM with a unique way to spend their summer break. For some students, they carry the pride of being the first generation in their family to pursue a college degree.
This hands-on program brought two cohorts of 20 students to both the U.S. Department of Energy's (DOE) Brookhaven National Laboratory and DOE's Fermi National Accelerator Laboratory. Each cohort spent three weeks at one lab before switching off to visit the other. Students toured user facilities, met with scientists, attended talks and panel discussions, and learned about the current programs and opportunities available to them at each laboratory. Aleida Perez, manager of university relations and DOE programs within the Lab's Office of Educational Programs, led Brookhaven's effort in this collaboration with Amanda Early, STEM ambassador in the Office of Equity, Diversity, Inclusion and Accessibility at Fermilab. Early served as the principal investigator of this RENEW (Reaching a New Energy Sciences Workforce) Pathway Summer School proposal for Fermilab; her hard work and enthusiasm brought this vision to life.
Students were able to go beyond a typical, quick tour and get an inside look into several DOE Office of Science user facilities at both national laboratories, including Brookhaven's National Synchrotron Light Source II (NSLS-II) and Center for Functional Nanomaterials (CFN). They were able to see cutting-edge instruments in action, participate in experiments, and learn about the most current research in hot fields like quantum information science, particle physics, and artificial intelligence/machine learning (AI/ML). The small cohort size allowed each member to participate fully and initiate one-on-one conversations with professionals in those fields. These are not easy subjects to tackle, yet this cohort of freshmen not only took on this challenging material but also became inspired to pursue related educational and career opportunities.
Being able to explore these areas of study at active national laboratories brought lectures, tutorials, and demonstrations to life. An example of this was the unit on neutrinos, mysterious particles that may help scientists uncover the origin of all matter in the universe. Students were able to attend lectures on subjects like reactor neutrinos and neutrino oscillations at Brookhaven Lab, where Nobel Prize winning research on neutrinos was conducted, and Fermilab, which is considered the "Neutrino capital of the world." Being surrounded by that history and having experts currently engaged in neutrino research explain core concepts in the context of current work made this difficult subject engaging and accessible.
"This has been really eye-opening," said Ashley Cong, a student at Wellesley College. "I just finished my first year of college, and even though I know that I'm interested in pursuing a career in STEM, I'm not sure exactly where I want to end up. There are so many different disciplines. Getting to see real user facilities, hearing from scientists, and learning that the path isn't always a straightforward one has been inspiring. I'm glad I was able to get a real in-depth look at these national labs and a chance to better explore some of my options for the future."
Hailing from several universities, including historically black colleges and minority serving institutions, each cohort was able to create a tight network and bounce ideas off each other in multiple panel sessions and group activities. Students were eager to get involved in other DOE internship and research programs and wanted to share this experience with others, encouraging them to apply next year.
"My time at Brookhaven and Fermilab opened my eyes to new career fields," said Micaiah Rutherford, a student at Delaware State University. "This was my first time at a research lab and I enjoyed learning about the research being done in each facility and how much of it intertwined. My time there helped me realize that I want to explore medical research and I may want to pursue a career in that field."
"If you are presented with an opportunity like this, just take it," said Rebecca Pace, a student at Wheaton College. "I didn't fully understand what I was getting myself into, but I have had such a fulfilling experience. I've connected with other students and was able to delve into current issues in STEM like AI/ML and the COVID-19 pandemic. I plan to apply to the Science Undergraduate Laboratory Internships (SULI) program, and it was nice to get a good understanding of the requirements and process during this exchange as well."
The program wasn't just exciting for the students; it brought a fresh perspective to Lab staff and mentors as well. Giving the cohorts an overview of their research, facility, and day-to-day life allowed them to step back and recognize where they started from and how far they've come. Among the scientific mentors and educators supporting the program were Matthew Carbone and Layla Hormozi from Brookhaven's Computational Science Initiative, Deyu Lu from CFN, Daniel Olds from NSLS-II, Milind Diwan from the physics department, and several of their colleagues. For the students, having these more personal conversations with these scientists and staff helped them realize that despite the years of experience, they weren't so different after all.
"There weren't programs like this when I was in school, and it really gives these students an opportunity to see several aspects of what it's like to be a scientist and what it is to work at a national lab, and I think it can be surprising sometimes," recalled Daniel Olds, a beamline scientist at NSLS-II. "Not only do they see the different kinds of work being done and paths they can take, but they see a diverse array of people too. It helps combat that feeling of imposter syndrome and makes students realize that they could do this too. I didn't really know what actual scientists did until I was pretty far up in my career. I always say that I started in science because of two movies—Jurassic Park and Ghostbusters. Those were my ideas of what a STEM career must be like. I was partially correct. I do get to work with a particle accelerator, but I don't wear it on my back and fight ghosts with it."
FBSEP is funded by the Office of Workforce Development for Teachers and Scientists (WDTS) RENEW Pathway Summer School Program, as part of the DOE Office of Science's RENEW initiative. DOE recently announced $70 million in funding through the RENEW initiative to support research by historically underrepresented groups in STEM and to diversify leadership in the physical sciences.
Brookhaven National Laboratory is supported by the Office of Science of the U.S. Department of Energy. The Office of Science is the single largest supporter of basic research in the physical sciences in the United States and is working to address some of the most pressing challenges of our time. For more information, visit science.energy.gov.
Follow @BrookhavenLab on social media. Find us on Instagram, LinkedIn, Twitter, and Facebook.
2023-21360 | INT/EXT | Newsroom