Harleys, Hondas, Kawasakis, Oh My!
BNL's Cycletrons Are Making Tracks
September 7, 2011
If you work at the Lab and you're a motorcycle enthusiast, there's a good chance you are already a member of the Cycletrons.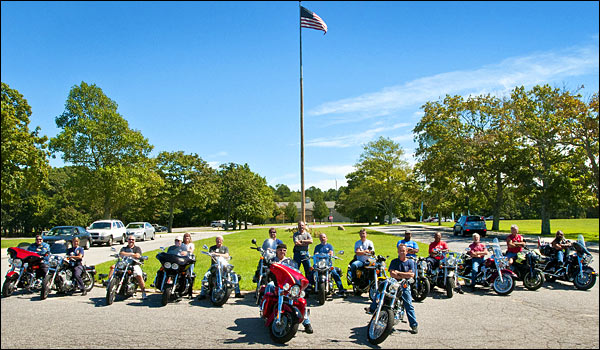 enlarge
Some of the members of the Cycletrons with Photon Sciences employee and Cycletron Club President Andrew Mingino (front left) and C-AD employee James Meier (front right). Meier recently won a Harley Davidson Super Glide motorcycle at a raffle held by the East Moriches Fire Department.
If you're a Cycletron member and lucky…well, then your name might be Jim Meier.
Meier, who works in the Lab's Collider-Accelerator Department (C-AD), bought a raffle ticket as part of a fundraiser for the East Moriches Fire Department. The prize: a brand new Harley Custom Super Glide. "My wife Terry and I bought the ticket in March and totally forgot about it until we received a call in July saying that we were the winners," Meier said. Now Meier can be seen making tracks in his brand new Harley. "It's a beautiful bike with a lot of chrome and legendary Harley 'attitude.' We still can't believe we held the winning ticket," he said.
The Cycletrons is comprised of about 50 active members (and some family members) who enjoy "hitting the road" on their open-aired, two-wheeled motor vehicles.
"There is a real sense of camaraderie among motorcyclists," said Andy Mingino who works in the Photon Sciences Directorate and currently serves as the club's president. "A group of us recently drove to a bike rally in Lake George. It was a beautiful ride. It's great to meet bikers from other parts of the country and listen to stories about their journeys. We all had a great time."
Members of the club have also participated in rides to Nova Scotia, as well as local one-day rides to locations like Greenport and Shelter Island. Some members — like Craig Diaz, Rich Sautkulis, and Jim Yerry — are very adventurous and have traveled across the United States on their bikes with minimal supplies packed in their side bags. When asked if they would do it again they replied emphatically, "Absolutely!"
Frank Dusek, an employee in C-AD and a longtime member and past president of the Cycletrons, says the first priority of all club members is safety. "We take safety very seriously," said Dusek. "We don't just attend safety classes. We definitely practice what we learn and share that knowledge with other bikers." He added that the club also offers scholarships to members and their families to attend off-site safety courses. "The only good ride is a safe ride," he said.
The Cycletrons hold their planning meetings on the first Thursday of each month at 5 p.m. at the Brookhaven Center. "Sometimes after the meetings we will hop on our bikes and ride to a local restaurant for dinner," said Mingino. "There's nothing better than the wind on your face and sharing the open road with fellow bikers."
2011-2579 | INT/EXT | Newsroom