Hurricane Sandy Doesn't Dampen Training for Visiting Spanish Firefighters
November 7, 2012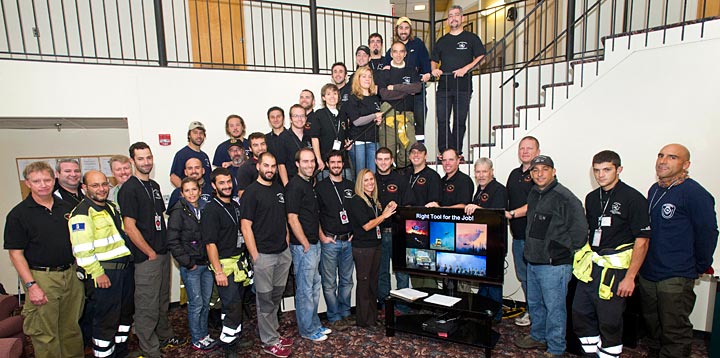 enlarge
Gathered in the lounge area of the Compton House dormitory with Laboratory Protection Division (LP) employees Keith Grossman, (back row, second from left) and Richard Ohlsen (back row, fourth from left) are NYDEC/NYWIMA Coordinator Bill Fonda (front row, left), NYWIMA training instructors, and visiting Spanish firefighters. Although most Academy activities had to be canceled due to Hurricane Sandy, training sessions were held in Compton House and the Guest House, allowing the Spanish firefighting crew to receive the training courses they hoped for. BNL employees missing from photo: Theresa Edrehi (LP), Tim Green, Environmental Protection Division (ES), Kathy Schwager (ES), and Mike Venegoni (LP).
The 15th annual New York Wildfire and Incident Management Academy (NYWIMA) was scheduled to begin at Brookhaven Lab on October 29 and run until November 2. Each year, the Academy, sponsored by the New York Department of Environmental Conservation (NYDEC) in conjunction with the Central Pine Barrens Joint Planning and Policy Commission and its Wildfire Task Force, provides over 300 courses in incident management, wildland firefighting, and prescribed fire to nearly 6,000 local and national emergency response personnel.
But once Hurricane Sandy was forecasted to hit New York, Bill Fonda of NYDEC, this year's NYWIMA Coordinator, canceled all Academy activities before they had the chance to officially kick off the event. "We were able to conduct eight training courses before Hurricane Sandy's fury hit Long Island," said Fonda. "Making the decision to cancel the remaining training courses and Academy activities was disappointing, but safety for all comes first. We were able to reach most participants and attendees before they left home with the exception of a few instructors who traveled from the west coast and the Spanish firefighting team, who arrived on Friday."
According to Fonda, the instructors and participants made the best of a bad situation. Instructional classes were held via laptop in the lounge areas of the Compton House dormitory and the Guest House over the weekend and the Spanish contingent still received the training they hoped for. Fonda went on to express his thanks to BNL management and employees for the support he received allowing classes to be held despite the arrival of Hurricane Sandy.
Jose Duce, team leader for the Spanish firefighters, said he and his crew are grateful to the Academy for working hard to get them the training they expected despite the weather emergency. "This Academy focuses on firefighting and incident management training, we just didn't expect that training to mirror reality," said Duce. "It was 'un aventura real' (a real adventure)." Duce also said that he and his crew thank the Laboratory for providing them with a safe place to stay. "My crew and I will keep everyone in our thoughts as you recover from the hurricane," he added.
After leaving the Lab, the Spanish crew traveled to Martha's Vineyard on Cape Cod, Massachusetts, for additional training sessions. "We hope to get in a little sightseeing before we head home," Duce said. "But most of all, we hope everyone here will be ok."
2012-3447 | INT/EXT | Newsroom