If you or someone you know needs assistance, go to FEMA's website or call 1-800-621-FEMA.
Hurricane Sandy Crews Enjoy Thanksgiving Meal at BNL
November 21, 2012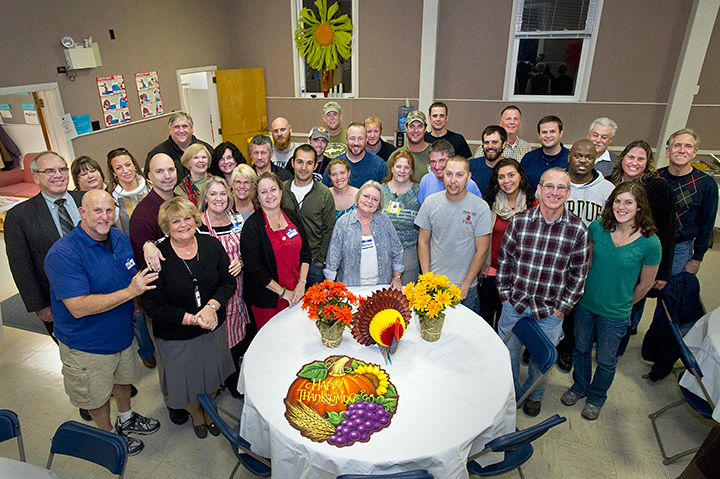 Gathered to thank workers from FEMA and NPS are Mike Bebon, Deputy Director for Operations, and BNL volunteers. The crews, many of whom will not be home for Thanksgiving, enjoyed an old fashioned dinner courtesy of BNL.
Hurricane Sandy left many Long Islanders and our neighbors on the east coast dealing with damage, and in some cases, total destruction of homes and property. Rebuilding and repairing the damage from Sandy's wrath, which included massive flooding and high winds, will take many months, even years, to complete. But thanks to the dedicated workers from organizations including the Federal Emergency Management Agency (FEMA) and the National Park Service (NPS), Long Islanders are already on the road to recovery.
For the past few weeks, approximately 80 employees of FEMA and NPS have been staying at the Lab's Compton House dormitory. In essence, the dormitory has become their "home away from home." The workers, who eat and sleep at Compton House but are deployed to various locations around Long Island including Fire Island, which suffered severe damage and beach erosion from the storm, spend their days guiding and assisting Long Islanders in applying for FEMA funds, assessing damage, and developing a plan to rebuild neighborhoods and parks.
To say thank you, BNL provided these hard-working crews with an old fashioned Thanksgiving turkey dinner on Tuesday night. The dinner was prepared by Nayyarson's, the Lab's on-site food service company, and provided and coordinated by some employees of the Lab's Staff Services Division. BNL volunteers were on hand to decorate the recreation center in a Thanksgiving motif and help serve the meal to the visitors.
"Thanksgiving dinner was the least we could do for these dedicated emergency response workers," said Michael Pena, manager of the Laboratory Protection Division. "They are working very long days and will be away from their families during the Thanksgiving holiday. I appreciate the hard work of our BNL volunteers, Staff Services Division, and Nayyarson's. It's yet another example of how the BNL community reaches out with a helping hand during times of need and works to make our visitors feel welcome."
2012-3480 | INT/EXT | Newsroom