Open Up, Break it Down, Get it Out There!
Communicating Science Is Celebrated at the 2013 NSLS/CFN Users' Meeting
May 30, 2013
By Laura Mgrdichian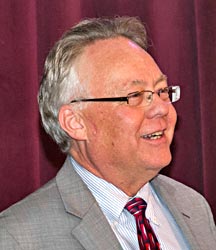 Doon Gibbs
At this year's joint NSLS-CFN Users' Meeting, we wanted to focus on "telling our story" and "sharing our science" – and the meeting fully embraced and expanded upon that message.
At the busy plenary session on Tuesday, May 21, attendees heard excellent talks by several authorities on the importance of clearly communicating research with the public. Representing the Department of Energy – to whom communicating and justifying our research is always crucial – was Linda Horton, director of the Material and Science Engineering Division, which falls under the Department of Energy's Basic Energy Sciences (BES) section.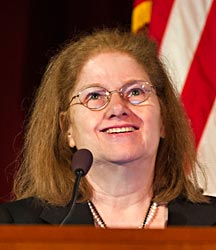 Linda Horton
BES is trying to improve communications with the public about the science it supports, Horton said, such as via publications of research summaries and its website. All of this ultimately helps the 14,000 scientists who do research at Department of Energy (DOE) user facilities and who, especially in recent years, are feeling the squeeze of a very tight budget.
Speaking of budget, Horton wasn't able to share the 2013 numbers (they aren't available yet) but did shed light on 2014's outlook, which sees DOE continuing to focus on energy research via its Energy Frontier Research Centers and Energy Innovation Hubs. She also said that DOE is requesting funding to operate user facilities optimally. For the National Synchrotron Light Source II (NSLS-II), DOE is asking for funding to cover early operations and the completion of construction for instrumentation.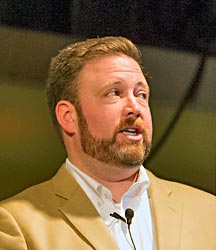 Paul Doucette
The next speaker is very familiar with government communications: Paul Doucette, a former aide to a congressman on the House science committee and now director of Government Relations at Battelle, which is one-half of Brookhaven Science Associates, the entity that runs Brookhaven Lab. Doucette works with Battelle-affiliated national labs to represent them on Capitol Hill.
You, the users, he said, have a "unique and compelling voice" when it comes to discussing and championing user research facilities. He urged users to establish a relationship with their representatives and senators in Congress and provided guidance on how best to approach and talk with them. In a nutshell, don't flood them with numbers, provide a couple of key data points, and present a good story. Speak from the heart. Know whether your rep decides how much to spend or where the money goes, and know who their constituents are. Don't dismiss their staff, who are often key advisors. Be patient!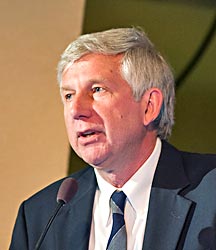 Steve Dierker
And to NSLS, CFN, and future NSLS-II users, he said, "Tell them why you cannot do your research anywhere else."
But how should a scientist tell that story? What is the best approach to explaining research? Materials scientist Ainissa Ramirez, formerly of Yale University and now creating short videos on materials science topics for the series Material Marvels, gave an introduction in her talk, "The Art of Communicating Science."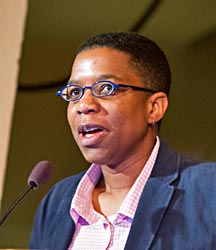 Ainessa Ramirez
"Our mission as scientists is to generate knowledge, but not to keep it," she said. "We need to send it out into the universe."
In her down-to-earth style, Ramirez argued for more and better science communications and made some great points. Scientists whose work is funded by public money should let the public know where that money goes – plus these communications efforts help yield additional funding. She also stressed that staying silent only furthers ignorance, saying, "Your work will get distorted or, worse yet, manipulated. Put your voice out there."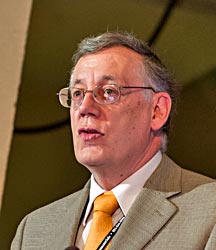 Emilio Mendez
Breaking out of the language of journal papers and reaching the public may be best accomplished by using the media of the times. Create a public-friendly website, write a blog, or, as Ramirez does, create short, visual-heavy videos. Start by digging out the personal element behind your decision to study what you study, tapping into the natural human tendency to tell and listen to stories. Start with the "why this matters" component of your work – what problem are you ultimately working to solve? – and leave the details for last.
The Ramirez presentation was later followed by a talk from Evonne Kaplan-Liss, a physician and faculty member at the Alan Alda Center for Communicating Science at Stony Brook University. The center, which opened in 2009, trains scientists and health care workers to be more effective communicators. She urged, "Don't let non-experts speak for you."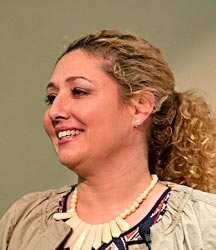 Evonne Kaplan
Her talk featured videos of researchers who had been through the center's program, showing footage taken at the beginning of the program and then at the end. The results are striking. The scientists featured, who initially appeared timid and spoke very technically, were able to discuss their research in very clear, often moving ways. (At a very interactive, daylong workshop on Wednesday, a few lucky users' meeting attendees experienced a taste of the center's program). At the end of the day, Kaplan-Liss' colleague Carl Safina, a science writer, scientist, and author, talked to the audience about his journey into science.
On the business side of things, the plenary session included several updates from Brookhaven Lab leaders, including Laboratory Director Doon Gibbs, Associate Laboratory Director for Photon Sciences (PS) Steven Dierker, and Emilio Mendez, director of the Center for Functional Nanomaterials (CFN).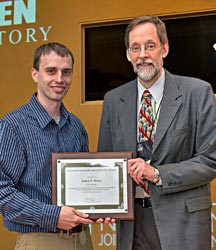 Jarrett Moyer (left) and Erik Johnson
Their messages were overwhelmingly positive. Despite the worries about funding, which are a fact of life at a government lab, there is clear growth and many reasons to be excited. NSLS-II is on track and people are moving into the lab-office buildings located around the ring. PS has scheduled a workshop for August to begin choosing the early science experiments, which will also aid commissioning. The CFN user base grows year by year as the facility continues to expand its instrumentation and capabilities.
PS Deputy Associate Laboratory Director for Programs Eric Johnson presented the Julian David Baumert Ph.D. Thesis Award to Jarrett Moyer (Yale University and now the University of Illinois), who then briefed attendees on his research, titled "Controlling the Electronic and Magnetic Structure of Fe-doped Cobalt Ferrite."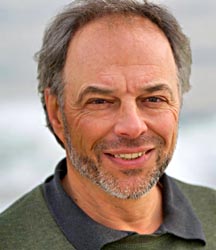 Carl Safina
At a dinner that evening, PS researcher Dario Arena presented the Community Service Award, given posthumously for the first time, to Photon Sciences technician Michael Lehecka, who passed away February 10 at the age of 51. Lehecka's three sisters accepted the award in his place.
The six workshops that surrounded Tuesday's events will be discussed in an upcoming article, along with many additional photos. These will be posted on the PS website – stay tuned!
2013-3945 | INT/EXT | Newsroom