493rd Brookhaven Lecture on Wednesday, 3/19: 'The Smallest Drops of the Hottest Matter? New Investigations at the Relativistic Heavy Ion Collider'
March 14, 2014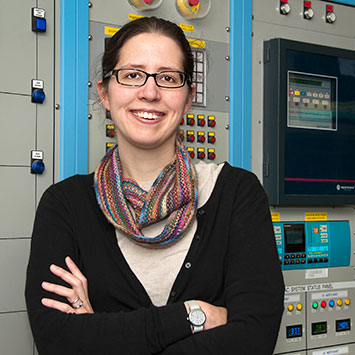 enlarge
Anne Sickles
Pool sharks at the billiards hall know that sometimes you aim to rocket the cue ball for a head-on collision, and other times, a mere glance will do. Physicists need to know more than a thing or two about collision geometry too, as they sift through data from the billions of ions that smash together at the Relativistic Heavy Ion Collider (RHIC).
Determining whether ions crash head-on or just glance is crucial for the physicists analyzing data to study quark-gluon plasma—the ultra-hot, "perfect" liquid of quarks and gluons that existed more than 13 billion years ago, before the first protons and neutrons formed. For these physicists, collision geometry data provides insights about quark-gluon plasma's extremely low viscosity and other unusual properties, which are essential for understanding more about the "strong force" that holds together the nucleus, protons, and neutrons of every atom in the universe.
Join Anne Sickles of the Physics Department for the 493rd Brookhaven Lecture, titled "The Smallest Drops of the Hottest Matter? New Investigations at the Relativistic Heavy Ion Collider," in Berkner Hall at 4 p.m. on Wednesday, March 19. All are invited to attend this free talk, which is open to the public. Refreshments will be offered before and after the lecture. Visitors to the Lab 16 and older must carry a photo ID while on site. Add to calendar
To join Sickles for dinner at a restaurant off site after the talk, contact Mariette Faulkner (Ext. 4064).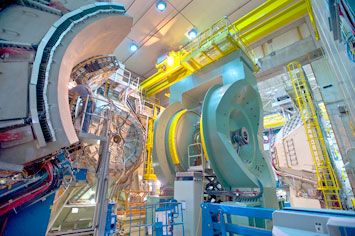 enlarge
The PHENIX detector, which collects data to determine what happens before, during, and after individual particle collisions among billions at the Relativistic Heavy Ion Collider
During her lecture, Sickles will explain how physicists use data collected at house-sized detectors like PHENIX and STAR to determine what happens before, during, and after individual particle collisions among billions at RHIC. She will also explain how the ability to collide different "species" of nuclei at RHIC—including protons and gold ions today and possibly more with a proposed future electron-ion collider upgrade (eRHIC)—enables physicists to probe deeper into the mysteries of quark-gluon plasma and the strong force.
About the Speaker
Sickles joined the PHENIX collaboration while working toward the Ph.D. she earned from Stony Brook University in 2005. She arrived at Brookhaven Lab's Physics Department as a research associate in the PHENIX Group that same year and was promoted to her current role of associate physicist in 2011. She has received several awards for her work with the PHENIX collaboration, including a thesis award at the 2006 annual RHIC/AGS Users' Meeting and the Lab's Gertrude Scharff-Goldhaber Prize for Women in Physics.
2014-4678 | INT/EXT | Newsroom