Shoveling Into Spring: Thanking the Lab's Snow-removal Crew
April 2, 2015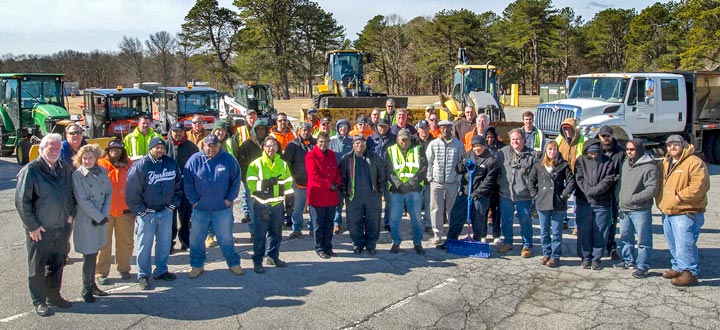 enlarge
Members of the Facilities & Operations Directorate's 2014–2015 snow-removal crew, who plowed, shoveled, salted, and sanded the Lab site to help maintain ongoing operations for scientists and support staff at Brookhaven Lab
As spring arrived at 6:45 p.m. on March 20, the Lab's snow-removal crew was out plowing, shoveling, salting, and sanding with fresh snow continuing to fall.
Unless another storm hits between now and next fall, those 6.9 inches—plus the 2.8 that fell the weekend after that—pushed the 2014–2015 winter's snowfall total to 61.9 inches on site, according to National Weather Service data. The winter season also included a blizzard, wintry mixes, winds gusting to 50 miles per hour, ice, and day after day of frigid temperatures.
As many as 60 members of the Lab's snow-removal team—including custodians; riggers; heavy-equipment mechanic operators; masons; roads, grounds, and sanitation workers; and supervisors from the Lab's Facilities & Operations Directorate (F&O) with additional support from the local company Ralph Lettieri Excavating, Inc.—worked safely and quickly to help maintain ongoing operations for scientists and support staff across the site, and no members of the snow-removal team were injured during cleanup efforts.
"I thank each and every member of the snow-removal team for working so hard to ensure that regular operations continued at the Lab," said Associate Lab Director for Facilities & Operations (F&O) Amy Nunziata. "With all the snow and ice, and not a single injury during cleanup efforts, this team did an outstanding job.
"I also thank our Laboratory Protection Division staff members who assisted with coordinating site status changes and were at the ready for emergency response during the storms, those who helped with communications, and everyone else who helped reduce the weather's impacts to the Laboratory," Nunziata added.
"Clearing the site is a big job and the team did it again and again this winter," said Ed Williams of F&O's Site Resources Division. This winter season was his third at the Lab, but his first as the division's manager.
"I was thoroughly impressed by the team's professionalism, skill, and focus on safety during each storm," Williams said. "People on the team even stayed overnight in the dorms on site, so they'd be ready to go at a moment's notice, and to make sure they keep the fire and police stations, main gate, and control rooms open for operations. I'm also appreciative of the many others who supported the snow team during events, after events, and—as in the case of training with the new slip simulator—even long before the first snow fell."
2015-5560 | INT/EXT | Newsroom