Small Business Administration Selects BSA for 2016 Dwight D. Eisenhower Award for Excellence
April 21, 2016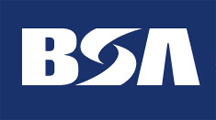 Brookhaven Science Associates (BSA)—the company that manages Brookhaven National Laboratory for the U.S. Department of Energy's Office of Science—was recently selected by the U.S. Small Business Administration (SBA) as the national winner of the Dwight D. Eisenhower Award for Excellence in the Research and Development category. This award recognizes by category a single large organization that has excelled in its use of small businesses as suppliers and subcontractors.
BSA awarded more than $162.5 million in subcontracts in fiscal year 2015—$73 million of which went to small businesses. More than 1,510 individual small businesses received awards/orders ranging in value from a few dollars to more than $1.5 million.
This level of small business program success is driven by a commitment to small businesses. BSA's Small Business Liaison Officer, Jill Clough-Johnston, oversees the small business program, including vendor outreach efforts and networking events; coordination with procurement, contracting, and technical officials; and reporting, tracking, and compliance with BSA's prime contract requirements. She works in the Procurement & Property Management Division within the Lab's Business Services Directorate.
"Our small business contractors provide excellent products and services," Clough-Johnston said. "In addition to fulfilling an important contract requirement, our program supports all kinds of businesses that strengthen our nation's economy, including small businesses, small disadvantaged businesses, woman-owned businesses, historically underutilized businesses, veteran-owned businesses, and small disadvantaged veteran-owned businesses."
BSA's small business goal percentages for each of these categories are set annually with the U.S. Department of Energy. Each year, BSA strives to meet these goals, so receiving the Eisenhower award is a distinctive honor in recognition of the strength of BSA's small business program.
2016-6303 | INT/EXT | Newsroom