Terrence Buck Wins Long Island Business News' Diversity Award
May 20, 2016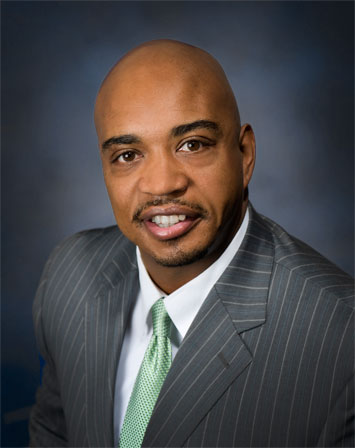 enlarge
Terrence Buck
Brookhaven Lab's Terrence Buck has been awarded the Long Island Business News' Diversity in Business Award, designed to highlight the outstanding achievements of business leaders of diverse ethnic backgrounds. Of African-American descent, Terrence has been a leader in recruiting and diversity programs at the U.S. Department of Energy's Brookhaven National Laboratory for more than 16 years.
"I am extremely honored to receive this award," Buck said. "Special thanks go to the Lab's Diversity Office and the Office of Educational Programs, as we have worked closely together over the years to produce many hiring programs that provide the Laboratory with exceptional talent."
Buck received the award on Thursday, April 21, during a special reception at the Crest Hollow Country Club in Woodbury, NY.
"In all his roles at Brookhaven Lab and in the community, Terrence is always eager to explore new business relationships in order to recruit diverse talent and contribute to the success of the many partnerships he oversees," said Brookhaven Lab Director Doon Gibbs. "He embodies the leadership skills, business acumen, and commitment to community service that this award was designed to recognize."
Buck wears several hats on behalf of the Lab—Principal Talent Acquisition Specialist in the Human Resources Division, Diversity Specialist in the Diversity Office, Program Manager for the Alliance for Graduate Education and the Professoriate-Transformation in the Office of Educational Programs, and Principal Investigator for Director's Office Program Development funds for National Consortium for Graduate Degrees for Minorities in Engineering and Science, Inc. (GEM) fellowship interns.
In recognition of his accomplishments, Buck was chosen to receive the 2013/2014 Diversity Champion Award from the Career Center at Stony Brook University, only the second person to receive the honor. He was recognized for his work connecting traditionally underrepresented Stony Brook University (SBU) students with mentors who might lead them to job prospects at Brookhaven Lab. Buck was also recognized by SBU as a "Red Hot Associate" for his commitment to the career development of Stony Brook students and for continued support of Career Center programs and services.
In 1991, Buck began his career in Brookhaven's Contracts and Procurement Division as an intern, later becoming a buyer and assistant contracts specialist in the division. Ten years later, he joined the staff of the Human Resources Directorate and began focusing on recruitment. He has been an effective advocate on behalf of Science Technology Engineering & Math (STEM) students, maintaining productive long-term relationships.
In 2011, Buck was named standing chair of the Human Resources Committee for the GEM Executive Advisory Board. GEM was initiated to address the critical shortfall in new American engineering and scientific talent. GEM works to provide connections to underrepresented (Native American, African American, and Hispanic) post-graduate science and engineering students by promoting partnerships with universities and research institutions.
In 2013, Brookhaven Lab and Stony Brook University's Center for Inclusive Education in the Graduate School received a $1.4 million grant from the National Science Foundation to increase the competitiveness of underrepresented minority Ph.D. students and postdoctoral trainees who are U.S. citizens advancing into STEM careers. Buck was chosen as the Lab's program manager for this exciting new initiative.
Buck also works extensively with INCREASE, a consortium of Historically Black Colleges and Universities and Minority Serving Institutions. In addition to his hiring and career/job counseling responsibilities and his recruitment of college students for summer internships, Buck also recruits research associates, scientific staff, and engineers.
Buck's professional experience extends beyond Brookhaven Lab. He serves on the faculty at St. Joseph's College, where he received his MBA, teaching the Human Resources Management course to undergraduates.
Brookhaven National Laboratory is supported by the Office of Science of the U.S. Department of Energy. The Office of Science is the single largest supporter of basic research in the physical sciences in the United States, and is working to address some of the most pressing challenges of our time. For more information, please visit science.energy.gov.
2016-6386 | INT/EXT | Newsroom