Toxic Metals in Soldiers' Lungs From Burn Pit Exposure
Scientists pave the way for legislation that provides expanded benefits and services for these war veterans
April 12, 2023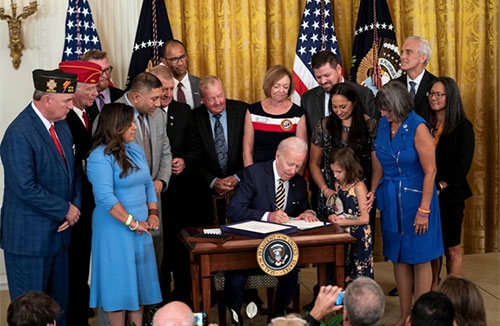 enlarge
President Biden signed into law the Pact Act on August 10, 2022 – bipartisan legislation to help veterans exposed to toxic burn pits in Iraq and Afghanistan. (Image credit: S. Silbiger, Washington Post)
The Science
Scientists have shown that oxidized titanium and iron accumulate in the lungs of war veterans after exposure to burn pits in Iraq and Afghanistan, likely contributing to chronic lung injury.
The Impact
As a result of this study and many others, legislation was passed in August 2022 to provide expanded benefits and services to these war veterans.
Summary
Since 2003, previously healthy veterans of the Iraq and Afghanistan wars have self-reported new-onset respiratory symptoms associated with deployment. Exposure to airborne hazards, particularly emissions from burn pits, has been proposed as a causative factor. During these wars, massive amounts of waste were known to be disposed of outdoors without incinerators, using jet fuel as an ignition source. Materials burned included chemicals, paints, medical and human waste, electronics, plastics, and munitions. The resulting emissions include a wide range of toxic chemicals, particulate matter, and heavy metals. However, between 2007 and 2020, the Department of Veterans Affairs denied 78% of disability claims for toxic exposures related to burn pits, indicating that there was insufficient scientific information on the long-term health effects of burn pit exposure.
This study aimed at confirming the link between war veteran lung injury and toxic burn pits by examining lung biopsies from affected Iraq and Afghanistan war veterans. These findings were correlated with non-invasive lung diagnostic testing.
Scientists imaged biopsy samples from Iraq and Afghanistan war veterans using X-ray fluorescence microscopy at the Submicron Resolution X-ray Spectroscopy (SRX) beamline at the National Synchrotron Light Source II. NSLS-II is a U.S. Department of Energy (DOE) Office of Science User Facility located at DOE's Brookhaven National Laboratory (BNL). The results showed that micron-sized particles of titanium and iron were found in all five lung samples examined. Micro-spectroscopy revealed that all metals were oxidized, i.e., Fe3+ or Ti4+, supporting the inhalation of burned metals.
Raman spectroscopy of the lung tissue also identified carcinogenic polycyclic aromatic hydrocarbons (PAHs), which are a product of incomplete jet fuel combustion. The presence of PAHs, along with the oxidized metals, strongly suggested that inhalation of burn pit plumes was a key contributing factor to the lung injury.
As a result of this study and many others, President Biden signed into law the "Pact Act" on August 10, 2022. According to a White House statement, "The bill dramatically expands the benefits and services for veterans exposed to such toxins, mainly in the two wars, who may develop injuries and illnesses that take years to manifest themselves. Those realities often made it difficult for veterans to establish a direct connection between their service and disabilities, preventing them from getting the care they needed." The law creates a $280 billion stream of federal funding, making it one of the largest expansions of veteran's benefits in American history.
Present at the signing was the lead author of this paper, Anthony Szema.
Download the research summary slide (PDF)
Contact
Anthony Szema
Northwell Health & Donald and Barbara Zucker School of Medicine at Hofstra/Northwell,
aszema@northwell.edu
Publication
T, Olsen, D. Caruana, K. Cheslack-Postava, A. Szema, J. Thieme, A. Kiss, M. Singh, G. Smith, S. McClain, T. Glotch, M. Esposito, R. Promisloff, D. Ng, X. He, M. Egeblad, R. Kew, A. Szema. Iraq/Afghanistan war lung injury reflects burn pits exposure. Sci Rep 12, 14671 (2022). DOI: 10.1038/s41598-022-18252-2
Funding
This research used beamline 5-ID, the sub-micron resolution X-ray spectroscopy (SRX) beamline, of the National Synchrotron Light Source II, a U.S. Department of Energy (DOE) Office of Science User Facility operated for the DOE Office of Science by Brookhaven National Laboratory under Contract No. DE-SC0012704.
2023-21193 | INT/EXT | Newsroom