January 2023
Happy New Year
January 25, 2023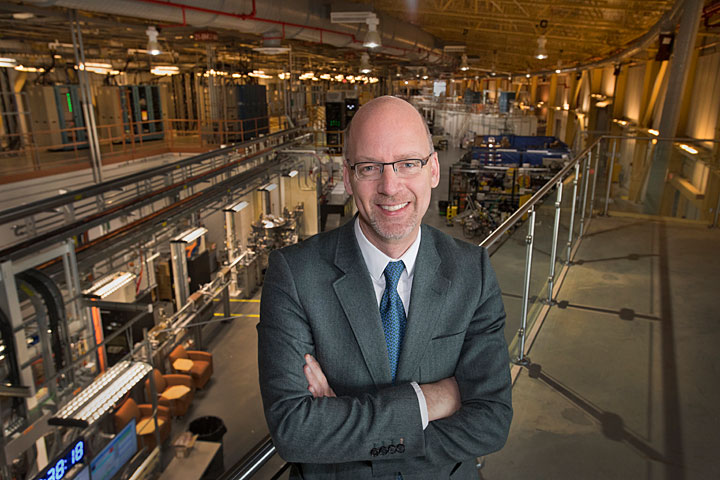 enlarge
NSLS-II director John Hill stands on the balcony above the experimental floor.
Dear Everyone,
Happy New Year and welcome back to NSLS-II for this year's winter cycle. We continue to have no restrictions on the number of onsite users, and we're very happy to see so many of you returning to carry out your experiments in person! I hope those of you who came during the fall cycle enjoyed your "welcome back" gifts. For those of you who didn't come last cycle, you can still get your gift just ask your beamline staff when you come on-site.
For all of you coming to NSLS-II this cycle, please take a moment to familiarize yourself with your work environment and rules when you are back on site. The safety of everyone at NSLS-II is my highest priority, so please follow all the guidelines. Thank you.
January – April (2023-1) operations cycle
The beam returned for user experiments on January 19, 2023, after a one-month winter shutdown. This cycle we will support full onsite operations for all user experiments, while maintaining our enhanced remote access capabilities. We encourage users to take advantage of these, where it makes sense to do so. These tools might allow you to have more collaborators involved directly in the experiment than would otherwise have been possible—for example a brand-new graduate student or a theory colleague. However, please remember that even remote users must have active appointments to participate in experiments. Please see the NSLS-II User Guide for more details on user appointments.
For those of you coming on site, please be sure to check in at the Guest, User, and Visitor (GUV) Center in Bldg 400 prior to coming to NSLS-II. They will confirm your appointment status and training, and then encode your access card for entering the experimental floor. The GUV center is open Monday through Friday (except holidays) between 7:30 AM and 4:30 PM. If you must arrive outside of these hours, please email the Users' Office at least one week in advance of your arrival to make arrangements.
First light for the HEX beamline on November 23, 2022
Please join me in congratulating the HEX team for achieving first light on November 23, 2022! The High Energy Engineering X-ray Scattering (HEX) beamline will be a powerful and versatile tool to advance energy storage and conversion research, such as battery development and materials engineering. It will combine high-energy x-ray diffraction and imaging tools using monochromatic or white beam to enable the study of real atomic structures under working conditions and in real time. HEX construction was supported by New York State, through New York State Energy Research and Development Authority (NYSERDA). The construction has been a real team effort by a large number of people, and I want to personally thank each and every one of them for delivering the beamline under what were trying circumstances. We have now begun commissioning and are looking forward to welcoming our first users in due course!
We are planning future beamlines
I am excited to report that the U.S. Department of Energy (DOE) Office of Science granted us Critical Decision 0 (CD-0) for our plans to build out more beamlines in the next 10 years. CD-0 marks the approval of "mission need" and is the first official step in a DOE project. This project is called NEXT-III and will involve on the order of 10-12 beamlines to be built over the course of the next 10 years or so. These beamlines will cover a wide range of techniques and research fields.
The first set of beamlines will be chosen this year based on submitted white papers from staff and users. We anticipate having a NEXT-III workshop at our User Meeting in May to further discuss the beamline buildout and get input from the user community.
Your Data: Old user home directories prior to Spring 2021 will be archived
All facility users with BNL accounts have personal home directories. They are accessible on site from beamline workstations and remotely via Jupyter, SSH, or SFTP. As previously announced, in Spring 2021, NSLS-II switched to a new data storage system, and all users got a fresh (empty) home directory. The contents of the old home directories were moved to the file path: "/nsls2/data/old_homes_snapshot_2021_09/USERNAME", as a read-only snapshot. Users can copy these old files to their new home directory or download them to their home institutions or personal computers. On February 1, 2023, these old snapshots will be archived. The archive will be retained but will only be accessible to facility users upon request. Therefore, if you require any files from your old home directory, it will be most convenient to copy them over before February 1. The "new" home directories, created from Spring 2021 forward, will not be affected.
Two Annual Awards Accepting Applications
I would like to draw your attention to the following two awards: the 2023 Fowler Award in Chemical and Biochemical Sciences and the 2023 Renate W. Chasman Award for Women.
The Fowler Award is "given annually to an outstanding early career (postdoctoral research associate or graduate student) woman scientist who has advanced the chemical or biochemical sciences through research conducted at, or in collaboration with, Brookhaven Lab." The deadline for applications is February 15, 2023. More details can be found in this announcement.
The 2023 Renate W. Chasman Award for Women encourages women to pursue careers in the science, technology, engineering or mathematics (STEM) disciplines. The application deadline is March 15, 2023. The application form can be found on the BWIS awards web page.
Tune in for the BES User Facility webinar
On January 27, 2023, at 12:00pm Eastern Time, the DOE Office of Science will host the first webinar in a series highlighting Basic Energy Sciences User Facility scientific contributions to the key national priorities of Clean Energy, Microelectronics, Low-Carbon Manufacturing, and Biopreparedness. I am delighted to let you know that NSLS-II will have a speaker at this event: Yong Chu, Imaging and Microscopy program manager, will speak about X-ray Imaging of Microelectronics. The event is free to attend if you register using this website. This is a wonderful opportunity for us to highlight how the work at user facilities can have lasting impact on solving the world's most challenging issues. I hope many of you will attend this webinar series.
2023 Users' Meeting
We will hold our annual user meeting from April 24–28, 2023, jointly with BNL's Center for Functional Nanomaterials. This year, I am delighted to announce that the Laboratory for BioMolecular Structures (LBMS), Brookhaven's cryo-electron microscopy facility, will also join us. Please mark your calendars.
Thank you for reading our newsletter and for your continued pursuit of exciting science at NSLS-II.
John Hill, NSLS-II Director