Contact:
Peter Genzer
, (631) 344-3174 | Written by Diane Greenberg
Emilio Mendez Named Director of Brookhaven Lab's Nanocenter
October 18, 2006
UPTON, NY - Emilio Mendez, a physics professor at Stony Brook University, has been named Director of the Center for Functional Nanomaterials (CFN) at the U.S. Department of Energy's Brookhaven National Laboratory, effective November 1.
Currently under construction, the CFN at Brookhaven is one of five nanocenters supported by the Department of Energy and located at a national laboratory. Due to be completed by April 2007, the CFN will provide scientists from universities, industry and other laboratories with state-of-the-art facilities to study materials at nanoscale dimensions - typically, a few billionths of a meter, or about 10,000 times smaller than a human hair. The center is expected to eventually house about 100 researchers and support staff, and it will be used by up to 400 researchers annually, primarily from the northeastern U.S.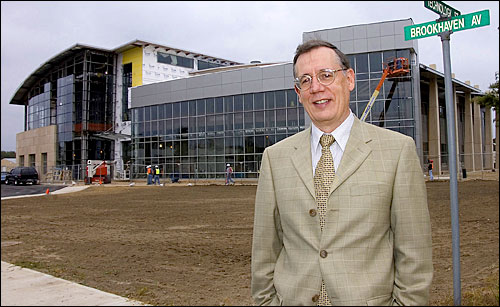 enlarge
Emilio Mendez in front of the construction site of Brookhaven's Center for Functional Nanomaterials. (Click image to download hi-res version)
"Nanomaterials are known in nature and have been used far back in history," Mendez said. "For instance, they are found in the wings of butterflies and in the stained glass windows of cathedrals of the Middle Ages. At the CFN, the primary goal will be to develop materials, tools and techniques on the nanoscale to address the energy needs of the U.S."
Materials in nanoscale dimensions may have different chemical and physical properties than bulk materials, and they could form the basis of new technologies. The CFN is expected to help solve the nation's energy problems by exploring materials that can convert energy more efficiently and by researching practical alternatives to fossil fuels, such as hydrogen-based energy sources and improved, more affordable solar energy systems.
After earning his undergraduate degree from the University of Madrid, Spain, Mendez came to the U.S. to continue his education in physics, earning a Ph.D. from the Massachusetts Institute of Technology in 1979. He then took a postdoctoral position at the IBM T. J. Watson Research Center in Yorktown Heights, New York, where he became a research staff member and eventually a member of the strategic planning group and a line manager. He joined Stony Brook University in 1995 as a physics professor, and in 2004 he became Director of the Undergraduate Program in the Department of Physics and Astronomy.
Mendez's research at IBM involved finding ways to make faster transistors and computer chips, as well as more efficient lasers. Currently, he is studying, among other materials, carbon nanotubes, cylindrical carbon molecules with novel properties that may enhance future electronic and optical devices. A Fellow of the American Physical Society, Mendez has received several awards for his significant scientific contributions, including the 1998 Prince of Asturias Prize and the 2000 Fujitsu Quantum Device International Award.
"Emilio's vision and interests are well-aligned with Brookhaven's broad strategic plans and, in particular, with our commitment to interdisciplinary nanoscience research in support of energy security," said Doon Gibbs, Brookhaven Lab's Associate Director for Basic Energy Sciences. "We are especially enthusiastic about his connection to Stony Brook University and the opportunity that offers to grow new and strong collaborations."
NOTE TO LOCAL EDITORS: Emilio Mendez is a resident of East Setauket, NY.
2006-10552 | INT/EXT | Newsroom