Contact:
Peter Genzer
, (631) 344-3174 | Written by Diane Greenberg
Peter Genzer Named Manager of Brookhaven Lab's Media & Communications and Production Services Office
March 8, 2010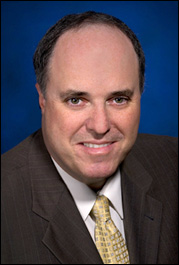 enlarge
Peter Genzer
UPTON, NY — Peter Genzer, a strategic communicator with significant experience in internal/external communications and social media, has been named manager of the Media & Communications and Production Services Office at the U.S. Department of Energy's Brookhaven National Laboratory, effective March 1. He succeeds Mona S. Rowe, who became communications manager for the Lab's Light Sources Directorate.
Part of Brookhaven's Community, Education, Government & Public Affairs Directorate, the Media & Communications and Production Services Office promotes Brookhaven's international reputation as a center for scientific excellence and innovation. The office communicates Laboratory initiatives, goals and accomplishments to internal and external audiences through numerous communications vehicles, builds and maintains relationships with media representatives around the globe, and publicizes information about the Laboratory's research, personnel, events, policies and procedures. The office has 24 employees and an annual budget of $3 million.
"It's a truly exciting time to be at Brookhaven, with construction quickly progressing on a world-leading light source; compelling research findings from the Relativistic Heavy Ion Collider on the origins of our universe; and expanding scientific programs in climate, energy, nanoscience, materials science, and medicine," said Genzer. "I look forward to working closely with our researchers, Lab management, the Department of Energy, and the media to highlight our progress and share our achievements with the world."
Genzer joined Brookhaven Lab in 1996. His many accomplishments include leading the development of the Lab's social media strategy and its first internal communications and involvement policy, as well as serving as the editor of the Monday Memo, a bi-weekly web-based management newsletter, now in its 12th year, that is regularly ranked by employees as their most trusted source of information.
Genzer earned a B.A. in journalism from the State University of New York at New Paltz in 1993, and an M.A. in public policy from Stony Brook University in 2007. He was a reporter for the Times Beacon Record newspapers from 1994 to 1996, winning a New York Press Association "Rookie Reporter of the Year" award in 1994. He joined Brookhaven Lab as a community relations coordinator, and was promoted to assistant media specialist in 1998 and senior public affairs representative in 1999. In 2001, he became the principal media & communications specialist, a position that included managerial responsibilities. He received Brookhaven Lab's Spotlight Awards in recognition of exceptional job performance in 1999, 2005, and 2006. In 2007, Genzer was named assistant manager of the office, the position he held until he assumed his new title.
2010-11092 | INT/EXT | Newsroom