The following news release was issued on Friday, May 12, 2023, by Texas Southern University (TSU). It describes a meeting being held at TSU this week, co-hosted by Brookhaven Science Associates. Brookhaven Science Associates manages and operates the U.S. Department of Energy's (DOE) Brookhaven National Laboratory on behalf of the DOE Office of Science. BSA is a partnership between Battelle and The Research Foundation for the State University of New York on behalf of Stony Brook University.
TSU Cohosts International TRACER/ACPC Meeting Exploring Innovations in Climate Science
May 15, 2023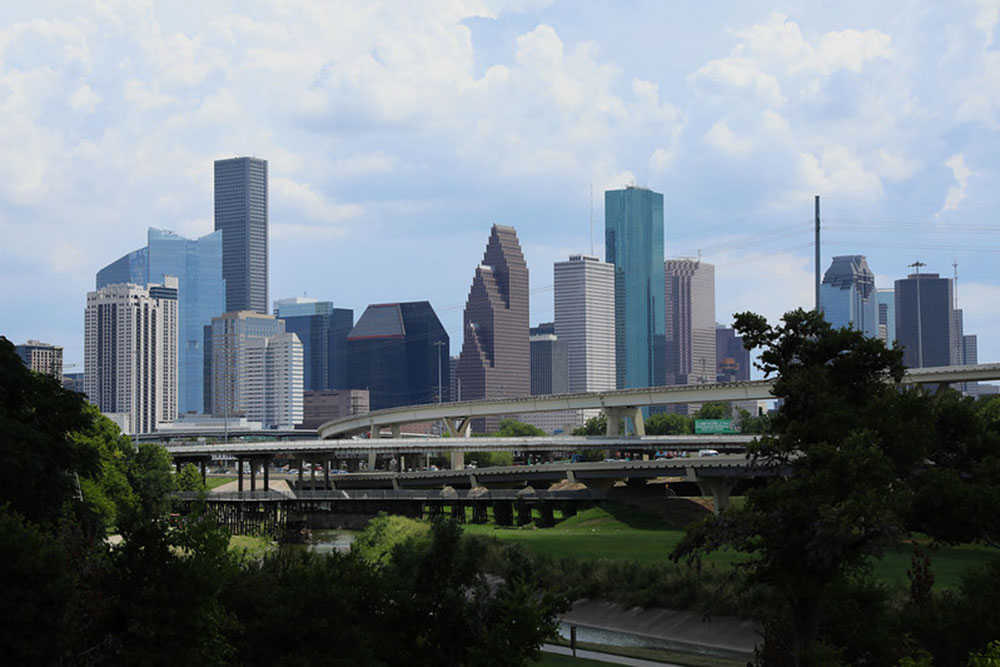 enlarge
Houston, Texas, was the backdrop for ARM's TRacking Aerosol Convection Interactions ExpeRiment (TRACER), which closed its yearlong observational phase September 30, 2022. Credit: ARM
Texas Southern University to cohost international conference and workshops as part of the Brookhaven Science Associates, LLC partnership for the Aerosol, Cloud, Precipitation and Climate (ACPC) working group on May 17-19. The ACPC meeting will be preceded by the TRacking Aerosol Convection interactions ExpeRiment (TRACER) Science meeting on May 16 -17.
"Brookhaven National Laboratory is one of the leading research institutions in America," said Dr. Michelle Penn-Marshall, TSU vice president for research and innovation. "We are excited about the opportunity to continue collaborations between TSU and BNL, which will undoubtedly lead to innovative and transformative research. Texas Southern University is committed to being an excellent partner, while providing the best opportunities for our faculty, researchers and students to learn, participate and prepare for the careers of tomorrow while gaining access to state-of-the-art research facilities."
The gathering of ACPC seeks to establish better scientific understanding of the interactions between aerosols, clouds, precipitation and climate at the fundamental level. The goal is the identify, disentangle, and quantify signals of impact of aerosol perturbations on clouds, precipitation and radiation, considering adjustments and feedback processes by synergistically exploiting observations and models across scales.
The U.S. Department of Energy's Atmospheric Radiation Measurement (ARM) user facility chose the Houston region for the TRACER field campaign because it offers a unique environment where isolated convective systems are common and experience a spectrum of polluted aerosol conditions from urban and industrial areas. Additionally, surrounding areas also show significantly lower background aerosol concentrations.
TSU research scientists, Drs. Daniel Vrinceanu, Mark Harvey, Bruce Prince, and Victor Migenes have been working with Dr. Michael Jensen, TRACER PI, Environmental and Climate Sciences Department, Brookhaven National Laboratory (BNL) for several years. As a result of their collaboration, Drs. Vrinceanu Harvey, and Prince were awarded a grant entitled, "Computational Modeling of Atmospheric Processes at Texas Southern University" from the Department of Energy (DOE). The project has three objectives: 1) to develop research capabilities in environmental and climate science, 2) to develop a sustainable partnership with the Environmental and Climate Sciences Department at BNL, and 3) to leverage ARM, a national scientific user facility, by partnering on data analysis and computational quantum chemistry and physics theoretical modeling of DOE ARM TRACER observations in Houston, Texas.
In addition, four Texas Southern University students will be participating in the inaugural Environmental Justice Internship Program at Brookhaven Lab during summer 2023 for the purpose of inspiring scholarly research to further the DOE's Justice 40 program.
Brookhaven National Laboratory is supported by the Office of Science of the U.S. Department of Energy. The Office of Science is the single largest supporter of basic research in the physical sciences in the United States and is working to address some of the most pressing challenges of our time. For more information, please visit science.energy.gov.
Follow @BrookhavenLab on Twitter or find us on Facebook.
2023-21249 | INT/EXT | Newsroom