Howard-Brookhaven Partnership Empowers Minorities in STEM
Howard University and Brookhaven National Laboratory have established a model collaboration for advancing the capabilities of research institutions while increasing opportunities for underrepresented minorities in science, technology, engineering, and math (STEM).
April 16, 2021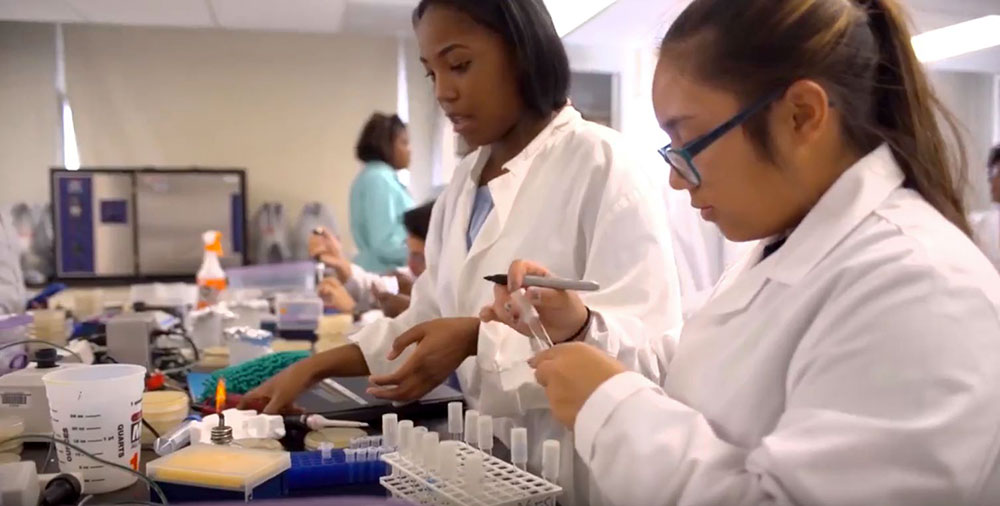 (Credit: Howard University)
The U.S. Department of Energy's (DOE) Brookhaven National Laboratory is well-known for conducting discovery science and developing transformative technologies, but there's another key component to the Lab's mission—inspiring the next generation of STEM professionals.
Every year, more than 30,000 students from elementary school to graduate school come to Brookhaven for STEM-based internships, workshops, and competitions through the Lab's Office of Educational Programs (OEP). OEP's initiatives offer students hands-on experience in world-class laboratories, such as studying the atomic structures of materials at the National Synchrotron Light Source II (NSLS-II) or developing scientific software at the Computational Science Initiative.
Now, OEP's reach is extending beyond the Lab's gates like never before. Through a partnership with Howard University, one of the largest Historically Black Colleges and Universities (HBCUs) and one of the top producers of physics doctorate degrees awarded to African Americans, OEP is creating a new model for collaborating with universities, one that is rooted in faculty research, creates mutual benefits for both institutions, and increases opportunities for underrepresented minorities in STEM.
"OEP is transforming its relationships with HBCUs and other minority-serving institutions into collaborations by linking professors with Brookhaven scientists, further developing the home institution's research capacity," said Noel Blackburn, manager of university relations and DOE programs at OEP. "By extension, their students get the opportunity to participate in research at world-class facilities. The key ingredient in these relationships is trust, which takes time when developing a sustained and durable partnership. However, we are already seeing the positive impacts of these results, especially with our Howard University partnership."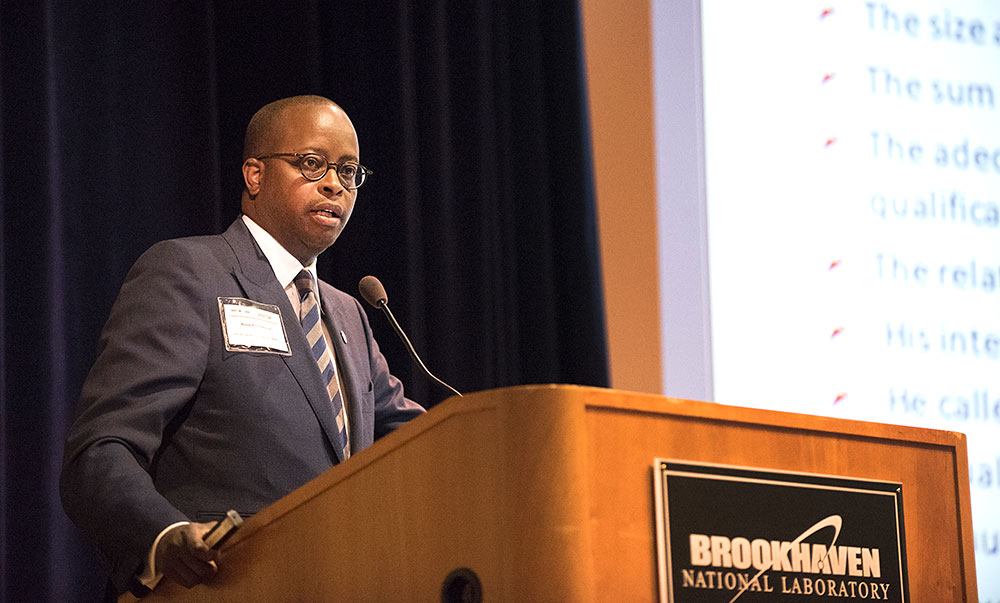 enlarge
Howard University President Wayne A. I. Frederick gave a keynote speech at Brookhaven Lab's 2016 summer internships opening ceremony, launching the collaboration between Howard and Brookhaven.
Establishing an Unparalleled Level of Collaboration
When Howard University President Wayne A. I. Frederick gave an inspiring keynote speech at Brookhaven's 2016 summer internships opening ceremony, nobody predicted the chain of events that would follow, culminating in one of the most in-depth and impactful educational collaborations both institutions had ever seen.
In the two years after Frederick's speech, leaders from Brookhaven and Howard, including Brookhaven Lab Director Doon Gibbs, made routine visits to each other's campuses. It wasn't long before everyone realized the unprecedented value that could be gained by sharing the institutions' resources: Howard's wide pool of talent and Brookhaven's renowned research facilities. Starting in January 2019 and continuing to this day, Howard and Brookhaven leaders hold a monthly meeting in which they discuss mutual research interests, grant applications, and experimental capabilities.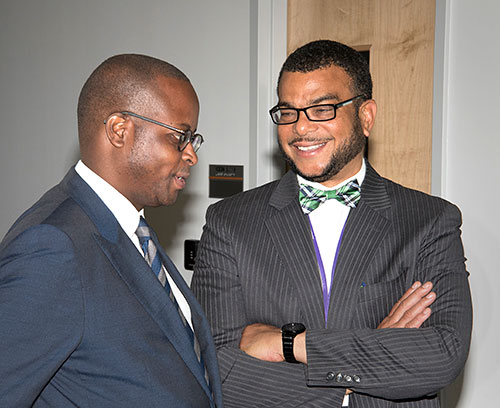 enlarge
Wayne A. I. Frederick and Noel Blackburn at Brookhaven Lab's 2016 summer internships opening ceremony.
"We talk each month about upcoming research and education opportunities at both institutions and how we can partner on them," said NSLS-II Director John Hill. "The conversations are led by Pamela Clarke, director of research development at the Howard University Office of Research, myself, and Noel Blackburn, but each month we are joined by various others, including many Howard faculty. They are incredibly helpful in identifying opportunities early on and drawing the two institutions closer and closer together."
"I work with many partners and our relationship with Brookhaven is truly unique. I look forward to the Brookhaven calls because you really get the sense that they care. They're interested and they're invested," said Clarke.
Unlike most of OEP's programs, which aim to develop the STEM workforce by offering research opportunities directly to students, the Lab's collaboration with Howard University is centered around faculty research and institutional growth. While OEP works to integrate Howard students into its various internship programs, the overarching goal of the collaboration is to grow Howard University's already-impressive research portfolio by leveraging Brookhaven's capabilities and securing additional funding through collaborative grants—and therefore, offer more STEM opportunities to their students. All the while, Brookhaven benefits by attracting researchers to its facilities who offer more diverse perspectives and experience than its existing base of visiting researchers. Their work drives new research questions and initiatives at the Lab, helping to grow Brookhaven's impact on everyday life.
Bruce Jones, vice president for research at Howard University, said, "The expansive goals of the Howard-Brookhaven partnership, combined with the dedication displayed by both institutions, is unparalleled in our work with federal labs."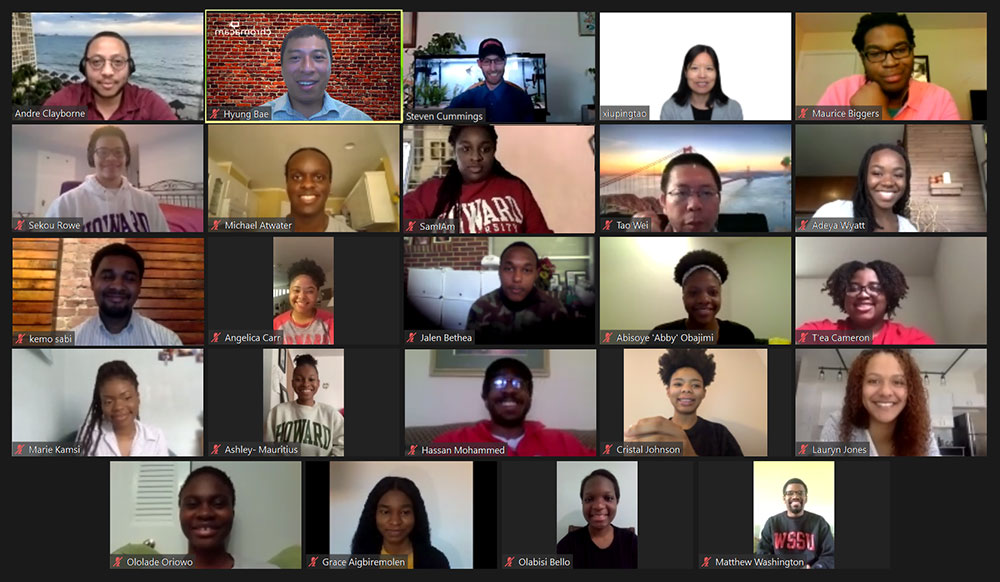 enlarge
Howard University students participated in a virtual BioNano Tech Workshop featuring Noel Blackburn and John Hill.
Howard Faculty Conduct Research at Brookhaven Lab
"The partnership has been incredibly powerful in bringing new users to our facilities—NSLS-II, the Center for Functional Nanomaterials, and our computing facilities at the Computational Science Initiative," Hill said. "In addition, we have developed deep research collaborations in diverse areas such as quantum computing, energy storage, and materials science, leveraging the expertise and talent pool of both institutions to do so."
Computational physicist Marcus Alfred is an associate professor at Howard University who has conducted research at Brookhaven through OEP's Visiting Faculty Program, as well as the National Science Foundation's Louis Stokes Alliances for Minority Participation program. As a member of the PHENIX and sPHENIX collaborations—international groups of scientists studying data from one of the Relativistic Heavy Ion Collider's original detectors and its planned successor—Alfred and his graduate students are researching particle collisions that will relate to experiments conducted at the Electron-Ion Collider, a new state-of-the-art DOE nuclear physics facility to be built at Brookhaven Lab.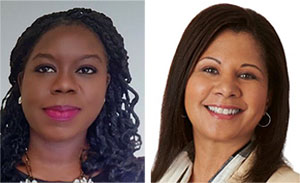 enlarge
Pamela Clarke and Sonya Smith
"Our research with the PHENIX collaboration is a chance for young scientists to look forward and start their careers in a new field of nuclear physics that will generate results for decades," Alfred said. "There are so few African Americans who work in experimental nuclear physics, and almost none at the HBCUs, so we're trying to expand those opportunities."
Alfred added, "I can't say enough about Noel Blackburn, OEP, the Brookhaven physics department, and the Lab in general. Folks have been really supportive and enthusiastic, and we've been able to create several new opportunities for our students. We've also received additional funding at Howard based on the research we've done at Brookhaven."
Leveraging the resources of DOE's Workforce Development for Teachers and Scientists program in the Office of Science, OEP is able to give additional Howard faculty access to the Lab. Sonya Smith, director of Howard's Applied Fluids Thermal Engineering Laboratory and a professor in mechanical engineering, was recently awarded funding by DOE to participate in the Lab's Visiting Faculty Program as a result of the Howard-Brookhaven partnership. She will conduct research alongside a prestigious interdisciplinary research group at the Lab in areas such as quantum science and battery materials, and the team members will work together to secure new grants.
"I cannot thank Noel Blackburn and Jon Hill enough for facilitating this opportunity for me and my students," Smith said. "Through participating in the Visiting Faculty Program, we will have access to unique facilities and world-renowned collaborators for our research."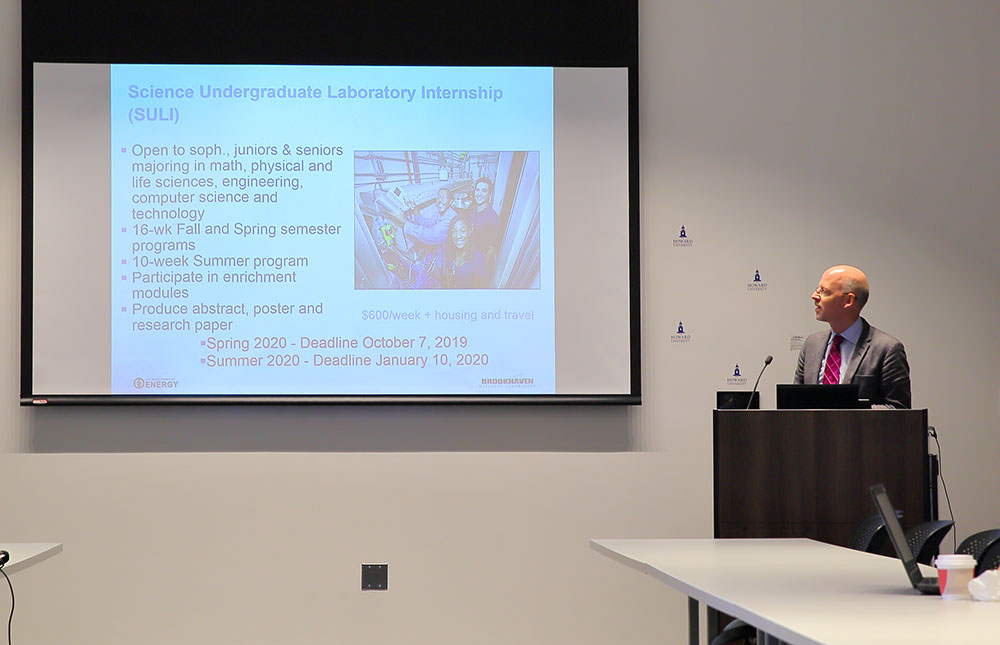 enlarge
John Hill visited Howard University and spoke to students about research at NSLS-II and internship opportunities at Brookhaven Lab.
NSLS-II Director Champions Howard Partnership
The growth, endurance, and impact of the Howard-Brookhaven partnership can largely be attributed to John Hill, according to many of his colleagues at Brookhaven and Howard. One of the first members of Brookhaven leadership to visit Howard University, Hill spearheaded the monthly meetings and continues to advocate on Howard's behalf in all aspects of Brookhaven's operations.
"John is a pioneer," Blackburn said. "There are lab scientists who collaborate with universities but not at the level that John is. He is the Howard University champion at Brookhaven Lab."
Clarke added, "John has met with many of our researchers, from pharmaceutical scientists to engineers. He works to ensure there is always a match in our research priorities, if not at NSLS-II then in another Brookhaven department outside of his facility. He has even created a special travel award out of his own budget for Howard University faculty to conduct research at NSLS-II."
"While I had participated in the Howard University visits to Brookhaven previously, for me, the relationship took off on my first trip to Howard," Hill said. "After I gave a talk about some of the capabilities here at Brookhaven, Pamela came up to me excited about the possibilities of growing the connection between Howard and Brookhaven, and we talked at length about how to do so. We both wanted a deep, continuing connection and realized that was going to take sustained work on our part. That gave rise to the monthly calls. In many ways, much of what has happened can be traced to those monthly calls. It has been incredibly rewarding to work with Pamela and see the results of that first conversation come to fruition—and we are both very excited about the future and growing this partnership further."
Hill's dedication to Howard University is something Blackburn hopes inspires other leaders at Brookhaven Lab to build new relationships with HBCUs. Clarke hopes other scientific institutions will follow Brookhaven's lead.
"HBCUs account for just three percent of the Nation's colleges and universities, but they produce 27 percent of bachelor's degrees in STEM fields for African American students," Blackburn said. "HBCUs are leaders in educating African Americans in undergraduate and graduate studies, so it is imperative that scientific institutions like Brookhaven bolster their efforts for the success of scientific research nation-wide."
Clarke said, "I encourage others to engage with HBCUs because we have a lot of talent here. Brookhaven has recognized that talent and is fostering and enhancing it so everyone benefits."
Looking towards the future, Howard and Brookhaven are discussing ways to collaborate on new quantum science initiatives. Clarke says Howard is in a position to become a leader in quantum science. Brookhaven was also recently selected to lead one of DOE's five new quantum research centers, the Co-Design Center for Quantum Advantage, in which Howard is the only HBCU partner. Together, the institutions are poised to break ground.
NSLS-II, the Center for Functional Nanomaterials, and the Relativistic Heavy Ion Collider are DOE Office of Science User Facilities at Brookhaven Lab.
Brookhaven National Laboratory is supported by the U.S. Department of Energy's Office of Science. The Office of Science is the single largest supporter of basic research in the physical sciences in the United States and is working to address some of the most pressing challenges of our time. For more information, visit https://energy.gov/science.
Follow @BrookhavenLab on Twitter or find us on Facebook.
Founded in 1867, Howard University is a private, research Historically Black College and University (HBCU) that is comprised of 13 schools and colleges. Students pursue studies in more than 120 areas leading to undergraduate, graduate and professional degrees. The University operates with a commitment to Excellence in Truth and Service and has produced one Schwarzman Scholar, three Marshall Scholars, four Rhodes Scholars, 11 Truman Scholars, 25 Pickering Fellows and more than 165 Fulbright Scholars. Howard also produces more on-campus African American Ph.D. recipients than any other university in the United States. For more information on Howard University, visit www.howard.edu
2021-17342 | INT/EXT | Newsroom