The following news release was originally published by Stony Brook University (SBU). SBU and the U.S. Department of Energy's Brookhaven National Laboratory will collaborate to construct a new $13 million Long Island Quantum Test Bed that aims to advance and commercialize quantum networking technology.
SBU Awarded $6.5M Grant to Build a New Quantum Internet Test Bed
Governor Hochul announced $46.5 million in grants from Long Island Investment Fund for three regional projects
November 30, 2022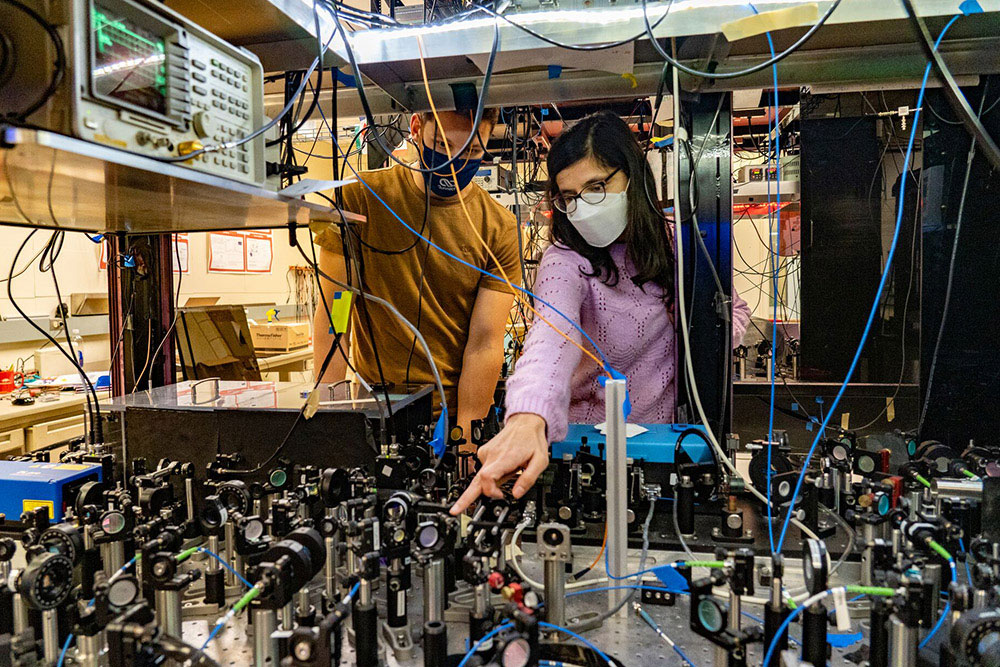 enlarge
Members of the Figueroa Research Group in the Department of Physics and Astronomy's Figueroa Quantum Information Technology lab. (Photo by John Griffin)
Stony Brook University has been awarded a $6.5 million grant from the Long Island Investment Fund to construct a new Quantum Internet Test Bed, part of $46.5 million in grants for three regional projects announced by New York State Governor Kathy Hochul on November 29.
The $350 million Long Island Investment Fund, included as part of Governor Hochul's FY 2023 Enacted Budget, focuses on projects that will support and grow the regional economy, enhance communities, and have lasting economic impacts across Long Island. The two other grants were $30 million for Farmingdale State College to build a Center for Computer Science and Information Technology, and $10 million for Long Island University to build a College of Science Applied Research and Innovation facility.
With these projects, the Long Island Investment Fund has invested $56.5 million, leveraging another $122 million in public and private dollars, to help drive economic growth on Long Island, and will create hundreds of new jobs on Long Island and support the education and training of thousands.
"Through the Long Island Investment Fund, my administration is committed to making Long Island our nation's premier corridor for life sciences and research innovation," Governor Hochul said. "The awards announced today will help create jobs in cutting-edge sectors, boost workforce training, and support nation-leading innovation right here in New York. As we attract and retain top talent through our investments in state-of-the-art research facilities and infrastructure, Long Island is where the future is being imagined."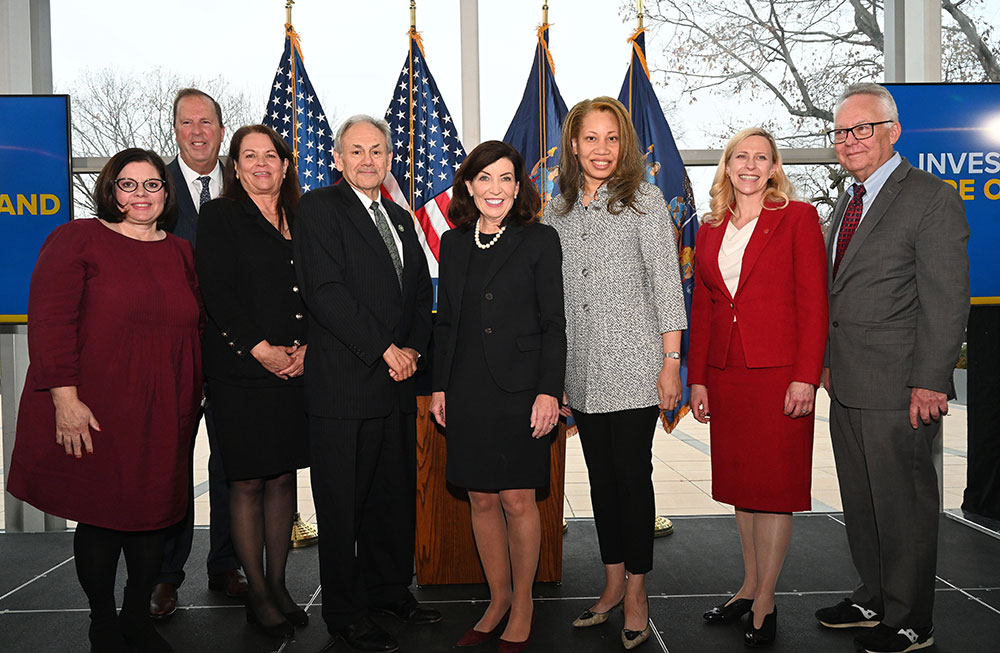 enlarge
Governor Hochul announced new funding at Stony Brook University on Nov. 29. From left: REDC Co-Chair Linda Armyn; ESD Chairman Kevin Law; Long Island University President Kim Cline; SUNY Farmingdale President John Nader; Governor Hochul; ESD CEO Hope Knight; SUNY Stony Brook President Maurie McInnis; and Brookhaven National Lab Director Doon Gibbs. (Credit:Kevin P. Coughlin/Office of the Governor)
Stony Brook University, in collaboration with Brookhaven National Laboratory (BNL), will construct a new $13 million Quantum Internet Test Bed. The Long Island Quantum Internet Test Bed will be a network of five nodes that are physically connected using commercially available optical fiber. It will be overseen by the Long Island Quantum Internet Center, located at Stony Brook and in partnership with BNL.
The center will catalyze new technologies to accelerate today's internet functionality, to improve the security of our communications, and to enable dramatic advances in computing. It will grow to include other New York State universities, laboratories and industry partners with research teams dedicated to investigating and implementing the new applications of quantum technology in the context of telecommunications and the internet. The project will establish Long Island as a global hub of quantum internet technology development and bring together researchers, educators, investors in a collaborative effort to accelerate the commercialization of quantum internet technologies.
"As a flagship institution, we recognize building the Quantum Internet is among the most critical technological frontiers of our time," said Stony Brook University President Maurie McInnis. "Stony Brook University and Brookhaven National Laboratory are internationally recognized leaders in this field, with the vision and scientific expertise to ensure that New York State is at the forefront of this work. We are grateful to Governor Hochul and the State of New York for this transformative investment that will enable Long Island to be the future epicenter of quantum networking, ultimately stimulating the economy and creating jobs."
"Building a comprehensive quantum-based global communication network — a Quantum Internet — has the potential to be among the most important and transformative technological advances of the 21st century," said Brookhaven National Laboratory Director Doon Gibbs. "This funding award from New York State's Long Island Investment Fund will help Brookhaven Lab and Stony Brook University provide the tools and capabilities researchers need to make large-scale quantum entanglement distribution networks a reality."
"Long Island is home to pioneering institutions that catalyze innovative technology and strengthen the region's workforce. Today's announcement will support initiatives to improve communication technology and help the region's top schools train the talent for careers in growing tech industries, ultimately creating good-paying jobs while meeting business demand," said Empire State Development Board Chairman and Stony Brook Council Chairman Kevin Law.
Brookhaven National Laboratory is supported by the Office of Science of the U.S. Department of Energy. The Office of Science is the single largest supporter of basic research in the physical sciences in the United States and is working to address some of the most pressing challenges of our time. For more information, visit science.energy.gov.
Follow @BrookhavenLab on Twitter or find us on Facebook.
2022-20963 | INT/EXT | Newsroom