BNL Commemorates Veterans' Day with a Traditional Ceremony
November 14, 2011
Despite a steady rain, the BNL community gathered last Thursday with members of the Brookhaven Veterans Association (BVA) and the BNL Laboratory Protection Division at the flagpole at the Brookhaven Center for a ceremony honoring all veterans.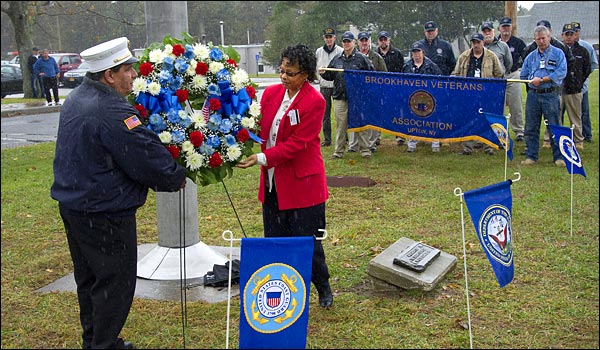 Commander Scott Bradley of the BVA opened the ceremony. After the recitation of the Pledge of Allegiance, Shirley Kendall of the Lab's Diversity Office and International Services Office gave a short talk. Kendall is a retired lieutenant colonel in the Air National Guard. "Thank you for coming out to honor our veterans," said Kendall. "I think standing in inclement weather for a few minutes is the least we can do to honor those who have served our country and protected our freedom. If you have the opportunity today, please take the time to stop and thank a veteran."
The memorial wreath was placed under the flagpole by Kendall and BNL Fire Chief Charles LaSalla.
The ceremony concluded with a rendition of "Taps" and a moment of silence.
Any BNL veterans interested in joining the BERA Veterans Club should contact Scott Bradley, Ext. 5745, bradley@bnl.gov; Joseph Sullivan, Ext. 2567, jsullivan@bnl.gov; or John Gallagher, Ext. 5770, jgallagher@bnl.gov.
As part of BVA, the Adopt-A-Platoon (AAP) committee supports a platoon from the national non-profit Adopt-A-Platoon organization in which supplies are collected and sent to deployed soldiers to ensure they get packages from "home."

To donate, or for more information on AAP, contact John McCaffrey, Ext. 8162, mccaffrey@bnl.gov or Joanne Rula-Delles, Ext. 8481, jrula@bnl.gov. Monetary are donations also appreciated. A list of suggested donation items can be found at: http://www.bnl.gov/bera/activities/va/Adopt_A_Platoon.asp
2011-2721 | INT/EXT | Newsroom