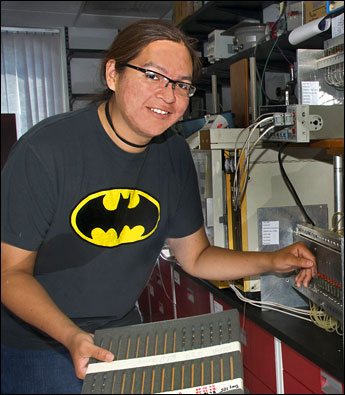 OEP summer student Xavier Driver
Despite his calm demeanor, Xavier Driver, a BNL Office of Educational Programs summer student, keeps himself busy. When he's not studying biology, the student at Fort Berthold Community College plays bass in a thrash metal band — a high-speed, aggressive subgenre of heavy metal music — and writes comics with a friend.
"I'm writing the superhero stuff and my friend is going to write the paranormal stuff," said Driver, adding that his comic-book inspiration is Batman.
Driver is at the Lab as a part of a Faculty and Student Team (FaST) from Fort Berthold Community College, a tribal college in North Dakota. Along with Fort Berthold professor Tom Abe and student Richard Deane, he works with John Heiser, a BNL environmental research engineer. The research team is exploring the path of perflourocarbon tracers (PFTs) — inert manmade gases that can be easily detected — when they are released into the air. PFTs, which are safe and have no environmental consequences, have been used since the early 1980s to study air movement and leak detection.
The group releases PFTs from evenly spaced boxes known as release points and then studies the Gaussian curves the PFTs make as they fly away from the release points.
"We track the movement of the PFTs by taking air samples with personal air samplers that can detect the PFTs," Driver said. "We are trying to determine how far the PFTs released from one box travel before hitting the PFTs released from a nearby box."
Understanding more about the movement of PFTs in air has potential applications in homeland security, air quality, and climate change research. Previously, Brookhaven researchers (including Heiser) were part of a team that tracked the motion of PFTs through New York City to model how dangerous contaminants released from an industrial accident or terrorist attack might move through an urban environment (see related story).
Driver, who had never been to New York City before coming to the Lab, has had a great time exploring the urban canyons of Manhattan. He also enjoys being at Brookhaven's calm campus.
"I like it here, that's all I can say," Driver said with a smile on his face.
The Fort Berthold team was funded by a grant from the National Nuclear Security Administration. For more information about the FaST program and the other internships offered through BNL's Office of Educational Programs, click here. To learn more about PFT research at BNL and its widespread applications, visit this website.
Think you or one of your colleagues has a good story to tell? Email us! Although we can't write about everyone, we would love to hear your ideas and suggestions.