Uncovering and revealing the nano- to mesoscale structure and complex dynamics of heterogeneous systems under in situ conditions
The Complex Scattering Program at Brookhaven Lab's National Synchrotron Light Source II (NSLS-II) enables researchers to investigate the structure and dynamics of composite and complex materials. The program offers advanced x-ray scattering techniques under in situ conditions, taking full advantage of NSLS-II's ultrahigh brightness and coherence. The program's scientific focus is to study and optimize the relationship between function, structure, and dynamics in complex materials, including films and fibers.
Program Beamlines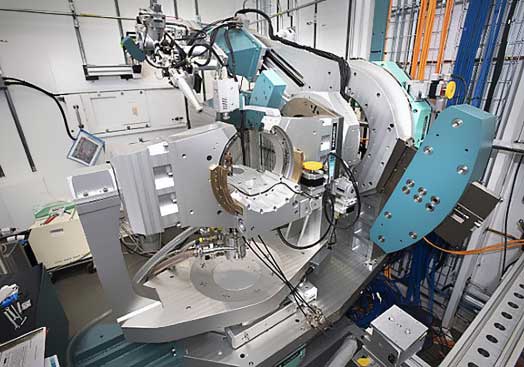 This diffractometer at the Integrated In Situ and Resonant Hard X-ray Studies (ISR) beamline allows researchers to "see" the structure of a material by shooting highly focused x-rays at the sample and measuring how they diffract, or bounce off. The instrument also has two detectors. While one allows users to quickly survey the overall structure of a sample, the other gives a zoomed-in view of the material's subtler details.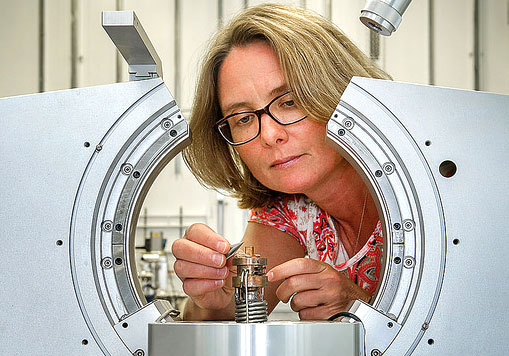 Beamline lead scientist Christie Nelson works with a diffractometer located at beamline 4-ID. The diffractometer allows imaging of a material's structure by measuring how highly focused x-rays diffract, or bounce off. The instrument offers researchers high precision when studying materials with unique structural, electronic, and magnetic characteristics. The instrument offers researchers high precision when studying materials with unique structural, electronic, and magnetic characteristics.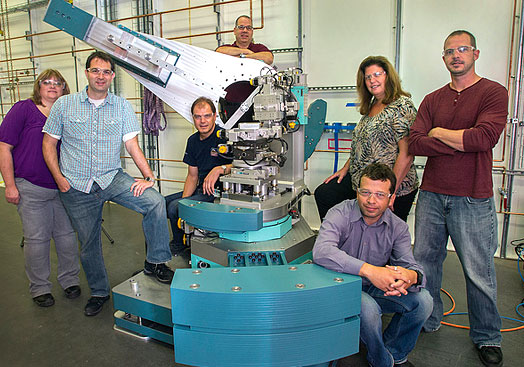 The CHX beamline acts like a high-speed camera with an extremely fast shutter, capable of taking "nanoscale movies" of motion within materials or biological samples. The combination of a high stability multi-circle diffractometer and a 15-meter long small-angle x-ray scattering (SAXS) table allows the measurement of sample material dynamics.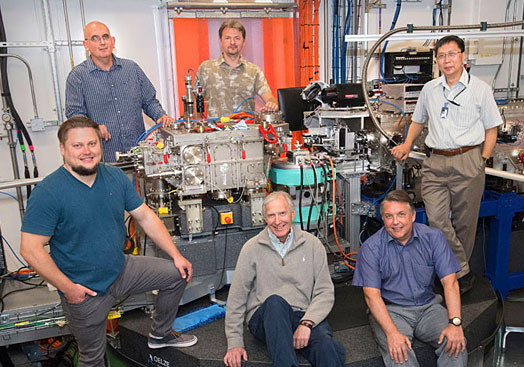 Brookhaven Lab members of the research team at the Inelastic X-ray Scattering (IXS) beamline. The circular track accommodates utility cables and allows the arm housing the detectors to move to different locations to select the scattering angle for the measurement.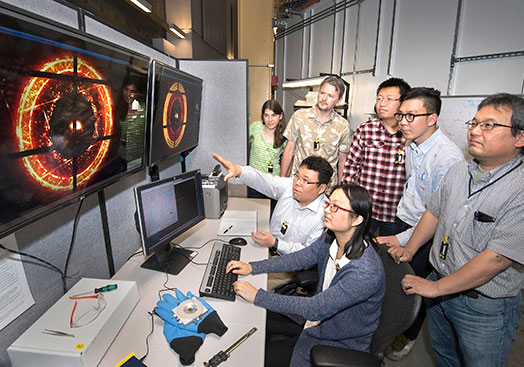 The incredible resolution power of the Soft Matter Interface (SMI) beamline at NSLS-II reveals elusive features of materials that are otherwise invisible. Scientists study the high resolution data images produced by SMI on multiple screens to compare features.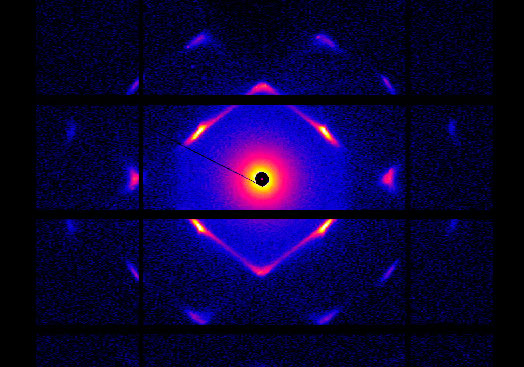 Using x-ray scattering, scientists decipher the structural order of complex materials. In this case, they investigated an iron oxide using the Complex Materials Scattering (CMS) beamline at NSLS-II.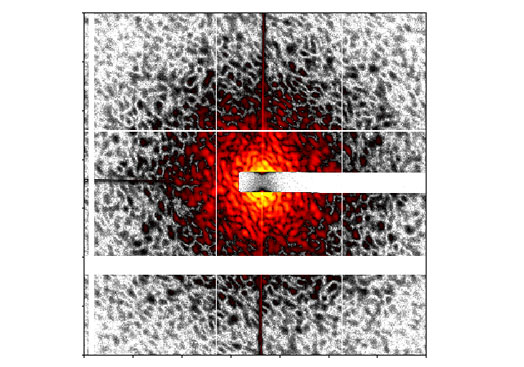 These data images are lovingly called 'speckle' patterns, and scientists measure them using ultrabright and coherent x-rays at the Coherent Hard X-ray Scattering (CHX) beamline.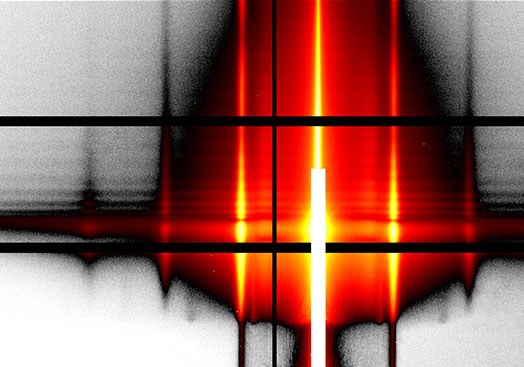 This image shows the data of a so-called gazing incidence small angle s-ray scattering (GISAXS) experiment on a polymer that is thermally responsive and expands and contracts in water.
Our Partners

The Center for Functional Nanomaterials (CFN) is a partner user on two x-ray scattering beamlines at NSLS-II, through which CFN will provide advanced structural probes, of molecular and nanoscale order, to the nanoscience user community. These beamlines provide complementary capabilities to explore complex parameter spaces (CMS beamline) and to perform frontier studies of nanomaterials (SMI beamline).