A Message from Donald DiMarzio
information

from the Users' Executive Committee
August 28, 2018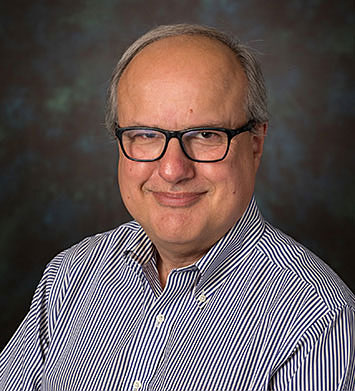 enlarge
Donald DiMarzio
Dear fellow CFN users:
On behalf of the CFN Users' Executive Committee (UEC), I am pleased to report recent happenings since our last newsletter.
The CFN and NSLS-II are working together on improvements to their proposal systems, focusing on making them less burdensome for users and also improving integration between the two facilities for those users who require access to both. Please let us know if you have any suggestions for improving these systems. In addition to regular user access and training, the CFN encourages active collaboration with staff scientists. Let us know if you are interested in working with one or more of the CFN staff on your future projects.
The new CFN ambient-pressure x-ray photoelectron spectroscopy (AP-XPS) system is up and running. Managed by CFN staff scientist Ashley Head, the AP-XPS system is ideal for organometallic chemistry and surface-science experiments, including in situ studies of catalytic mechanisms on surfaces and porous materials.
Other facility upgrades and equipment additions at the CFN include a plasma atomic-layer deposition system, a 3D printer (with ~30 μm spatial resolution), an atomic-force microscope and infrared spectroscopy system with nanometer resolution, and a new electron energy-loss spectroscopy system for the probe-corrected Hitachi scanning transmission electron microscope (scheduled installation in the fall). The purchase of a new focused-ion beam is planned for 2019, and vendor evaluations are underway.
The CFN initiative to bring data analytics to the nanoscience community has led to a new staff scientist hire, with additional new staff hires planned in the near future.
The CFN will sponsor a vendor booth again this fall at the Materials Research Society Fall Meeting & Exhibit in Boston. During the meeting, the CFN will organize its annual CFN user, staff, and alumni dinner. If you are in Boston the week of November 25 to 30, we hope to see you there.
This past June, the CFN UEC participated in the Society for Science at User Research Facilities (SSURF) annual meeting. A not-for-profit organization, SSURF provides a consolidated voice for those who are engaged in, support, or have an interest in research conducted by the national user facilities. The CFN UEC met with representatives of other DOE user facilities to discuss shared concerns and future plans. Projected budgets for DOE user facilities look good throughout 2019. The CFN representatives also met with selected senate and house staff members in Washington, DC, to brief them on DOE Basic Energy Sciences programs.
Our revamped CFN UEC website is now live. It's a work in progress, but please have a look. We intend for this website to not only help keep you up to date with developments at the CFN but also to link you to our user community. In the next iteration, users will be able to post job openings and position wanted notices. Stay tuned.
We have begun our CFN alumni "goodwill ambassador" outreach program, in which CFN alumni are CFN "ambassadors" helping to connect local researchers at their home institutions with the CFN. We have had good participation so far, but many more institutions could use a CFN ambassador. If you would like to find out how to become a CFN ambassador, please contact me.
The UEC is always interested in hearing from you, and we sincerely hope you can join us in our efforts to improve the user experience at the CFN. Please feel free to send me any thoughts on how the UEC can help make such improvements.
—Donald DiMarzio
2017–19 CFN UEC Chair (chair@cfnuec.org)
2018-13086 | INT/EXT | Newsroom
Subscribe to iCFN
Sign up to receive iCFN in your email inbox.