Contact:
Peter Genzer
, (631) 344-3174 | Written by Kelly Zegers
Pavlos Kollias Receives AGU Atmospheric Sciences Ascent Award
Brookhaven Lab/Stony Brook University atmospheric scientist recognized for advances in the field of cloud and precipitation physics through novel applications of millimeter-wavelength radars
December 22, 2020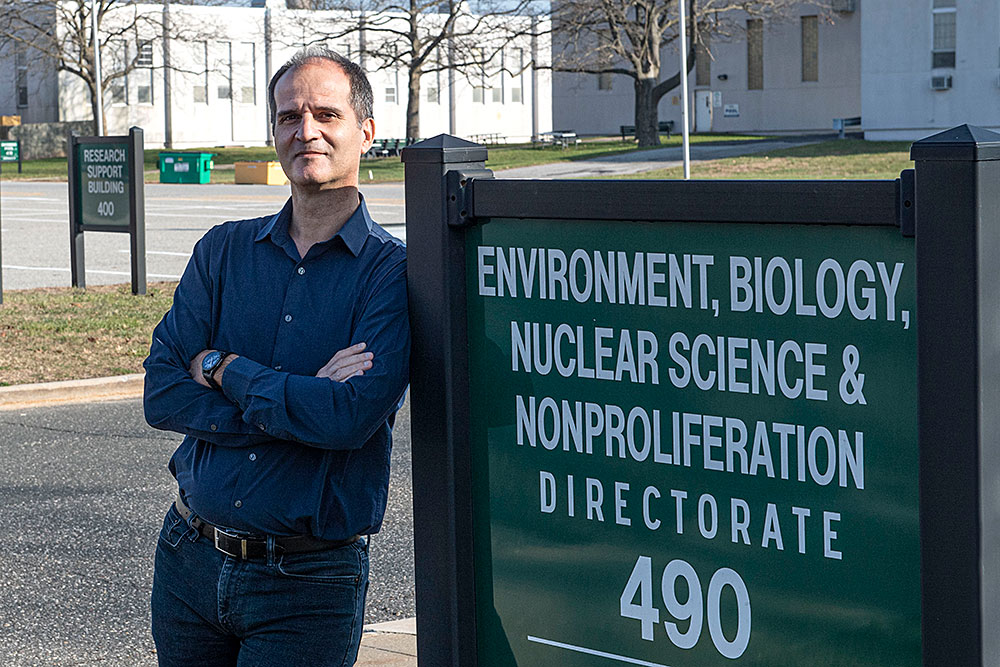 enlarge
Pavlos Kollias
UPTON, NY — Atmospheric scientist Pavlos Kollias, who holds a joint appointment at the U.S. Department of Energy's Brookhaven National Laboratory (BNL) and Stony Brook University (SBU), is the recipient of a 2020 American Geophysical Union (AGU) Atmospheric Sciences Ascent Award.
This award annually recognizes five exceptional, mid-career scientists for their excellence in research and leadership in the atmospheric and climate sciences.
"I had no idea my work had left such an impression on my community," Kollias said. "I am grateful for my mentors, colleagues, and family, whose support has been instrumental throughout my career."
Kollias noted that he strives to give back by mentoring young scientists in atmospheric remote sensing, which has fascinated him for years.
The community of scientists using short-wavelength radars to study clouds was extremely small when Kollias was a graduate student. "You could count on one hand the number of people that had these kinds of systems at universities in the U.S.," he said.
But in the 20 years since the atmospheric scientist received his Ph.D. in meteorology from the University of Miami, he has helped grow the field, in part by teaching a new generation of scientists domestically and abroad—through universities and workshops—to carry on the work of using radars to better understand clouds and rain formation and their role in Earth's climate.
Kollias, who is the director of Brookhaven Lab's Center for Multiscale Applied Sensing and a professor in the department of atmospheric sciences at Stony Brook University, also actively seeks to connect with the private sector and technologists who are working to improve atmospheric measurements through the development of next-generation remote sensing systems. For example, the radar enthusiast has built a strong partnership with Raytheon, allowing him to explore applications of phased-array radars for weather tracking.
Growing up in sunny Athens, Greece, Kollias rarely saw severe weather making the news. Yet he became interested in cloud microphysics, remote sensing, and climate as he worked toward earning a bachelor's degree in physics and a master's degree in atmospheric science at the University of Athens. He was motivated to come to the United States to acquire more hands-on radar meteorology and cloud and precipitation research experience, he said.
It was at the University of Miami's Rosenstiel School of Marine and Atmospheric Science
that Kollias got swept up by what he calls the "perfect storm" that influenced his own career and research. He found mentors in cloud scientist Bruce Albrecht, who served as his dissertation advisor and further fostered his interest in cloud-scale processes, and in Roger Lhermitte, now deceased, whom he remembers as the "godfather of radar meteorology."
"With this nurturing, there was no question when I graduated in 2000 that I was ready to understand radar technology and help the field grow," Kollias said. He was also equally ready to tackle the physical processes at play in cloud and precipitation systems, he said.
Kollias's interests led him to connect with the DOE's Atmospheric Radiation Measurement (ARM) user facility, which has pioneered the use of small-wavelength cloud radars since the 1990s. He served as ARM's associate chief scientist from 2007 to 2009, after which he became a Canada Research Chair at McGill University. In 2016 Kollias moved back to the U.S. to join Brookhaven Lab and SBU. He said he got "fired up" by Associate Lab Director for Environment, Biology, Nuclear Science & Nonproliferation Martin Schoonen's strategic vision for the Lab's environmental and climate sciences department.
Kollias stressed that the DOE has played a key role in providing him unique observations to push his work forward, and in introducing him to other scientists to collaborate with and learn from in the field.
"I am grateful for the large dataset and community provided by ARM and for the countless discussions I have had with colleagues from Brookhaven Lab and elsewhere over the years," he said. "Nothing could be done without them."
Allison McComiskey, chair of Brookhaven Lab's environmental and climate sciences department, has known Kollias through ARM for many years and has been able to watch his impact on their scientific community grow.
"His recognition this year from AGU is well deserved, and we are fortunate to count him as part of our team in the environmental and climate sciences at Brookhaven," McComiskey said. "Many of the breakthroughs in our field come from the ability to see our environment in a novel way. Pavlos has the vision and skills to make that happen in atmospheric remote sensing. I am looking forward to working alongside him in the next few years as his impact drives our programs in the areas of energy and climate research forward."
As the author or co-author of more than 150 peer-reviewed scientific articles heads into the next stage of his career, he is continuing to push the boundaries of how we collect observations of clouds and precipitation. In collaboration with Edward Luke and Katia Lamer from Brookhaven Lab, Mariko Oue from SBU, and Bernat Puigdomenech from McGill University, he has developed a new observing paradigm by which radar operations adapt to changes in the atmosphere in real time.
A goal of this dynamic data-driven sampling is to steer radars in a way that will help scientists gain a better understanding of short-lived and fast-evolving weather phenomena. Such measurements could, for example, allow radars to observe a fair-weather cloud throughout its life cycle––something that so far, can only been documented from afar using photography.
Kollias's work at Brookhaven Lab is funded through the DOE Office of Science.
Brookhaven National Laboratory is supported by the U.S. Department of Energy's Office of Science. The Office of Science is the single largest supporter of basic research in the physical sciences in the United States and is working to address some of the most pressing challenges of our time. For more information, visit https://energy.gov/science.
Follow @BrookhavenLab on Twitter or find us on Facebook.
2020-17620 | INT/EXT | Newsroom