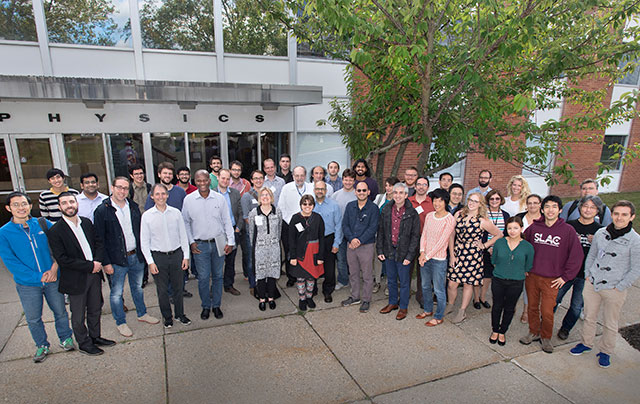 Dark Interactions Workshop Hosts Physicists from Around the World
Dozens of experimental and theoretical physicists convened at the U.S. Department of Energy's Brookhaven National Laboratory in October for the second biennial Dark Interactions Workshop. More...
Ultrafast Imaging Reveals Existence of 'Polarons'

New technique reveals direct experimental evidence of strong coupling between electron motion and deformations in atomic arrangements that affect the flow of current More...

Raju Venugopalan Awarded Prestigious Humboldt Research Award

Senior physicist is recognized for excellence and longstanding contributions in the field of theoretical nuclear physics. More...

NSLS-II User Profiles: Sana Rani & Alicia Broderick

University of Delaware students explore zinc oxide compounds at the Coherent Soft X-ray 2 beamline More...

Congratulations, 2016 Spotlight Awardees!

More than 225 Brookhaven Science Associates employees at Brookhaven Lab were recognized with Spotlight Awards in fiscal year 2016. More...

ESOL Participants: Learning English, Understanding Customs, Enjoying the Cultural Diversity of the United States.

By sharing American customs, traditions, and helping our international employees, visitors, and family members, the Lab's English for Speakers of Other Language (ESOL) program has helped hundreds of international employees, visitors, and family members understand the English language and American customs. More...

Scientist, Teacher, and Olympian Maria Michta of Suffolk County Community College to Talk at Brookhaven Lab, December 8

Maria Michta, a microbiologist and Olympic athlete, will give a talk on her journey as a scientist, teacher, and athlete More...





Upcoming Events
Brookhaven Women In Science (BWIS) Event
"Dream, Believe, Become"
Dr. Maria Michta-Coffey, Suffolk County Community College
Thursday, December 8, 4:30 p.m.
Large Seminar Room, Bldg. 510
Details...
Community Advisory Council Meeting
Thursday, December 8, 6:30 p.m.
Berkner Hall, Room B

Newsclips
BNL's Yoo uses machine learning to climb mountains of data
—TBR newsmedia