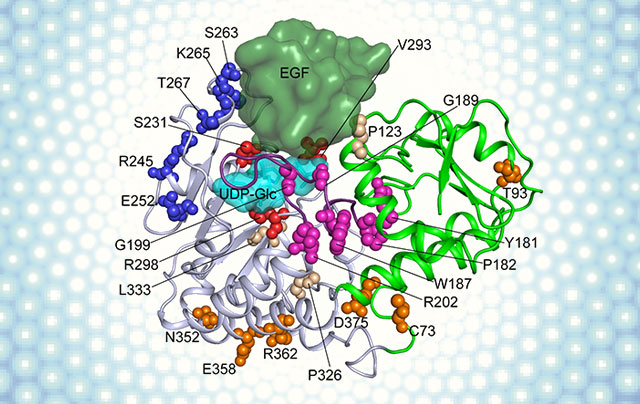 Scientists Determine Structure of Enzyme Linked with Key Cell-Signaling Protein
Atomic level snapshots show how one key enzyme modifies a protein involved in turning genes on or off inside cells, potentially pointing to new targets for anticancer drugs. More...
Summer Sundays: Brilliant Light, Dazzling Discoveries, July 24

Visit the Lab's National Synchrotron Light Source II, a powerful photon microscope designed to deliver world-leading intensity and brightness. Take a guided tour around the synchrotron! Participate in hands-on activities, take a synchrotron quiz, and listen to talks by scientists and students. Be amazed by the Science Spectacular Laser Light Show! All activities are on a first-come, first-served basis. Visitors 16 and older must bring a photo ID. More...

Roy Garbarino Named Director of Internal Audit at Brookhaven Lab

Roy Garbarino has been named Director of Internal Audit for the U.S. Department of Energy's Brookhaven National Laboratory, effective July 18. In his new role, Garbarino is responsible for administering the Lab's Internal Audit strategy, providing independent, objective assurance and consulting services designed to add value and improve the Lab's operations. More...

Pinkenburg and the GearHeadz

Brookhaven physicist spends spare time coaching kids' robotics team More...





Announcements
Upcoming Events
Summer Sunday
"Brilliant Light, Dazzling Discoveries: National Synchrotron Light Source II"
Sunday, July 24, 10 a.m.
Berkner Hall for Information
Details...
BSA Noon Recital
"Pianofest"
Wednesday, August 3, 12 p.m.
Berkner Hall Auditorium
Details...
Newsclips
Owner of a Lonely Quark: The High Temperature Quantum Chromodynamics of Ágnes Mócsy (Women in Science 68)
—Mad Art Lab
Largest Map Ever Made Will Unlock The History Of The Universe
—Popular Science
1.2 million galaxies in 3D
—Earth Sky
MC3E: A Legacy of Learning
—ARM Climate Research Facility
BAMS Article Reports on a Data-Rich Storm Clouds Campaign
—Atmospheric System Research
ASR Marine Low Clouds Workshop Held
—ARM Climate Research Facility
Pilot Phase Begins for Routine Large-Eddy Simulations
—ARM Climate Research Facility