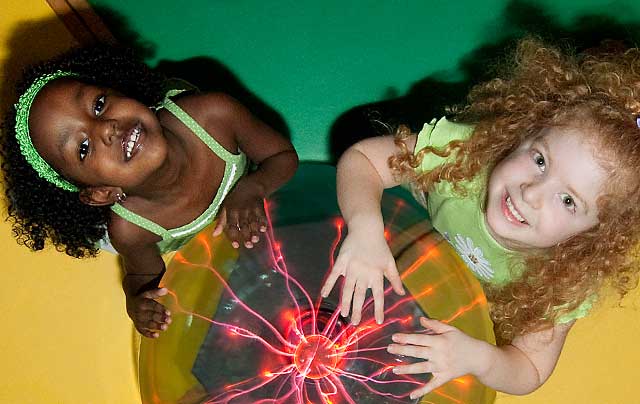 Family Fun Day, July 26
An exciting day of hands-on family fun! Visit the Lab's Science Learning Center to discover basic scientific theory using magnets, mirrors, and more! Hop aboard a fire truck and learn about the Lab's protection services. Be mystified by the "History and Mystery of Magic." More...
Brookhaven's Susan Pepper Focuses on Nonproliferation of Nuclear Material…and Stray Cats

As head of the International Safeguards Project Office at Brookhaven National Laboratory for more than 10 years, Susan Pepper has worked extensively with the International Atomic Energy Agency to provide their Department of Safeguards with the tools it needs to track nuclear material under the terms of the United Nations' Nonproliferation Treaty. More...

Brookhaven Lab Summer School Helps Develop Tomorrow's Nuclear Chemistry Experts

Students receive hands-on training and introduction to careers in energy, environmental science, and medicine. More...

New Technique to Synthesize Nanostructured Nanowires

Researchers developed a new method for growing 'hybrid' crystals at the nanoscale, in which quantum dots of different materials can be incorporated into a host nanowire. More...





Upcoming Events
Brookhaven Women In Science (BWIS) Event
"Sub-micron X-ray Beam Sheds New Light on the Hair Local Structure"
Vesna Stanic
Friday, July 24, 4 p.m.
Physics Dept. Large Seminar Room, Bldg. 510
Details...
Summer Sundays
"Family Fun Day"
Sunday, July 26, 10 a.m.
Berkner Hall
Details...
BSA Noon Recital
"Pianofest II"
Wednesday, July 29, 12 p.m.
Berkner Hall Auditorium
Details...
Brookhaven Women In Science (BWIS) Event
"Unexpected Unions: A Physicist's Dip Into the Art and Design World"
Ágnes Mócsy
Thursday, July 30, 4:30 p.m.
Physics Dept. Large Seminar Room, Bldg. 510

Newsclips
Dispelling Clouds of Uncertainty
—EOS Earth & Space Science News
Nano Focus
—MRS Bulletin
Unconventional Wisdom from John Kominicki
—Long Island Index blog