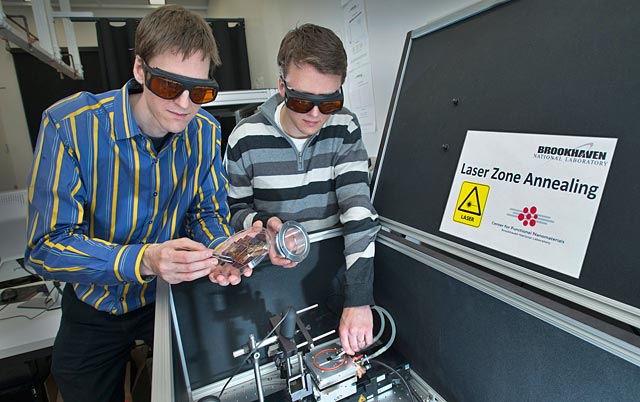 Intense Lasers Cook Up Complex, Self-Assembled Nanomaterials
New technique developed at Brookhaven Lab makes self-assembly 1,000 times faster and could be used for industrial-scale solar panels and electronics. More...
Lab Employee Robert Malone Helps U.S. Air Force Get Ready for Take-Off

Robert Malone, a key team member of Brookhaven Lab's Accelerator Test Facility, assisted the United States Air Force by providing them with important information on software that would enhance their computer control systems. More...

U.S. Energy Secretary Honors Brookhaven Lab Team for Building Large Hadron Collider Magnets

Energy Secretary Moniz presented one of the U.S. Department of Energy's most prestigious awards to a 17-member team based at Brookhaven Lab for completing two superconducting magnets for the Large Hadron Collider on time and under budget with increased scope. More...

Brookhaven's Stanislaus S. Wong to Receive the 2015 ACS Inorganic Nanoscience Award

The American Chemical Society's 2015 Inorganic Nanoscience Award will be presented to Stanislaus S. Wong, a chemist in the Condensed Matter Physics and Materials Sciences Department at the U.S. Department of Energy's Brookhaven National Laboratory and a professor in Stony Brook University's Department of Chemistry. More...

Brookhaven Lab Scientist Yimei Zhu Honored at Asian American Celebration

Brookhaven scientist Yimei Zhu honored as a distinguished Asian-American professional for his contributions to condensed matter physics and nano science. More...

BWIS Lecture: History of Contributions by Women in the Field of Astronomy

Suffolk County Community College Professor Glenda Denicolo will give a talk, "Women in Astronomy," on Thursday, May 21, at 4:30 p.m. in the Physics Department seminar room. More...






Upcoming Events
Asian Pacific American Heritage Month Event
"Asian Culture Through Music and Dance"
Wednesday, May 27, 12 p.m.
Berkner Hall Auditorium
Details...
Brookhaven Lecture
"505th Brookhaven Lecture: 'Scanning the Structure of Steel From Nuclear Reactor Vessels'"
Lynne Ecker, Nuclear Science & Technology Department
Wednesday, May 27, 4 p.m.
Berkner Hall Auditorium
Details...
Newsclips
For the first time, a Riley Avenue student takes home the gold in county-wide science fair at Brookhaven National Lab
—Riverhead Local
A new visualization of the electromagnetic spectrum
—Kurzweil