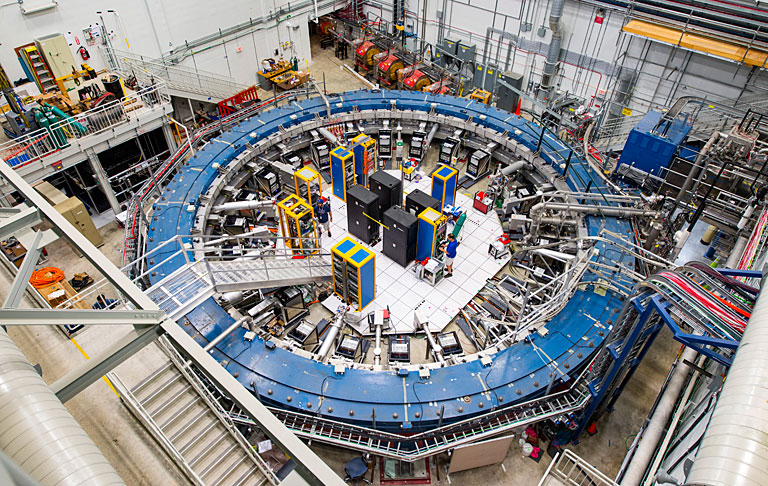 Theorists Publish Highest-Precision Prediction of Muon Magnetic Anomaly
Latest calculation based on how subatomic muons interact with all known particles comes out just in time for comparison with precision measurements at new "Muon g-2" experiment More...
First Summer Sunday of 2018 is July 15

Experience Brookhaven Lab's Summer Sundays. See exciting science shows, tour world-class science facilities, and enjoy hands-on educational activities— all for free! All visitors to the Laboratory 16 and older must bring a photo I.D. More...

Extracting Signals of Elusive Particles from Giant Chambers Filled with Liquefied Argon

A revolutionary new kind of neutrino detector sits at the heart of the MicroBooNE experiment, where scientists use software to "develop" images that trace neutrinos' interactions in a bath of -303°F liquid argon. More...

Tom Daniels Named Associate Lab Director for Facilities & Operations at Brookhaven Lab

Tom Daniels, a project management professional with more than 29 years of experience, has been named Associate Laboratory Director for Facilities & Operations at Brookhaven National Laboratory, effective July 2, 2018. More...

Summer Students at Brookhaven Lab: They're Here—and More Are Coming!

Forget about grilling and white shoes after Memorial Day. The students and professors visiting Brookhaven Lab this summer are firing up experiments and laptops, and donning white lab coats—ready for research, networking, and some fun too. Department of Energy Under Secretary for Science Paul Dabbar was among the dignitaries who welcomed many of the students during an orientation meeting. More...






Announcements
Upcoming Events
Summer Sundays
"Family Fun - Science Learning Center & BNL Firehouse"
Sunday, July 15, 10 a.m.
Berkner Hall, Room B
Details...
Small Business Open House
"Small Business Open House"
Tuesday, July 17, 10:30 a.m.
Berkner Hall (Auditorium and Lobby)

BWIS Gertrude S. Goldhaber Award Ceremony
Tuesday, July 17, 12 p.m.
Large Seminar Room, Bldg. 510

Summer Sundays
"Exploring the Ultra Small - Center for Functional Nanomaterials"
Sunday, July 22, 10 a.m.
Berkner Hall, Room B
Details...