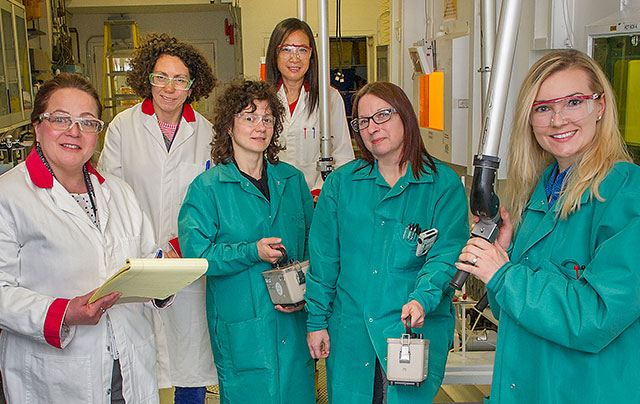 Producing Radioisotopes for Medical Imaging and Disease Treatment
Brookhaven's high-energy proton accelerator and a group led by Cathy Cutler team up to meet the nation's demand for medical isotopes More...
Chemists ID Catalytic 'Key' for Converting CO2 to Methanol

Results from experiments and computational modeling studies that definitively identify the "active site" of a catalyst commonly used for making methanol from CO2 will guide the design of improved catalysts for transforming a pollutant to useful chemicals. More...

37 Lab Staff Members Recognized for Perfect Attendance

Thirty-seven Brookhaven Science Associates staff members at Brookhaven Lab were honored for their perfect attendance records in 2016. More...





Upcoming Events
Long Island Environment
"2017 Long Island Natural History Conference"
Various
Saturday, March 25, 8 a.m.
Berkner Hall Auditorium
Details...
BSA Noon Recital
"Guitarist Jiji"
Wednesday, March 29, 12 p.m.
Berkner Hall Auditorium
Details...
Brookhaven Women In Science (BWIS) Event
"Using Graphene to Understand Biology"
Sarah Perry, University of Massachusetts Amherst
Thursday, March 30, 4:30 p.m.
Large Seminar Room, Bldg. 510

Newsclips
Line Pouchard joins Center for Data- Driven Discovery at BNL
—TBR Newsmedia
Here's to the winners
—Innovate LI
At Brookhaven, 'Wide-Eyed' Visitor Takes In American Science and Culture
—ARM Climate Research Facility