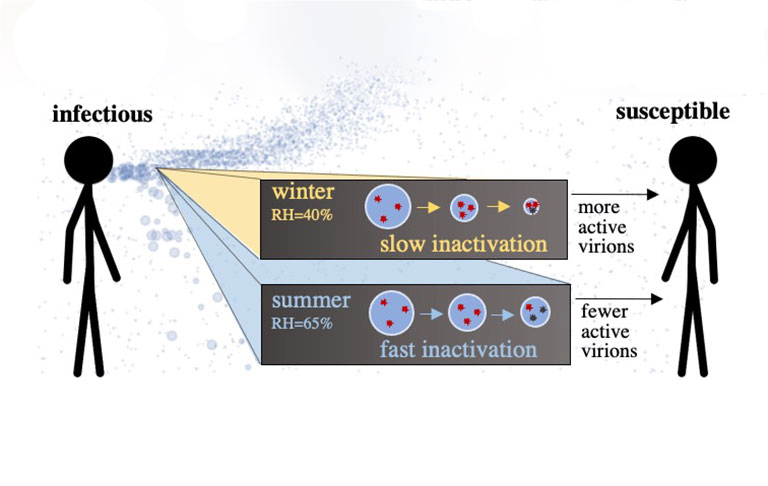 How Seasonal Variation in Indoor Humidity Affects COVID-19 Transmission
Drier indoor air may keep viruses active longer, increasing risk of long-range airborne transmission. More...
Video: Biotechnology from Brookhaven Critical for COVID Vaccines

Pfizer-BioNTech and Moderna used biotechnology developed at Brookhaven Lab decades ago to produce COVID-19 vaccines. John Shanklin explains. More...

Scientists Recommend System of Checkpoints to Help Guide Climate Engineering Research

Opinion piece describes framework for assessing and guiding research on "marine cloud brightening" — a proposed method to reflect sunlight away from Earth to mitigate the most severe impacts of climate change. More...

Reshaping the World of Research Through Remote Experimentation

How the pandemic steered user research facilities on an unexpected journey of adaptation More...

Apply Now for 2022 Chasman Award for Women

This year, BWIS is pleased to offer two awards of $2,750 each. More...

300 High School Seniors Named Nation's Top Scientists in Regeneron Science Talent Search 2022

$1.2 million in awards to go to students and their schools for exceptional research in science, technology, engineering, and math. More...






Upcoming Events
AccessBrookhaven
"Advancing Nuclear Energy Technology"
Wednesday, January 26, 1 p.m.
Videoconference / Virtual Event
Details...
Brookhaven Lecture
"The Past, Present, and Future of Ultrafast CO2 Lasers: A Success Story Inspired by Accelerator Science"
Mikhail Polyanskiy, Brookhaven National Laboratory, Accelerator Test Facility
Wednesday, January 26, 4 p.m.
Videoconference / Virtual Event
Details...
Stakeholder & Community Relations Event
"Live Celebration, Q&A: Brookhaven Lab's 75th Anniversary"
Thursday, January 27, 6:30 p.m.
Videoconference / Virtual Event
Details...
Newsclips
A Twist on the Theory of Relativity: Creating Matter from Energy
—Northrop Grumman