High-School Students Studying Carbon-Based Nanomaterials for Cancer Drug Delivery Visit Brookhaven Lab's Nanocenter
The 11th graders from Islip High School brought the graphene oxide microspheres they made at Stony Brook University to the Center for Functional Nanomaterials for imaging
July 2, 2018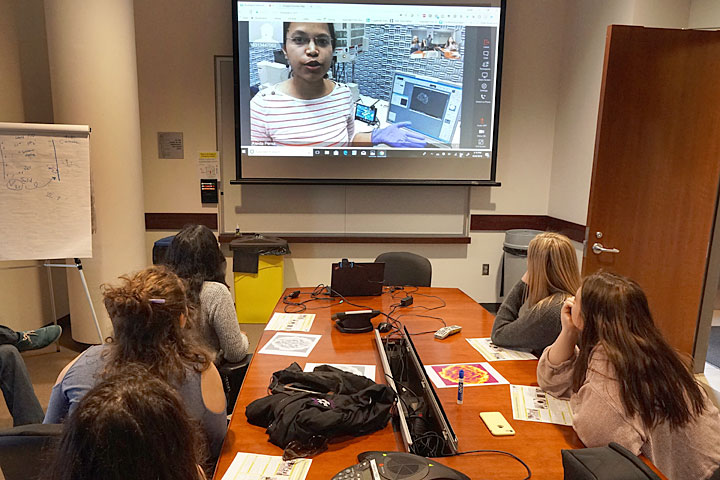 enlarge
Stony Brook University graduate student Shruti Sharma uses a scanning electron microscope at Brookhaven Lab's Center for Functional Nanomaterials to image samples of graphene oxide microspheres synthesized by 11th-grade female students, who interact with her via video from a conference room nearby.
Opportunities to experience what scientists do were few and far between for Shruti Sharma while growing up in India. This lack of early exposure to hands-on science activities contributed to Sharma—now a fifth-year PhD candidate graduating this summer from the Department of Materials Science and Chemical Engineering at Stony Brook University and a guest researcher at the U.S. Department of Energy's (DOE) Brookhaven National Laboratory—becoming involved in educational outreach. Since her undergraduate years, she has been mentoring K–12 and undergraduate students through various science, technology, engineering, and mathematics (STEM) programs.
"When I was younger, I did not have many chances to see science in action," said Sharma. "I want to change that for today's youth, especially young women. By serving as a role model, I want to show them the exciting and fun work of a scientist through interactive experiences that expose them to science and its impact on our daily lives. As their mentor, I make sure to talk with them about challenges I have faced and share stories demonstrating that scientists are people just like them."
One of Sharma's recent outreach efforts was mentoring five 11th-grade female students from Islip High School who are participating in Stony Brook's High School Women in Science and Engineering (WISE) program. This three-year after-school program aims to encourage young women to pursue careers in STEM disciplines through educational lessons, hands-on research, field trips to nearby research institutions, and presentations from career speakers.
Exposing young women to nanoscience
Sharma has been teaching the Islip High School students about novel carbon-based micro- and nanoscale materials for drug delivery applications. In particular, the students are researching tiny hollow spheres of graphene oxide. Injected into the bloodstream, such microspheres can carry drugs to cancer cells, like those the students observed under a microscope in the lab of Stony Brook assistant professor Yizhi Meng. Sharma's colleagues and fellow doctoral candidates Lyufei Chen and Weiyi Li took them to Meng's lab during one of their sessions to explore how nanotechnology and materials science are used to deliver medicine.
The research is a simpler version of Sharma's thesis project to synthesize and investigate different carbon-based nanocomposites for cancer-related applications. Graphene oxide embedded with iron oxide nanoparticles is an example of such nanomaterials that can be used as enhanced contrast agents for magnetic resonance imaging (MRI) of cancer. Though MRI is widely used in cancer diagnosis, it has limited sensitivity. The iron oxide nanoparticles are viable candidates for increasing this sensitivity, providing better image contrast to differentiate between normal and cancerous cells. These carbon-based nanocomposites are also being considered as drug delivery vehicles for cancer treatment.
After learning some basic nanoscience concepts and experimental techniques, the students synthesized graphene oxide microspheres in the lab of Rina Tannenbaum, a professor in materials science and chemical engineering at Stony Brook University.
"Creating hollow spheres from sheets of graphene oxide through water-in-oil emulsion is a relatively simple experiment that demonstrates the more sophisticated research that I do," said Sharma. "Learning about science concepts through reading a textbook or listening to a lesson is one thing but doing science and seeing those concepts come to life is another. Visualization is really important in bridging the connection between science and its real-world applications."
enlarge
Shruti Sharma (third from left) and the students she is mentoring in front of their research poster describing how they synthesized and analyzed the microspheres. They presented this poster at the annual WISE Capstone Event.
The students then determined the structure and chemical composition of their microspheres through optical microscopy and Fourier transform–infrared spectroscopy. However, the resolution of the optical microscopes is limited to a few hundred nanometers—10 to 100 times larger than the surface feature size of their microspheres. So, the students took a field trip to Brookhaven Lab's Center for Functional Nanomaterials (CFN)—a DOE Office of Science User Facility—which has powerful electron microscopes that can resolve molecules and even individual atoms.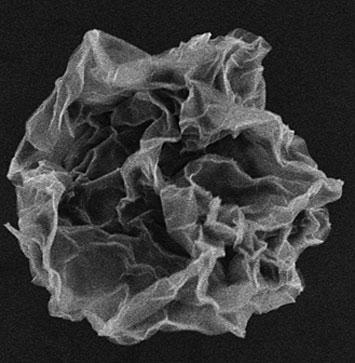 A scanning electron microscope image of a graphene oxide microsphere prepared by the students.
Because special training is required to use the electron microscopy facilities at the CFN, Sharma—who regularly uses these facilities for her doctoral work—imaged the students' samples while they followed along via videoconference from a nearby room. During their field trip, the students also viewed other CFN labs and met with CFN Director Charles Black. Brookhaven Lab's Office of Educational Programs (OEP) coordinated their visit, which took place in April.
"At the CFN, we came up with a solution—a portable videoconferencing system—that allows students to virtually enter any lab and interact with scientists who are conducting experiments," said CFN physicist Fernando Camino, who co-developed the solution. "In this way, students can feel the excitement of doing research involving state-of-the-art instrumentation. The positive effect of the interaction is maximized when it is part of a project conducted by the students in their schools or through science programs like WISE."
According to Sharma, the visit to the CFN was transformative for the students.
"They could not stop talking about their experience," said Sharma. "Coming to the CFN opened their eyes to the wide range of applications in nanoscience. Many of the young women already told me they want to return to the CFN to perform research."
"The CFN was astonishing!" said 11th grader Victoria Arthus. "Watching Ms. Sharma utilize the microscope, I felt the urge to be in her place. Likewise, walking through the CFN halls, I felt at home. The different labs and posters intrigued me, reinforcing my desire to enter the STEM fields."
"It is great to see young women engaged in science and being introduced to the tools at the CFN," said microbiologist Aleida Perez, who oversees OEP's teacher and pre-college-student research opportunities. "Remote access has the potential to bring the science from the CFN and other Brookhaven research facilities to a broader audience of students, particularly those in underserved school districts. Such collaborations between OEP, Brookhaven's user facilities, and school districts are helping to develop the next generation of researchers by exposing students to STEM in a way that can significantly impact their interest in those fields."
One of the students previously came to Brookhaven Lab through OEP's Girls Inc. Summer Science Explorations program and will be conducting research in Brookhaven's Physics Department this summer through OEP's High School Research Program.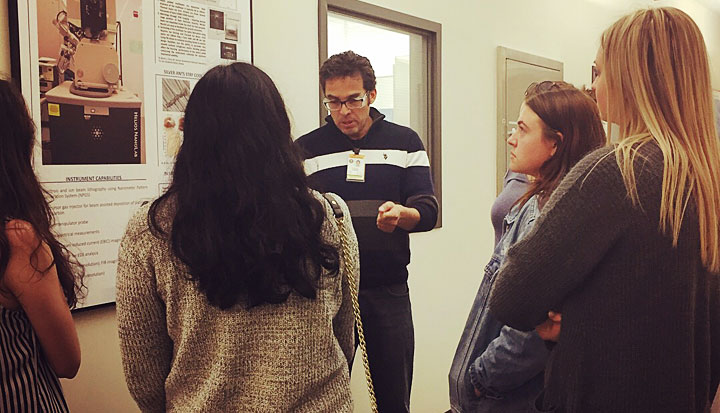 enlarge
Fernando Camino, a physicist in the Electron Microscopy Group at the Center for Functional Nanomaterials, explains to the students how an instrument that combines an electron beam and a focused-ion beam can be used to image and manipulate nanomaterial samples.
For Sharma, someone who is highly passionate about STEM outreach, hearing such positive responses from the students makes all of her mentoring efforts worthwhile.
"Watching the students become excited about science is truly rewarding," said Sharma. "Hands-on learning and encouraging role models can go a long way when it comes to unearthing and retaining an interest in STEM fields."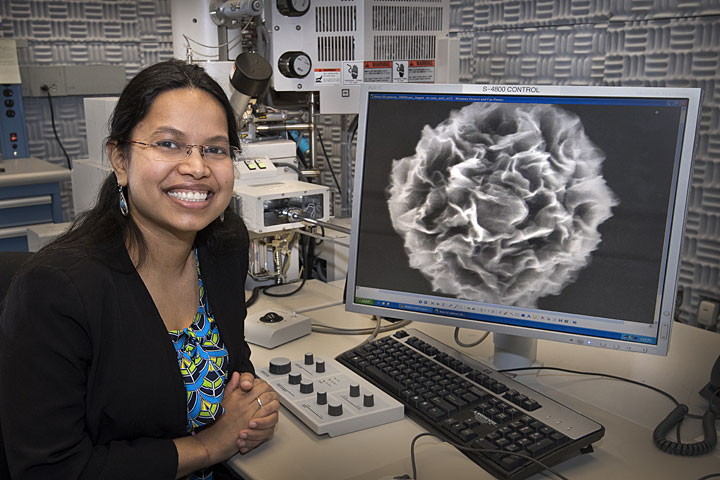 enlarge
Shruti Sharma in a scanning electron microscopy (SEM) lab at the Center for Functional Nanomaterials. On the computer screen is an SEM image of a graphene oxide nanosphere (or nano-"rose," as she calls it) that Sharma synthesized.
In addition to serving as a WISE mentor, Sharma is a member and former treasurer of Brookhaven Women in Science (BWIS). In 2016, she served as the symposium coordinator and communications committee chair for Brookhaven's Early Career Researcher Symposium, organized by the Association of Students and Postdocs. She is also a co-founder of an India-wide STEM outreach effort (VIGYANshaala), and a mentor for various New York Academy of Sciences initiatives and the Student Alumni Relations Cell at the Indian Institute of Technology Bombay (her undergraduate alma mater). In May, Sharma was named the co-recipient of the 2018 Renate W. Chasman Scholarship, given annually by BWIS to women graduate students performing research at Brookhaven Lab.
"Science is a collective effort," said Sharma. "One person cannot solve all the problems—we need all hands on deck. To ensure that highly motivated and skilled scientists enter our workforce, we need to invest in mentoring and training these future scientists. For me, mentoring is a two-way street. Spending time with these young scholars rejuvenates my motivation for STEM research. Teaching and interacting with my mentees has strengthened my own scientific understanding and polished my communication, project management, and teamwork skills."
Brookhaven National Laboratory is supported by the Office of Science of the U.S. Department of Energy. The Office of Science is the single largest supporter of basic research in the physical sciences in the United States, and is working to address some of the most pressing challenges of our time. For more information, please visit science.energy.gov.
Follow @BrookhavenLab on Twitter or find us on Facebook.
2018-12918 | INT/EXT | Newsroom