FOQUSing on the Future of Quantum
The Faculty Outreach for Quantum-Interested UniversitieS program is taking action to ensure the field and its opportunities are equitable and accessible
July 31, 2023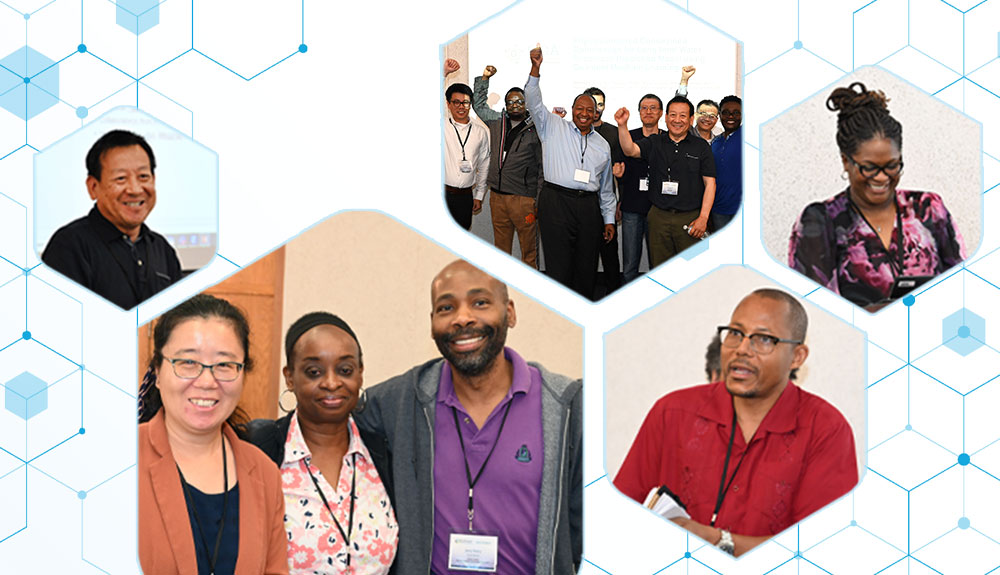 The field of quantum information science (QIS) is growing at an accelerated pace, garnering the interest of research, academia, industry, and several government organizations worldwide. Stretching over a wide range of disciplines and initiatives, the quantum workforce is beginning to emerge, and with it, the chance to ensure that opportunities in this space are available to all whom show interest and promise. To build a foundation of inclusivity, the Faculty Outreach for Quantum-Interested UniversitieS (FOQUS) program is breaking down barriers, fostering networking, and preparing and developing underrepresented students from all STEM disciplines to enter the world of QIS.
Leveraging each organization's resources and expertise, the U.S. Department of Energy's (DOE) Brookhaven National Laboratory, including the Office of Diversity, Equity and Inclusion (DEI) and the Office of Educational Programs, the Co-design Center for Quantum Advantage (C2QA), the DOE Office of Science's Office of Workforce Development for Teachers and Scientists (WDTS), and the IBM-HBCU Quantum Center teamed up to plan and launch this ambitious program. This collective program encouraged university faculty to combine and expand their networks and leverage programs offered by DOE to engage students and teachers.
Hosting their first meeting in late June 2023, FOQUS brought faculty, postdocs, and students from minority serving institutions (MSIs) to Brookhaven Lab for a productive conference that combined three different initiatives over the course of four days—the WDTS C2QA Faculty Outreach Program, the WDTS Outreach Champions Program, and the IBM-HBCU Quantum Center Faculty Development Program. The packed agenda was designed to introduce attendees to the Lab's user facilities and staff that contribute to quantum research with intention of developing collaborative projects that may compete for the large of amount of research funding recently made available by the QIS initiatives. The meeting included interactive workshops, lectures, tours, and networking activities, culminating in a presentation of mock proposals from interdisciplinary groups that formed during the conference. Mentors provided support as university faculty framed their approaches to enter the QIS research and educational ecosystem.
A key element of FOQUS was the WDTS-funded Champions program. "Champions" are advocates, often faculty and administration, who are trained to build access and promote representation for students and other faculty within MSIs. They share information about DOE programs, internships, and external collaborations. On the second afternoon of the meeting, Brookhaven leadership took champions on a tour of the Lab and introduced to staff to start building networks for collaborations. They were also able to meet students who were onsite and see the value of the Lab's internship programs firsthand.
While the Champions Program focused on collaborations and mentorship at Brookhaven Lab, the WDTS C2QA Faculty Outreach Program attendees dove into an overview of quantum science, networked with scientists and quantum experts, and discussed possible collaborations with them. The IBM-HBCU Quantum Center Faculty Development Program hosted several workshops during FOQUS, including a demonstration of Qiskit, an open-source software development kit for working with quantum computers. Attendees and DOE staff spent time brainstorming future collaborative projects and invited speakers provided insight on how to communicate effectively for proposal writing and research grants.
Building the Infrastructure to Succeed
For Ozioma Aguegboh, a data scientist and graduate teaching and research assistant from Tuskegee University, FOQUS brought a deeper understanding of where her curriculum fits in the new world of quantum.
"This was very educational for me, coming from more of a computer science background," Agueboh said. "Not only did I get a lot of information on what is current in the quantum community, we dove into the differences and overlap between scientific computation and computer science. Most of the faculty here are teaching in doctorate programs too, so it was nice to know that there is room for master's level work and education in QIS."
The conference wasn't just about building the quantum workforce or curriculums in universities; it was also about becoming a part of the larger QIS community infrastructure. One-time solutions aren't enough to make lasting changes that ripple out into the larger STEM community. A big part of FOQUS is having faculty and mentors project out into the future and see what they can contribute.
"We aren't always going to be here," explained Phyllis Okwan, an associate professor at Southern University, Baton Rouge. "Mentors move around, they retire, and students need to eventually fill that space and learn to become mentors themselves. Not only do students benefit from the expertise mentors pass on, but they benefit from the confidence they can build. When that allows them to transition from student to mentor, it only builds and strengthens the community. Students are very important stakeholders, and we need to ensure that they are included in these discussions."
The WDTS Champions program is an integral part of this infrastructure. As faculty who already have an impact within the universities they serve, champions are able to reach out directly to students and support their scientific interests with internships and research opportunities at the Lab. Karl Thompson, an associate professor at Howard University, is new to the program, but his time at the Lab has already given him a lot to discuss with students.
"I've been involved in discussions regarding various internship opportunities and faculty programs and realized that I never really got a chance to visit Brookhaven until now," said Thompson. "Being here is really invigorating. I think there is so much focus on applied science out in the world, and I consider myself a champion of promoting basic research as well. I hope to spread that love of basic science amongst the students here at Howard."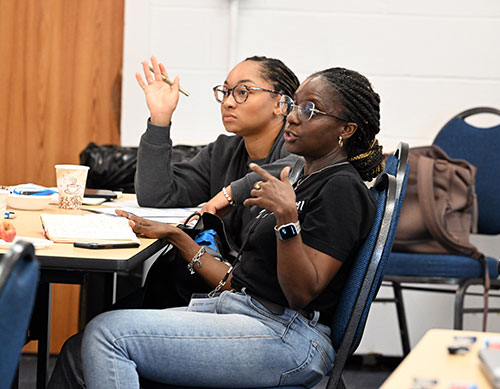 enlarge
Kayla Lee (back) and Tina Brower-Thomas (front) give constructive feedback on mock proposals.
In addition to ensuring that this infrastructure is sustainable, it should also be diverse in many ways—people, backgrounds, educations, fields, and end goals. To do this, representatives from academia, research, government, and industry came together to see where they can collaborate and where people could find a place to flourish. IBM not only represented industry, but research as well. While IBM is known for many of their commercial products, many people may not realize that research and education is also a big part of their culture and strategy.
Noel Blackburn, chief diversity officer at Brookhaven Lab, introduced C2QA leadership to Kayla Lee, a strategic alliances manager at IBM Quantum and co-founder of the IBM-HBCU Quantum Center. This fostered a relationship between the two centers and helped this program take shape.
"Quantum computing is so dependent on research right now, even within IBM," explained Lee. "We collaborate with universities and national laboratories, but we need to make sure we're tapping into every part of that ecosystem to meet these huge goals. It's really cool to work with technology like this at the ground floor. Nobody knows exactly what it will look like in the end or how long it will take to get there. It offers so many opportunities, and it gives us the chance to be intentional in how we shape this community."
Building the Skills to Shape the Future of Quantum
During the conference, Lee teamed up with another champion, Tina Brower-Thomas, from Howard University. She is the executive director for the Center Integrated Quantum Materials (CIQM) and supports the quantum materials thrust in C2QA. The two provided feedback and advice on mock proposals written by faculty and also had the difficult task of choosing three winning proposals presented by teams of faculty attending FOQUS. The concepts of these proposals ranged from building qubits with better coherence times to creating organizations that ensure underrepresented voices are heard and given equal opportunities in QIS. The chosen teams would be able to move their proposed work forward by visiting Brookhaven Lab to develop their ideas with mentors and other staff.
Brower-Thomas knows the value of this kind of collaboration. She has had the opportunity to build on her research through the visiting faculty program (VFP) at Brookhaven Lab multiple times. VFP provides select college faculty members the opportunity to collaborate with scientific and engineering staff on a project of mutual interest with up to two students. This program also grants access to tools, resources, and user facilities that may not be available at all research institutions.
"I've had great experiences at Brookhaven Lab, both through the VFP program and through Howard's partnership in C2QA," recalled Brower-Thomas. "It also led to several mentorship opportunities, like being a panelist at the QIS career fair, helping to stand up the postdoc and graduate student community in C2QA, supporting python courses at quantum summer school, and helping other faculty navigate the process to apply for the VFP program. In the end, it's all about students and relationships. HBCUs are working hard to give students what they need at a fundamental level, so it can be challenging to bring a field like quantum to the forefront. Being a part of both communities helps bring students at these universities to the cutting edge of science."
While there were a lot of practical workshops and talks at the conference, from learning how to write effective proposals to demos of open-source quantum software, a big component FOQUS is getting together in one location, meeting people from different disciplines and institutions, and having real conversations about the future of quantum and what the face of that future could look like. The meeting reinvigorated mentors and champions in the field and sparked the interest and imagination of faculty just dipping their toes in.
"It was such a great energy and an interesting dynamic," said Lee. "Faculty became students again. We had materials scientists, mathematicians, physicists, electrical engineers, software engineers, and more. Only 20% of the faculty have historically done work in QIS, but all of their fields are crucial to progressing it. We want to ensure they know where they fit and how their research relates. It's fine if they don't want to end up in quantum, but we want to ensure the information and opportunities are there and they know where their research fits."
While the focus of FOQUS was the future of quantum, the themes were universal. Creating an inclusive science community rests on everyone's shoulders but works to everyone's benefit. With QIS touching so many disciplines, the hope is that the progress made during this meeting ripples out to more faculty, creates more champions, and encourages more students to pursue an interest in STEM. It can be surprising when certain things make it apparent how far we still need to go to achieve equity in science.
"In a discussion, a student mentioned to me that when he came to Brookhaven, that's when he actually started to see better representation in STEM and people who actually looked more like him compared to where he was studying," recalled Thompson. "I actually raised my hand and had to ask him to restate that to make sure that he was explaining it properly. I wasn't sure if he actually realized what he'd said. I was really struck by that statement. It speaks to DOE's and Brookhaven's efforts, but it also highlights the distance that needs to be travelled as a whole for diversity, equity, inclusion, and accessibility."
Brookhaven National Laboratory is supported by the Office of Science of the U.S. Department of Energy. The Office of Science is the single largest supporter of basic research in the physical sciences in the United States and is working to address some of the most pressing challenges of our time. For more information, visit science.energy.gov.
Follow @BrookhavenLab on social media. Find us on Instagram, LinkedIn, Twitter, and Facebook.
2023-21310 | INT/EXT | Newsroom