UPTON, NY - The U.S. Department of Energy's Brookhaven National Laboratory has achieved OHSAS 18001 registration for its entire site, becoming the first national laboratory to meet this globally recognized standard for health and safety management systems. OHSAS stands for Occupational Health and Safety Assessment Series.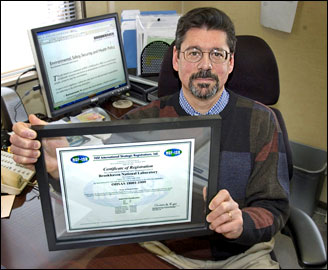 Jim Tarpinian, Laboratory Director for Environment, Safety, Health & Quality holds the OHSAS 18001 certificate. (CLick image to download hi-res version.)
OHSAS was created in 1999 through the efforts of many of the world's leading national standards organizations, certification bodies, and specialist constituencies, whose purpose was to remove confusion in the workplace created by the large number of different occupational health and safety specifications. OHSAS 18001, a single standard for an occupational health and safety management system, can be integrated into an organization's overall management.
To achieve OHSAS 18001 registration, Brookhaven underwent a third-party audit, done in three phases, to ensure that it met all the requirements of the standard and was effectively implementing them. The initial phase began in 2004, when three major areas at the Laboratory - the Collider-Accelerator Department, Central Fabrication Services, and the Plant Engineering Division - achieved the first round of registration. In 2005, several other Laboratory departments and divisions became registered, and the final audit was successfully competed in December 2006.
"We are pleased that we have achieved this registration, which took a great deal of effort on the part of the Laboratory community," said Jim Tarpinian, Laboratory Director for Environment, Safety, Health & Quality. "The Lab integrates three critical success factors: effective work planning and control, employee involvement, and management engagement. By doing that, we can achieve our goal to make our workplace as safe as possible for employees, visitors, and guests."
A key component of Brookhaven's safety management system is job risk analysis. This analysis involves employees and managers assessing the various risks that their jobs entail and suggesting ways to minimize those risks. Another goal of the system is continual improvement. To help achieve that, the Laboratory submits to annual internal and external reviews. In addition, the Laboratory will undergo a comprehensive third-party audit required for re-registration to OHSAS 18001 every three years.
In 2001, to improve its environmental performance, Brookhaven Lab achieved the International Organization for Standardization's ISO 14001 registration, a globally recognized standard that defines the structure of an organization's environmental management system. Tarpinian said, "Registration to the ISO 14001 standard was a tremendous success. The Laboratory demonstrated a track record of excellence in environmental management, and we felt we could achieve the same success by voluntarily submitting to a similar standard for safety and occupational health management."