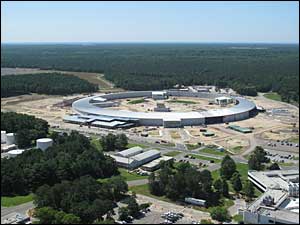 An aerial view of the NSLS-II construction site, taken on July 1, 2011. You can see construction of the first laboratory-office building taking place outside the bottom left portion of the ring building.
The first laboratory-office building (LOB) for staff and users at NSLS-II has quickly taken shape, in full view of Brookhaven Avenue on the north side of the ring building.
E.W. Howell is building two complete LOBs and three LOB shells. According to Mike Bromfield, NSLS-II Project construction engineer, the five LOBs are labeled starting with LOB1 at 12 o'clock on the north and continuing clockwise around the ring at the 2, 5, 7 and 10 o'clock positions. All construction is scheduled to be completed by December 2012.
Howell is also putting up the building that will house the hard x-ray nanoprobe (HXN) beamline, which hangs off LOB3.
Each LOB is approximately 40,000 square feet, said Bromfield. The building housing HXN is 4,200 square feet. He described the satellite HXN building as having a 39-inch-thick foundation to attenuate vibration and 10-inch-thick reinforced concrete walls on the experimental hutch for radiation shielding.
The LOBs are designed by HDR Architecture, Inc. Said Ove Dyling, assistant director for conventional facilities design management, the buildings are designed to bring in daylight, with clerestory windows in the ceilings. Built out, each LOB will have 10 shared laboratories plus a machine shop. The labs include wet labs, dry labs, electronics labs, optical labs and materials labs. Additionally, each LOB will be able to accommodate at least one special fume hood for nanomaterials work.
— Mona S. Rowe, Photon Sciences Communications Manager