When the volunteers have as much fun as the visitors, that's total success!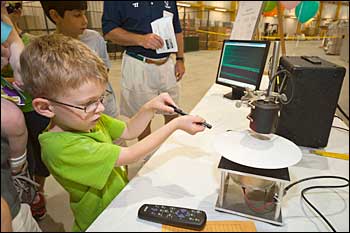 More Summer Sundays photos are available on Flickr.
As part of the Lab's Summer Sunday program, over 900 visitors attended the NSLS/NSLS-II open house on July 24, 2011, organized and carried out by volunteers from the Photon Sciences Directorate, with help from friends and family members.
The volunteers numbered over 100, a record for this volunteer-run event. All hands were needed, however, as this was likely the most ambitious Summer Sunday ever offered, primarily because NSLS-II was open to the general public for the first time since construction began in 2009.
Visitors thoroughly enjoyed the day, as indicated by comments on surveys collected in Berkner by Summer Sundays coordinator Nora Detweiler, of the Community Relations Office. Everything – and everyone – got high marks, and the average stay was close to four hours.
Here is a list of the day's activities:
Intro talks in Berkner
Guided bus tours from Berkner, to NSLS-II, across to NSLS, and back to Berkner
Seven displays in NSLS-II, most of them interactive
A close-up look at the magnet girder in the NSLS-II storage ring
Two displays in the NSLS lobby
Two outside displays
Guided NSLS tours
Quiz and raffles leading to souvenirs and prizes
Balloons and magnet drawings given to visitors
Program of summer student talks, Introducing Synchrotrons into the Classroom (InSynC) teacher talks, and science talks, the full package offered three times during the day in the Office of Educational Programs auditorium
Lisa Miller and Gretchen Cisco, both in Photon Sciences, coordinated the student talks:
Lili Tang, Monitoring X-ray Beam Loss
Niaja Farve, Creating Nanometer-sized Beams of Light at NSLS-II
Genny Kuczewski and Maria Sirenko, "Fill it up" with Biofuels: How Cars Can Run on Plants
Natalie Delpratt, The Effects of Fluoride on Bone as a Treatment for Osteoporosis
William Willis, How Algae and Sunlight Can Lower the Price of Gas
Andrea Jackson, The Effects of Dopamine D2 Receptors and Chronic Alcohol Intake On Object Recognition and Brain Structure in Mice
Daphne Meza, Understanding How ALS Mutations Cause Spinal Cord Neurons to Die
Raman Budhani, Removal of SO2 from the Atmosphere: A Source of Acid Rain
Jerilynn St. Cyr, Synchrotron Light Used to Study Nitrogen in Pine Barren Soils of Long Island, New York
Scott Bronson, Office of Educational Programs, arranged for local teachers and their students to describe the InSynC program at NSLS, involving the Elwood, Islip and Longwood school districts. The talks were titled "InSynC: Bringing Big Science into the Classroom" and were given by:
Diana Soehl, Elwood School District
Ashley Bloch, Islip School District
Physicist Peter Siddons and biophysical chemist Lisa Miller gave the science talks on "Mystery-solving Forensics of Tomorrow at Today's Light Source."
And here is the list of volunteers:
Kyle Luck
Jose Mendez
Corinne Messana
Daphne Meza
Laura Miller
Lisa Miller
Payman Mortazavi
Dave Mosher
Erik Muller
Kathleen Nasta
Christopher Owen
Kaumudi Pandya
Shreeya Panigrahi
Joseph Papu
Joseph T. Papu
Ruth Pietri
Kun Qian
George Rakowsky
Raymond Raynis
Ruben Reininger
Lydia Rogers
Mona Rowe
Michael Rowe
Abdul Rumaiz
Cecilia Sanchez Hanke
Michael Santana
Suman Satyal
Stephen Sawch
Arslan Sayed
Sanjaya Senanayake
Peter Siddons
Maria Sirenko
Randy Smith
Kendra Snyder
Jerilynn St. Cyr
Tammy Stein
Yunli Tang
Juergen Thieme
Ryan Tappero
Haydn Van Dyk
Wyatt Van Dyk
Elio Vescovo
Kurt Vetter
Gary Weiner
William Willis
King Wilson
Martin Woodle
Nancye Wright
Xi Yang
Ed Zeitler
Jennifer Zhong
Zhong Zhong
Alvin Acerbo
Marc Allaire
Lonny Berman
Megan Bourassa
Raman Budhani
Cherise Burton
Shu Cheung
Gretchen Cisco
Mary Anne Corwin
Brianne Corwin
Todd Corwin
Steve Cusack
Vernon Cutting
John Dabrowski
Natalie Delpratt
Steve Dierker
David Dudley
Paige Edwards
Rebecca Ehrlich
Steven Ehrlich
Matthew Engel
Martin Fallier
Niaja Farve
Marcelo Ferreira
Raymond Fliller
Gregory Fries
Charles Gardner
Peter Ghali
Mengjia Gaowei
Edwin Haas
Mary Hanson
Diane Hatton
Sarah Heins
Charles Hetzel
Yoshiteru Hidaka
Marcelo Honnicke
Dick Hseuh
Jih-Perng Hu
Steve Hulbert
Andrea Jackson
Steven Jarzabkowski
Erik Johnson
Precious Joseph
Syed Khalid
Robert Kiss
Anthony Kuczewski
Genny Kuczewski
James Kuczewski
Deborah Lange
Cathleen Lavelle
Wayne Lewis
Fanglei Lin
— Mona S. Rowe, Photon Sciences Communications Manager