Tony Mendez carries a lot of keys. "Want to see my key ring?" he quips. "It's heavy enough to knock someone out!"
Mendez is Facilities Manager in the Business Division of Photon Sciences. He and Bob Kiss each carry the same load of keys, and all those keys open every door in the 23 buildings and portable structures occupied by the directorate staff of 488 (as of November 1, 2011, 390 regular PS staff, 52 staff deployed to PS from other organizations, and 46 contractors).
Mendez and Kiss, joined by Regina Robinson, oversee a bevy of buildings spread across the Brookhaven campus. The spread is so extensive, in fact, that Mendez and Kiss work with three facility complex managers in the Facility Operations Office – Chris Johnson for structures in the East Complex, Mark Davis for the Central, and Leo Somma for the North. (See map, below.)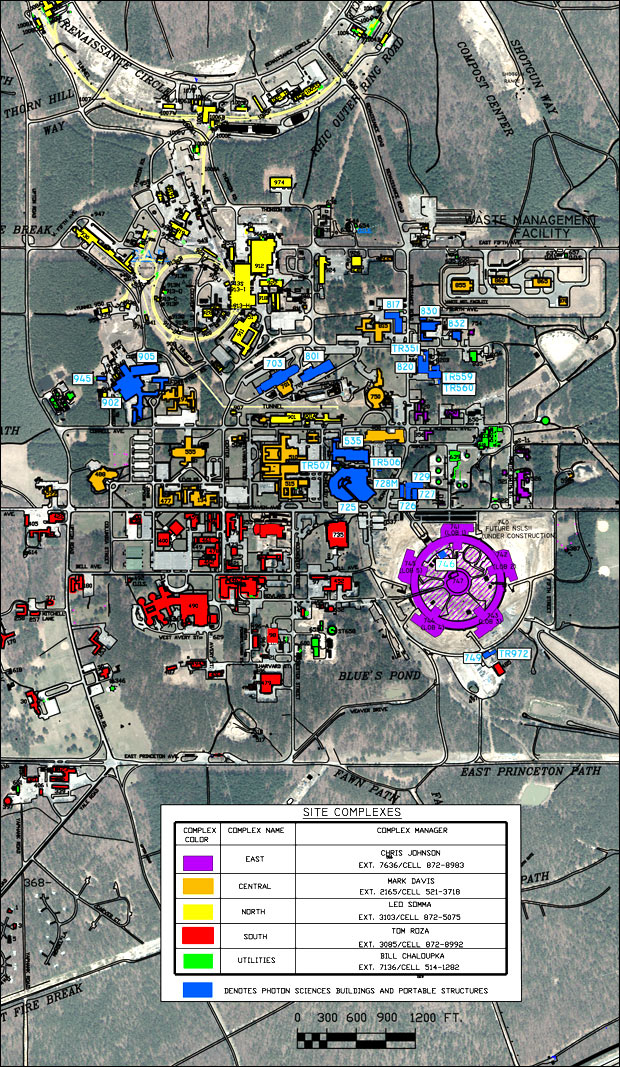 Brookhaven Lab's 350-plus buildings and other structures on the 5,300-acre site are organized into five facility complexes, each color coded: East (purple), Central (gold), North (yellow), South (red), and Utilities (green). To make this map of the Lab's campus, Bill Bockelmann, Modernization Project Office, started with a 2010 satellite image from New York State and used AutoCAD to superimpose the buildings and structures. Appropriately, Bockelmann chose blue to shade the 23 buildings and structures now occupied by Photon Sciences (and spread among the East, Central and North complexes); synchrotron light appears blue when passing through air because that is the color emitted by the oxygen and nitrogen atoms in the air when they are ionized by x-rays. Notice that NSLS-II is colored purple (for the East complex) because it is not yet occupied.
The sheer number of buildings under Photon Sciences speaks to the volume and complexity of work done in the directorate, which operates NSLS and is constructing NSLS-II.
That large number of buildings also means that the facility folks are constantly on the go, making sure that everything is safe and secure, getting people moved in and out of spaces, and generally checking up on a myriad of things. "I probably walk three to five miles a day," said Mendez.
Based in Bldg. 725, Kiss circumnavigates the NSLS experimental floor from two to ten times a day. Doing the perimeter, he says the walk is about a quarter mile. With that, plus daily excursions to 728M/729 and multiple trips to various buildings each week, Kiss estimates three to four miles a day. "And my wife wonders why I don't take walks with her or go to the gym!" he said.
Add up the footage PS occupies, and the grand total is 263,178 square feet, not counting common spaces like hallways. Mendez and Kiss know just about every nook and cranny. Armed with detailed lists, they can also locate every occupant in every building.
Over the past six months, Mendez and Kiss both saw to the renovation of Bldg. 728M to house personnel for the six NEXT beamlines and the three NIH-funded beamlines. Steve Hulbert, Eileen Morello and Christie Nelson were the first to move in a few weeks ago.
Sometimes uninvited guests pop in and under – like raccoons, groundhogs and mice. Once, a red-tailed hawk swooped into 902 and alighted on a server. This past summer, Mendez got a report of birds in Bldg. 703. He went to check and found two barn swallows in a loft area. Mendez decided to put up a net to keep out more visitors. "The next day, 25 birds were in there," he recounted. "I opened a window to encourage them to leave, but found 50 or so the following day. So I put a tray of water at the window, hoping they would take a sip and fly out, thinking to myself, 'Now I'm feeding birds.' It worked, though. The numbers went down until we got them all out."
"Every day is an adventure!" said Mendez.